As you may have read from my Net Worth Rule For Car Buying post, I'm looking into buying the latest Range Rover Sport HSE to replace Moose, a 15 year old Land Rover Discovery II. The 2018 Range Rover Sport can be had for roughly $73,500 MSRP, an exorbitant amount of money for a vehicle.
SUVs are an anathema to eco friendly San Francisco. But I've long argued that if you don't completely destroy your car before buying a new car, you are still ADDING pollution to the world. I like SUVs because they ride high so I can see what's going on in traffic. They can go through snowstorms with ease, a necessity for when I go up to Tahoe in winter. Furthermore, I'd rather be in a larger vehicle vs. a smaller vehicle during accidents.
SUVs have become more fuel efficient thankfully. The new Range Rover Sport V6 engine produces 345 hp at 17 city / 23 highway. Just 10 years ago such an SUV would be a V8 and run around 12 city / 17 highway mpg with only 185 hp. But this is not a post to defend purchasing a large vehicle. This post's purpose is to discuss the aspect of purchasing a vehicle for your business in order to deduct the expense!
With the tax reform act passed at the end of 2017, buying a truck or an SUV that is over 6000 pounds has become more favorable for 2018 and beyond.
RULES FOR SUV / TRUCK PURCHASE FOR A BUSINESS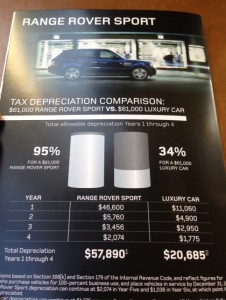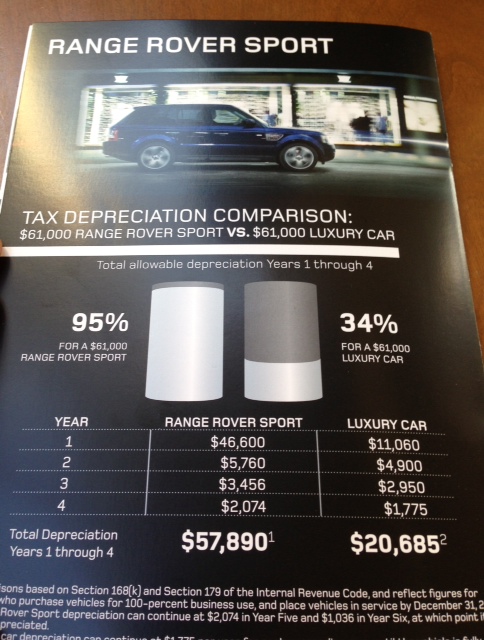 Let me state up front that I'm not an accountant, but I do have an accountant, and I am a tax law enthusiast who strives to minimize his tax liability after disgustingly paying well over $1 million in Federal income taxes over the past 15 years.
The first thing I did to understand the process of writing off a vehicle as a business expense was to go to the Range Rover dealer of course!
I asked the salesman what he sees most businesses doing when it comes to purchasing a vehicle and he told me, "Small businesses tend to purchase outright or finance and large businesses tend to lease." The idea is that large businesses who use a lot of vehicles don't want to bother with inventory management if they are not a car business.
The salesman showed me a special "Tax Depreciation Comparison" pamphlet (photo) that just "flies off our shelves" to highlight how much a $61,000 Range Rover Sport in 2011 (was cheaper back then) could be depreciated vs. a $61,000 luxury car which is not over 6,000 pounds. As you can see from the picture, 95% of the Range Rover Sport can be depreciated over four years if 100% used for business vs. only 34% for a similarly priced car. The reason is based on Section 168(k) and Section 179 of the Internal Revenue Code for vehicles over 6,000 pounds (includes max load).
I thanked the salesman for the information and proceeded to send my $2,000 a year tax accountant an inquiry about whether this example indeed holds true based on the latest tax laws for small businesses. Here's his response:
You can only write-off 100% if the vehicle is used 100% for business AND you buy it brand new from the dealer (no private party used vehicle). It has to be brand new. The amount on the example factors in a brand new SUV over 6,000 lbs.

To summarize:

1) 100% business use, if not the ratio used for business is deductible e.g. 65% for business use, 65% depreciation/deduction schedule. Keep a mileage log! It's generally impossible to have 100% business use, hence the more conservative 95% depreciation used in the above example.

2) Must be a brand new SUV over 6,000 lbs.

The IRS allows up to $25K up front depreciation (100%) for SUV over 6,000 lbs PLUS 50% Bonus Depreciation for NEW vehicles which will get close to that figure. The vehicle must be driven over 50% of the miles for business purposes and you must reduce the $25K by the personal use percentage.
Not bad! We've got a winner here if you'd like to purchase a new SUV. The IRS allows employees and self-employed individuals to use a standard mileage rate for expensing vehicles under the 6,000 pound limit, which for 2013 business driving is 56.5 cents per mile. If you can't or don't want to deduct based on mileage, you can deduct based on cost of operating the vehicle e.g. tires, maintenance, gas. It's one or the other.
START A BUSINESS, TAKE ADVANTAGE OF TAX LAWS
So there you have it folks. The reason why Land Rover has tons of Tax Depreciation pamphlets that are "flying off the shelves" is because plenty of businesses are purchasing 6,000 lbs vehicles under their business entity and writing off the expense over time due to what's allowable by tax law.
It's important to note the IRS screens small businesses based on expense and tax ratios for auditing. If your business only brings in $30,000 gross revenue a year, then buying a $75,000 SUV amortized over four years is probably going to raise red flags. But if you have a $500,000 gross revenue a year business, then writing off $10,000 – $45,000 a year in expenses doesn't seem out of line. The IRS is on the look out for small businesses that are created simply to dump lifestyle expenses into the entity to reduce income taxes.
As always, talk to your accountant before conducting any tax changes. Given I prefer SUVs over cars, it absolutely makes sense for me to buy a brand new vehicle under my business if it comes time to buy a new car. I'll be getting roughly a 30% discount from purchase price after considering tax deductions.
You can start a business easily by first registering your website with BlueHost as proof, and then go to LegalZoom to start an S-Corp or LLC. Here's my step-by-step guide on how to start your own website. Anybody can start a business as a consultant/freelancer as a sole-proprietor as well. A website simply helps legitimize your business. Besides, everybody should own their brand online anyway given the internet has 3 billion users and growing. You can gain more consulting business, find a new job more easily, and potentially make a very healthy income online like I do if you keep at it.
Update: 9/8/2018 I want to highlight a great comment who is in the commercial equipment leasing / financing industry and provides reasons for leasing instead of purchasing.
If you want to avoid the "depreciation recapture", and don't want to run the vehicle into the ground, you can lease the vehicle instead. You still can expense the rental payments under your business, and at the end of the lease, you simply return it. This way you:

a) Did not spend $50K upfront to acquire it (conservation of capital)
b) Have written off the rental payments 100% (maximized tax write offs)
c) Don't take a loss on selling the vehicle (prevents loss on selling a depreciated asset)
d) Aren't stuck with an obsolete vehicle (curbs obsolescence)

AND

c) If the vehicle was truly a revenue generating asset for you business (ie, you use the flashy car to gain more clients and it actually gets you more clients, or you use the truck to transport goods that you obtain and sell at a profit), then you have generated positive cash flow and have completely written off the cost of using and acquiring the vehicle!

Remember, invest in appreciating assets, lease depreciating assets!

Now imagine if you also did this with your computers, software, servers, etc.
A LIST OF VEHICLES FOR 2019 THAT HAVE A GROSS WEIGHT (GW) OVER 6,000 LBS
Here's a list of 2018 model cars with a gross weight over 6,000 lbs. Usually each vehicle will have its weight on the side door. If you're unsure, just ask the dealer.
Audi Q7
BMW X5
BMW X6
Buick ENCLAVE
Cadillac ESCALADE AWD
Chevrolet Truck AVALANCHE 4WD
Chevrolet Truck SILVERADO
Chevrolet Truck SUBURBAN
Chevrolet Truck TAHOE 4WD
Chevrolet Truck TRAVERSE 4WD
Dodge Truck DURANGO 4WD
Ford Truck EXPEDITION 4WD
Ford Truck EXPLORER 4WD
Ford Truck F-150 4WD
Ford Truck FLEX AWD
GMC ACADIA 4WD
GMC SIERRA
GMC YUKON 4WD
GMC YUKON XL
Infiniti QX56 4WD
Jeep GRAND CHEROKEE
Land Rover RANGE ROVER
Land Rover RANGE ROVER SPT
Land Rover Discovery
Lexus GX460
Lexus LX570
Lincoln MKT AWD
Mercedes Benz G550
Mercedes Benz GL500
Nissan ARMADA 4WD
Nissan NV 1500 S V6
Nissan NVP 3500 S V6
Nissan TITAN 2WD S
Porsche CAYENNE
Toyota 4RUNNER 4WD
Toyota LANDCRUISER
Toyota SEQUOIA 4WD LTD
Toyota TUNDRA 4WD
Volkswagen TOUAREG HYBRID
Of course, there are new vehicles with new modifications all the time. Double check with your car sales person to make sure the vehicle you are buying is over 6,000 lbs!
Three Actions For Getting Ahead
1) Lower Your Auto Insurance Costs: Check out Esurance online. They have some of the best plans with the lowest rates around due to their lower overhead costs. It's worth spending a moment filling out a quote to see if you can save some money. Car insurance is one of the largest ongoing expenses for car owners. Esurance has good driver discounts, and multi-product discounts as well. Save money on car insurance today!
2) Manage Your Finances In One Place: One of the best things you can do to grow your net worth is to track your net worth for free with Personal Capital. They are a free online platform which aggregates all your financial accounts in one place so you can see where you can optimize. Before Personal Capital, I had to log into eight different systems to track 28 different accounts (brokerage, multiple banks, 401K, etc) to track my finances. Now, I can just log into Personal Capital to see how my stock accounts are doing, how my net worth is progressing, and where my spending is going.
Their 401K Fee Analyzer tool is saving me over $2,000 a year in fees I had no idea I was paying. There is no better free platform out there that is helping me manage my money. The entire sign-up process takes less than a minute.
3) Start A Business And Save On Taxes: A business is one of the best ways to shield your income from more taxes. You can either incorporate as an LLC, S-Corp, or simply be a Sole Proprietor (no incorporating necessary, just be a consultant and file a schedule C). Every business person can start a Self-Employed 401k where you can contribute up to $54,000 ($18,000 from you and ~20% of operating profits). All your business-related expenses are tax deductible as well. Simply launch your own website like this one in under 30 minutes to legitimize your business. Here's my step-by-step guide to starting your own website.
About the Author: Sam began investing his own money ever since he opened an online brokerage account in 1995. Sam loved investing so much that he decided to make a career out of investing by spending the next 13 years after college working at two of the leading financial service firms in the world. During this time, Sam received his MBA from UC Berkeley with a focus on finance and real estate. He also became Series 7 and Series 63 registered. In 2012, Sam was able to retire at the age of 34 largely due to his investments that now generate roughly $200,000 a year in passive income. He spends time playing tennis, hanging out with family, consulting for leading fintech companies and writing online to help others achieve financial freedom.
FinancialSamurai.com was started in 2009 and is one of the most trusted personal finance sites today with over 1 million pageviews a month. Financial Samurai has been featured in top publications such as the LA Times, The Chicago Tribune, Bloomberg and The Wall Street Journal. Updated for 2017 and beyond.