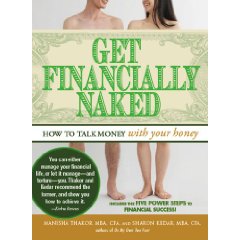 Author Bios: Manisha Thakor and Sharon Kedar have their MBA's and CFA's and are the coauthors of "On My Own Two Feet: A Modern Girl's Guide To Personal Finance."
Publisher / Physical Description: Adams Media.  Paper back.  148-pages of easy reading.
The Summary: With a tag-line of "how to talk money with your honey," how can you not like a book with this kind of wit?  Personal finance books tend to be a little bit mundane and redundant, but not so with Manisha and Sharon's latest offering.
The first point of interest simply lies on page two.  All page two says is "To All Women…"  As I am not a woman, I immediately began preparing myself for some male criticism.  Does 'To All Women" really mean "Stay Away All Men"?  To my relief, the real meaning of page two is about empowering women to become financially independent on their own.
Getting financially naked really is about having as clear of an understanding of each partner's finances as possible.  The authors don't want women to one day wake up realizing all their money is gone after their husband invested their finances in some unscrupulous investment.  Women need to have a full grasp of each others finances so that there are no surprises.  Even before marriage, our authors go through steps to discover whether a couple is financially compatible.  Financial matter shouldn't be taboo among serious couples.
"The Five Power Steps To Financial Success" provides useful tips on dealing with the five key lifetime expenses: home, car, retirement, kids, and extended family.  For better or worse, you get the family too!  One of the most eye-popping nugget of information is that the average cost to raise a child from birth to 17 is $184,000!  Move to NYC or San Francisco, perhaps that figure is closer to $300,000.
The book concludes with some simple tips on savings and investments, namely with the objective of keeping things simple.  But, this is not a book about savings and investments, it's a book about improving communication. The Appendix contains a wonderful list of answers to scenario questions such as "Should we combine bank accounts now that we've moved in together" and "What do we do because I'm a saver and he's a spender?"
In summary, "Get Financially Naked" is a wonderful little book for women and even men to read.  The key message is about improving communication between couples so that money becomes a natural point of discussion.  For those women who find opening up about finances to be especially difficult, this book is especially for you!  For guys, it's like reading the occasional Cosmopolitan magazine.  Seeing a different perspective helps widen your own perspectives!
GIVEAWAY RULES: TWO PRECIOUS BOOKS!
* Share Your Thoughts On: Why do you think women have a harder time opening up about finances than men?  Why is talking about your finances with someone you care about so taboo?  Should couples reveal all their financials before marriage, or should that not matter since the union is "for richer or poorer"?  Is not talking about money a cultural or gender phenomenon?

* Tweet & sign up for our RSS feed and comment that you've done so.
* Entry Deadline is Saturday, January 23rd.
You can learn more about the book here, or buy the book directly from Amazon: Get Financially Naked: How to Talk Money with Your Honey
Keigu,
Sam @ Financial Samurai – "Slicing Through Money's Mysteries"