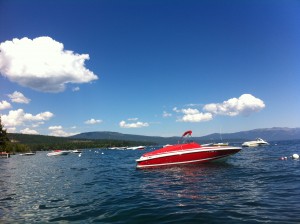 Obama considers single people making over $200,000 to be rich. He has specifically called for raising taxes on singles making over $200,000 and couples making $250,000 every year he's been office. Yet, he's been unable to pass any tax increases because I don't believe most people agree with him that $200,000 for singles and $250,000 for couples is rich.
Thank goodness there was at least a compromise with Congress at the end of 2012 for raising income taxes for those making $400,000/$450,000 and above. Why $400,000 + $400,000 doesn't equal $800,000 for a married couple to pay more taxes, I'm not sure. The government still harkens back to its old days of believing one spouse should stay at home.
There are two aspects of monetary wealth we can focus on: Income and Capital. Some make a lot of income, but have only a little amount of capital since they are either starting off in their careers, or haven't saved and invested an appropriate amount. That's not going to happen to you because you read Financial Samurai and will follow my savings guide to ensure capital accumulation.
Meanwhile, there are those with a tremendous amount of Capital, with little income given they may have inherited their wealth but have no income generating skills. Capital heavy people may have invested skillfully over the years, built great companies, or were incredibly disciplined in their savings. There are many different types of folks in the Capital heavy category. It's not a bad place to be at all.
Ideally, it's best to have both high income and a large capital base. This is my goal, and therefore my goal for all of you as well.  In this post, we'll focus on the income side of the equation and what to strive for just in case we don't have a trust fund from mom and dad.
HOW MUCH INCOME DO YOU NEED TO BE CONSIDERED RICH?