Founded in 2012, Fundrise is a private real estate investment platform for all investors. Fundrise was the first real estate crowdfunding platform to be launched in the US after the 2012 JOBS Act was passed.
You can start investing in Fundrise with just a $10 minimum, which is one of the lowest minimums today. Fundrise has a total portfolio value of over $7 billion and has over 2 million investors.
Out of the hundreds of private real estate investment platforms, Fundrise is my favorite. I've spoken to Ben Biller, the founder and CEO multiple times and I like the way he operates. Ben is also conservative and always wary about hype, which is what I want in an investor and CEO.
Fundrise primarily invests in residential and industrial real estate in the Sunbelt, where valuations are lower and yields are higher. I'm a big believer in investing in the heartland America. Starting in 2016, I began investing in private real estate because I believe telecommuting is a growing trend.
Investing in Fundrise funds is a great way to take advantage of long-term demographic shifts in America. No longer do workers need to live in expensive cities like New York City and San Francisco to earn.
Fundrise Features
Strong track record with outperformances during stock market downturns
Invest in a diverse portfolio of properties
Earn quarterly dividends
User-friendly platform
Start with as little as $10
$10 bonus with your first investment
YieldStreet Overview
YieldStreet is also another private investment platform which was founded in 2015 by Milind Mehere and Michael Weisz. Instead of only focusing on real estate, like Fundrise, Yielstreet invests in a variety of alternative investments – including real estate, fine art, crypto, shipping and more.
In terms of scale, Yieldstreet is smaller than Fundrise with $3.2 billion in investments and roughly 450,000 investors. I've also spoken to Milind Mehere, Yieldstreet founder and was impressed with his vision and management style.
In this Yieldstreet vs. Fundrise review, we will break down the key features of each platform.
Fundrise versus Yieldstreet Comparison
For reference, I've been a user of Fundrise and Yieldstreet since 2016. In addition, I've invested over $1 million in private investments since 2001. I used to work in investment banking from 1999 – 2012 and have my MBA from UC Berkeley.
Out of my current $380,000 a year in passive investment income, roughly $120,000 comes from private investments in firms such as Fundrise and Yieldstreet. Finally, I've been writing based off firsthand experience on Financial Samurai since 2009, when the site was founded.
Positives of both Fundrise and Yieldstreet:
Access high-quality private real estate investments across the country
Low asset management fees
Regular cash distribution (monthly or quarterly)
Both are illiquid investments that requires years of investing, although Fundrise's Interval Fund offers quarterly redemptions as a solution to investors with liquidity needs. Yieldstreet doesn't allow early redemption; after your investment is processed, you have to hold it for the duration of the offering.
Below is a chart summarizing the differences and similarities between Fundrise and YieldStreet.
When you first start investing with Fundrise, you choose between four distinct investment strategies that fits your goals and style: fixed income, core plus, value add, and opportunistic.
The fixed-income portfolio focuses on consistent cash distributions and passive income, while the opportunistic portfolio focuses on long-term growth. Core plus and value add are somewhere in the middle.
Multiple Investment Offerings With Yieldstreet
Yieldstreet has a wide variety of investment types to choose from, not just real estate. Here are some of the investments offered to Yieldstreet investors.
Crypto
Fine art
Private credit & equity
Venture capital
Transportation
Legal finance
These are incredible investment offerings. However, it's important to understand what you are investing in before you put any capital to work. Hence, Yieldstreet is really for sophisticated investors with a lot more capital.
Investment Minimums Between Fundrise And Yieldstreet
Instead of $10 minimums like Fundrise, Yieldstreet minimums are usually at least $10,000. Many of YieldStreet's investments are as high as $25,000. As a result, Yieldstreet is more restrictive as only accredited investors can invest in YieldStreet's offerings.
For investors at Fundrise who want to have more flexibility with their investments, they can elect to become Fundrise Pro members. If not, Fundrise will automatically invest in relevant funds based on your financial criteria and investment style.
The Fundrise Pro subscription starts at $99/year (or $10/month), which is good value since you also get curated Wall Street Journal articles, which themselves, cost $10/month behind a paywall.
Historical Performance Of Fundrise and YieldStreet
In terms of performance, both Yieldstreet and Fundrise have strong track records. Take a look at Fundrise returns over time. As someone who has invested $810,000 in private real estate funds since 2016, the returns have been solid, especially during down years in the stock market.
Personally, I was earning high single-digit investment returns in 2016, 2017, 2018, 2019, and 2020. Then in 2021, my Fundrise Heartland eREIT exploded, up 41%. This shows the power of investing strategically and patiently, with a long-term vision.
Below is a comparison between Fundrise returns and Yieldstreet returns.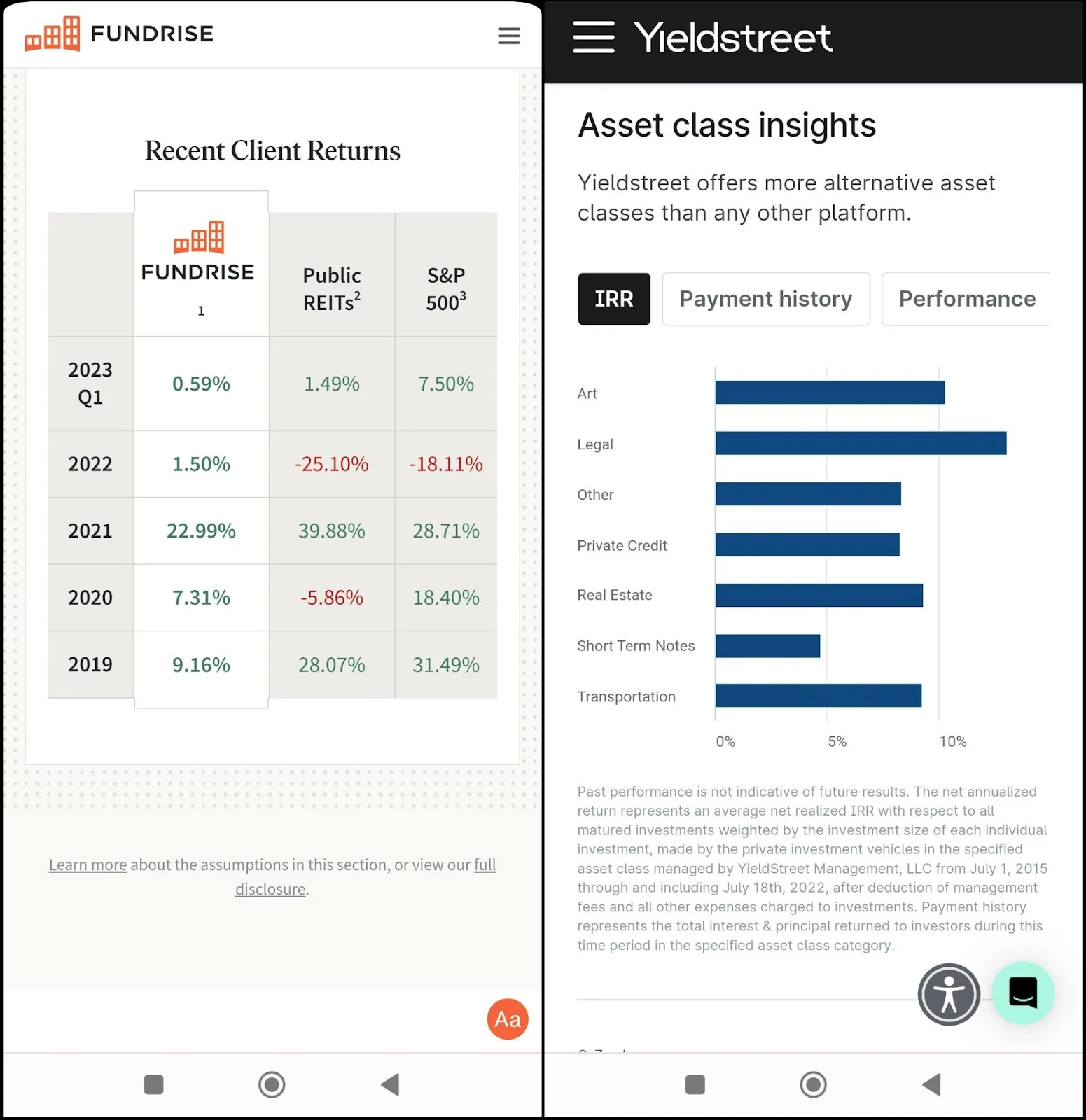 Fundrise returns are more steady given the investments are all in private real estate. Residential and industrial real estate have been strong performers.
Yieldstreet investments, on the other hand, are more volatile. This is to be expected given investors can invest in crypto, fine art, and transportation.
Fundrise Historical Returns Are Steady
Over the last 6 years, the Fundrise portfolios averaged 5.29% annualized returns. Projections for the next 7 years estimate that the average annual yield if you were to start acquiring real estate assets, are:
20.4% yield after 2 years
46.5% yield after 4 years
78.5% yield after 6 years
You can visit Fundrise's site for the full projection under the Client Returns menu.
Yieldstreet Historical Returns By Asset Class
Yes, you can definitely make money with Yieldstreet. Here's the average performance of the seven best-performing asset classes available in Yieldstreet:
Legal: 13.2%
Fine art: 10.3%
Real estate: 9.4%
Transportation: 9.3%
Private credit: 8.2%
Structured notes: 7.7%
Short term notes: 4.7%
Remember, past performance does not guarantee future performance. Higher returns tend to come with higher risk. Please see my real estate crowdfunding learning center for more great articles about risks and what to look for.
Yieldstreet And Fundrise User Reviews
Yieldstreet and Fundrise are available on Android and iOS devices, with an average rating of 4.5/5 and 4.7/5, respectively.
Here's what some of those users had to say about Fundrise:
I was very excited about the idea of Fundrise when I first heard about it, and I have been really blown away by how well it is managed. The reporting and disclosures are terrific and highly professional." – Bobby W.
"So far, a very smooth experience using the app. It makes it easy to update, invest, and set up auto-investments based on specific goals, etc. I also like the project updates in the dashboard, rather than having to dig through my emails." – Zack K.
"Fundrise has been an incredible investment for me. I began small with just a few thousand dollars in 2020. I believe at the time I had a "growth" portfolio and at the end of the year had made an 8% return. " – Celeste N.
Here's what Yieldstreet users had to say about the mobile app:
"If you're an accredited investor (a federal government SEC rule, not something YieldStreet controls), YieldStreet gives you access to some of the best asset-based investments. Skip the stock market's volatility but get the same average annual return in the long run!" – A. G.
"Accessing alts is never something I could do with all my Fidelity accounts/relationships, but being able to do it here at Yieldstreet has helped me to modernize my family's approaches to building wealth." – Jordan T.
"Great app. I've been invested in the Prism fund for a while. Easy way to invest outside the stock market and diversify my portfolio." – Sebastian B.
You can read more about Yieldstreet with my Yieldstreet review.
How To Choose Between Fundrise And Yieldstreet
The first thing to ask yourself is what type of investment do you want to invest in. If you want to invest in real estate, then your choice should be with Fundrise, given real estate has been Fundrise's focus and speciality since 2012. You want to buy a watch from Rolex, not a watch from Polo, which primarily makes clothes, but also watches.
It's hard to build a investment team to stay on top of so many different asset classes. Personally, I'd rather invest in fine art with a fine art specialty fund, crypto with a crypto speciality fund, and so on. With the investment minimums required by Yieldstreet, the amount is too high not to want to invest with the best.
If you're looking to gain exposure to the real estate market with a low minimum, Fundrise is for you.
If you're an accredited investor looking to diversify your investments across different alternative asset classes, consider Yieldstreet.
If you're a foreign investor looking to invest in the US, Fundrise offers the best type of investment, real estate.
Yieldstreet Fees vs. Fundrise Fees
Yieldstreet Fees
Annual Management Fee: 1-4% (varies depending on the investment)
Fundrise Fees
Fundrise Pro: $10/month (or $99/year)
Annual Investment Advisory Fee: 0.15%
Annual Management Fee: 0.85%
Signing Up With Yieldstreet
Yieldstreet is open for US and foreign investors, but all investors must meet the accredited investor criteria set by the SEC. Additionally, you must have a valid SSN (or TIN/EIN for foreign investors) and a US-based bank account. Here's how to get started:
Visit Yieldstreet's website
On the top right, click Sign Up
Enter your email address
Fill in some of your basic information
If you use our link to sign up, you'll automatically join the Yieldstreet Invitation Program so you can earn a commission on referrals. You can earn up $2,000 every quarter ($100 per referee).
Signing Up With Fundrise
Fundrise is only open to US citizens and permanent residents. Foreign investors can't participate. Here are the steps to sign up:
Visit Fundrise's website
On the top right, click Get Started
Enter your email address and answer a short questionnaire
Sign up using our link, and you'll get a welcome bonus of $10 worth of Fundrise Real Estate Interval Fund shares. You'll also get access to Fundrise Pro for 30 days – at no cost. Cancel at any time.
Private Investments Is A Growing Trend
Investing in private funds and private investments is a long-term growing trend. As investors, we want more variety, more diversification, and less volatility. Fundrise and Yieldstreet provide these benefits.
As you grow older and wealthier, you'll also want to diversify your investments for less volatility and capital preservation purposes. Investing primarily in the public stock market, where there can be 35% swings in months becomes less appealing when you have a lot more capital.
Real estate is my favorite asset class to build wealth for most people. Everybody understands real estate and the utility and income it provides. As a result, I've been focusing my investments with firms such as Fundrise since 2016.
I recommend starting off with Fundrise and seeing all they have to offer. With an investment minimum of $10 versus $10,000 – $25,000 with YieldStreet, Fundrise is a much easier platform to invest in.
Financial Samurai is one of the largest independently-owned personal finance sites that started in 2009. Over one million readers visit Financial Samurai every month to help them achieve financial freedom sooner, rather than later.