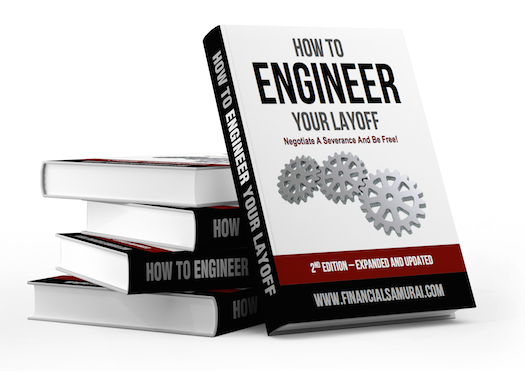 It took me two years to engineer my own layoff because I was concerned and didn't know how. There were no resources on the market that could guide me to quit my job with money in my pocket. What was I supposed to say, "Hey Boss!  If you give me $200,000 I'm outta here!" over coffee one morning?
What if I quit and my bank account goes dry in six months? What if I can't find a new job in a new industry that I really love? What if my entrepreneurial endeavors fail miserably and some exogenous variable knocks me out for the count?  What if I turn into a deadbeat with no more motivation to do anything again?
I didn't hate my job, I just didn't love it anymore like I once did 13 years ago. Nothing is worth doing for an extended period of time if you don't love it. Ten years in a row is the maximum amount of time I can truly commit to one occupation or firm with full enthusiasm. To go much longer would be unfair to my employer, to others who have a deeper hunger, and ultimately to myself.
I kept questioning what type of idiot would quit a good job in this type of economy? After a while, I started asking myself what type of idiot not to quit in this economy! Wages are down, profits are abysmal, and industries are going through multi-year consolidation phases that won't be pleasant.
With no kids, a 16-18 year financial safety net, and a clear idea of what I want to do after my separation, I decided to make the move in 2011 after creating a healthy stream of passive income over the past 13 years. I was so close, but couldn't pull the trigger because I was STILL too unsure. What I needed was that one last kick in the pants to send me on my way to entrepreneurship.
FINDING THE CATALYST AND UNDERSTANDING HOW
Before quitting, I wanted to have that final catalyst that made leaving my job an absolute no-brainer. There are plenty of books that talk about how to land coveted jobs and make lots of money. However, there is nothing on the market that I know of that teaches us how to quit our jobs and make a small fortune in the process!
Unless you plan to work forever, there will be a backstop when you will want to do something else. They say the average person changes jobs seven times in their lifetimes. Gone are the days when we join a firm right out of college, work there for 40 years and retire with a pension. Instead, it's a dog eat dog world out now and we've got to look out for ourselves or else risk getting blown up in the process. I was surprised to last 10+ years at the same firm.
In addition to the inevitability of change, a recent study showed that a full 44% of the American workforce is unsatisfied with their jobs. I'm not sure if the percentages are any better in Europe, Canada, Australia, Africa, or Asia. I doubt it. Have you read all the righting by the Apple factory workers? It is an undeniable truth that after a long enough period of time, we all tend to lose interest in our jobs. Some just get tired sooner than others!
ENTER HOW TO ENGINEER YOUR LAYOFF
Back in 2010, I knew I had to start doing some research so I could make my exit. I wanted to educate myself as much as possible on my rights as an employee. I needed to discover my options so I could methodically formulate a plan to not have any regrets when I'm old and grey. The more I prepared for my own retirement, the more I realized I wanted to help other people do the same!
After two years of research, planning, coaching friends, and successfully engineering my own layoff, I present to you a comprehensive guide on how to profitably quit your job.  The book serves to help people understand their rights as employees, offers step-by-step guidance so you won't leave money on the table, and discusses the importance of relationships. I want to provide you that catalyst to motivate you to do whatever you truly desire!
How To Engineer Your Layoff is 37,000+ words, 100 pages long with 16 chapters, and provides you with the most comprehensive guide to profitably quitting your job. I set up the appropriate framework, identify the key players involved, highlight important Federal and State level resources to read, provide various strategies for maximizing your separation package, feature many examples of people who've successfully quit their jobs, and help you plan for a life after layoff.
I also write never revealed information on my own personal story. For those of you who have been following Financial Samurai for the past several years, and plan to follow for several more years, you'll understand why I write the way I do and take the stances that I take. Hopefully by better understanding my background, you will enjoy this site even more.
THERE ARE FORTUNES TO BE MADE FOR SAYING GOODBYE
What if I said you could make $3,800 on your way out the door?  If you plan to leave your job anyway, getting $3,800 is like receiving an unexpected round-trip ticket to Europe with three weeks of hotel accommodations as a farewell present!
What if your company gave you $48,000 as part of your severance package?  You could pay off all your credit card debt, and have a nice amount of savings to help care for your new baby!
And if you happen to received hundreds of thousands of dollars in severance as one of my friends in finance did, you might never need to work for anybody again!
There's a lot of money out there, and the above amounts are from case studies included in the book. Each person wanted to do something else. The woman who received $3,800 was tired of bartending and is now a full-time artist. The woman who received $48,000 was a marketing manager and is now a stay at home mom who never wants to go back to work again. The banker who received hundreds of thousands of dollars is now working for one of his clients.
There are a total of five detailed case studies in the book including an in depth look into the three above. I helped each person take the next step by advising them on a plan, and they are all better off financially and are happier because of their willingness to learn.
DO NOT QUIT YOUR JOB BEFORE YOU READ MY BOOK
Please do not quit your job before you read How To Engineer Your Layoff.  Please do not retire before you read my book either! You could be leaving some serious money on the table if you do not arm yourself with the knowledge and strategies in the book.
One friend quit his job of 10 years and learned a week later his entire department got laid off with two weeks of pay for every year worked plus a full year of healthcare insurance (COBRA)! In other words, he left two months of mandatory severance + 20 weeks of salary + $8,000 in health care premiums on the table. We're talking over $70,000 in lost severance if he had only listened to my advice of sticking it out for several more months! Furthermore, he is ineligible for $21,600 a year in California unemployment benefits!
Everything I've written is based on my own experience of successfully engineering my layoff and helping others in the process. There is no fluff, nor are there any presumptions. Feel free to spend some time reading some of my most popular posts to get an idea of my writing and my habit of being as thorough as possible.
Engineering my own layoff put another six years of full living expenses in my bank account! Now the question is whether I should travel the world for 72 months fully paid or use the money to pay off a rental property or invest in my business!
Who Should Buy How To Engineer Your Layoff?
* Someone who is looking to change careers.
* Someone who wants to be an entrepreneur.
* Someone who is burnt out and just wants to take a long break.
* Someone who wants to retire early.
* Someone who doesn't know how to get started.
* Someone who is afraid to blow themselves up in this delicate process.
* Someone who does not want to miss out on unemployment benefits because of quitting.
* Someone who realizes life speed accelerates and doesn't want to have many regrets.
* Someone who wants insight into how the layoff process works at some firms.
* Someone who feels short-changed by their company.
* Someone who wants to preempt a layoff or firing.
* Someone who is a meticulous planner or needs someone to help them meticulously plan.
* Someone who wants to take control of their lives.
* Someone who wants to spend more time with their children.
* Someone who wants to spend more time with their aging parents.
* Someone who is interested in developing a deeper understanding of existing & future posts.
* Managers who want to prepare for the wave of employees looking to engineer their layoffs.
* Someone who believes the value of freedom, unemployment benefits, and a potential severance is far greater than the price of my book!
How To Engineer Your Layoff Will:
* Go through exercises to make sure you are ready to move on.
* Guide you on establishing a plan to switch careers or retire.
* Help you understand the players involved in engineering your layoff.
* Provide you with multiple strategies on how to maximize your severance package.
* Teach you how to leave your company without burning bridges.
* Explain how higher and lower performers are both able to engineer layoffs.
* Prepare you for a life after separation.
* Give you a much better fundamental understanding of current and future FS posts.
* Entertain and motivate you by sharing success stories.
* Allow you to collect thousands of dollars in unemployment benefits if you are laid off.
* Potentially allow you to walk away with a healthy severance package.
* Save you precious time in figuring out how to lead your new life!
Click Here: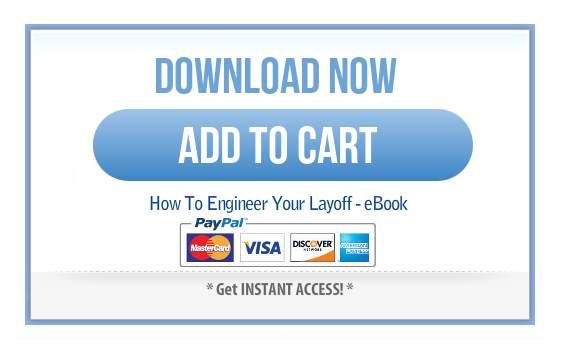 I arm readers with the knowledge, skills, and courage to take that leap of faith as I have done. And after you've finished reading the book, I'd love to hear your feedback! I will be launching a forum especially for those who have purchased the book and want to share their stories. You can buy the book straight from this post, or visit the How To Engineer Your Layoff store page to learn more about who I am and why you should buy the book.

Thanks for your support and congratulations for taking the next step closer to freedom!
Best,
Sam