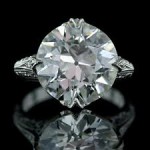 One of my old friends, Peter mentioned the other day that he got engaged.  He's 37 and she's 28.  They met about 4 years ago at a bar when he was somewhat inebriated but immediately hit it off.
Peter isn't exactly the most studly looking guy standing at 5′ 7″ with a belly hanging over his belt, but he's kind.  They are two months into their engagement and don't plan to get married until next summer.  All was going well until one night, Peter's fiance Nancy inquired about when she could upgrade her engagement ring!
YOUNG EXPECTATIONS
Can you believe it?  After only two months of being engaged, and not even married, Nancy has already asked for an upgrade.  Nancy is 5 feet 2 inches tall with a size 4 wedding finger.  My pinky finger is bigger than that!  Peter got her a beautiful 1.2 carat, princess cut diamond, G color, VS1 clarity with a platinum band.  Cost?  A cool 10 Gs.  Not bad if you ask me, especially on a woman her size where the rock looks closer to 2 carats.
Peter isn't particularly wealthy, but he is older and owns a nice $850,000 condo in a prime part of San Francisco.  Surprisingly, Peter said he shrugged off her question and responded, "Sure honey, you can have whatever you want!"
What a wuss is all I could think.  I punched some sense into Peter and asked what he was smoking.  Peter later mentioned that while he was saying "whatever you want", he was also thinking "whatever you want in 20 years baby!"  That's my boy Peter!
I really wonder about this Nancy girl.  She's not rich herself making roughly $48,000 a year as an aerobics instructor at a private club.  1.2 carats is certainly big enough for almost every single woman I know on the planet.  I just want to tell Peter to dump the girl and get his ring back because any girl this high maintenance and ungrateful so early is sure as hell going to be super high maintenance once she's married!
CAN LOVE BE CONQUERED?
Peter is in love though, and who am I to judge?  He just laughs me off and makes excuses for Nancy saying she's young and is just "playing around".  I'm seeing gigantic warning signs as Peter is still struck by his luck that a pretty 20-something year old would fall for a older guy like him.  Peter thought for sure that he'd always stay single if he didn't find someone after his 35th birthday.  As a result, Nancy is literally like a gift from the heavens!
Readers, what would you do if you were me?
Am I being overly dramatic for thinking that Nancy is one stuck up, high maintenance woman who is going to ruin Peter's life down the road?
Is there ever a right time to ask for an engagement ring upgrade?
Regards,
Sam @ Financial Samurai – "Slicing Through Money's Mysteries"