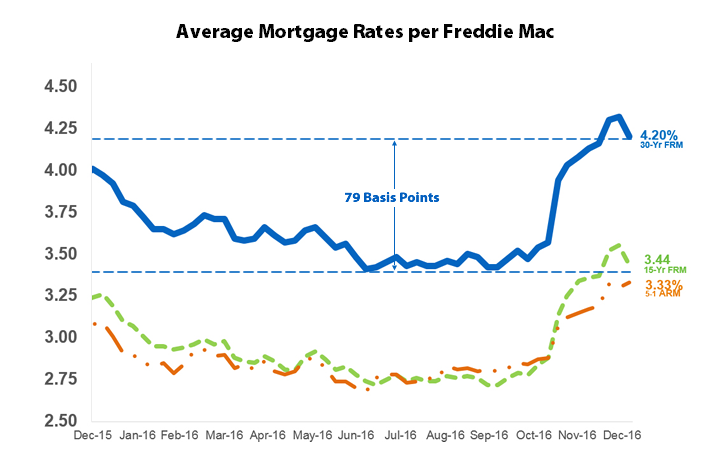 The last time I refinanced my oldest rental property was in the Fall of 2011 (see red oval). I locked in a 3.375% rate for a 5/1 conforming ARM, which means I have until 2016 before my interest rate adjusts upwards or downwards. With a payment of $1,300 a month – $550 of which goes to principal -I'm not too worried about rising rates because the property generates $3,800 a month in rent.
I had the opportunity to refinance again in May 2012, but felt it was too much of a hassle to save $1,070 in interest a year so I didn't. In retrospect, I should have just gone through the estimated three month long refinance process because the savings would be $1,070 X 5 years = $5,350 and I would have a year longer fixed interest period. Every dollar counts when you are no longer working.
WHY INTEREST RATES ARE MOVING
Since the Spring of 2013, interest rates have surged higher as investors dumped Treasuries due to a "risk-on" mentality in equities. In other words, investors were willing to take on more risk for higher returns in equities since Treasuries yielded under 2%. Wide anticipation of tapering by the Fed and expectations for higher inflation also led to a sell-off in bonds causing rates to go higher. At one point, the 10-year yield climbed close to 3% from just 1.62% six months earlier. Bond funds were absolutely hammered, including REITs.
Treasuries have since rebounded as investors took advantage of higher yields and asset allocated towards safety with the stock markets at record highs and the government in complete disarray. At the time of this writing, the 10-year yield is now at 2.59%, meaning mortgage rates have come down around 20-30 basis points on average. We're talking $200-$300 in interest savings for every $100,000 borrowed.
If the last time you refinanced your mortgage was in 2015, you will likely be able to lock in a lower rate even if the 10-year yield was the same as current levels because lending margins have also come down. In other words, banks are not charging as high a spread between their lending rate and cost of funding because the economy has recovered and competition has heated up.
When I refinance I always check with two sources: 1) My main bank and 2) Online through LendingTree because they have the largest network of mortgage lenders on the web and there's no obligation. This is a great way to ensure getting the most competitive mortgage rate possible as I basically pit them against each other.
The latest rates I see online are:
3.625% 30-year fixed
2.5% 5/1 ARM
I just finished refinancing my 5/1 jumbo ARM of $850,000 down to 2.375% as of 6/2/2016!
A five year fixed term is in the sweet spot of the rate curve as interest rates have been coming down for over 35 years. Read: 30-year Fixed Or Adjustable Rate Mortgage for more of why I'm a proponent of ARMs. There's no need to pay more because interest rates will stay low for a long time.
Mortgage departments everywhere have been decimated due to the rise in rates. You're seeing shutdowns and mass layoffs by Wells Fargo and Bank of America for example. As a personal finance blogger, I've also seen a 60% decrease in the number of visitors checking for the latest rates as well. It now looks doubtful that the 10-year yield will get back to 2%, unless there is massive global unrest and a 10%+ sell-off in equities. My guess now is we'll hover in the mid-2% range for a while until all the government debacle gets sorted. Then it's probably a gradual march higher back to the 3% level.
The more carnage in equities the lower interest rates will go most likely. If you are waiting to refinance, you might even perversely hope for the debt ceiling not to be raised, although the principal value of your property will also decline as a result.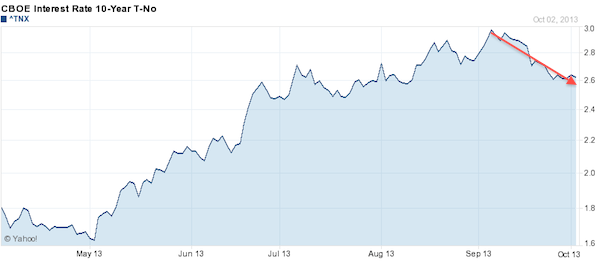 Note: If you are a bond trader, refinancing now or getting a new mortgage is like going short bonds. Your locked in mortgage appreciates in value as bonds decline and interest rates rise and vice versa. So the main question as a bond trader now is whether you think interest rates will continue to fall (wait to refi), or whether this month long decline in interest rates is only temporary (refi now). Of course if you are a buyer, you don't care as much as you do locking in your financing to get the purchase squared away. 
Wealth Building Recommendations
Invest in real estate more surgically: If you don't want to constantly pay massive property taxes, don't have the downpayment to buy property, or don't want to tie up your liquidity in physical real estate, take a look at RealtyShares, one of the largest real estate crowdsourcing companies today. You can invest in higher returning deals around the country for as little as $5,000. Historical returns have ranged between 9% – 15%, much higher than the average stock market return. It's free to explore and they've got the best platform around.
Shop around for a mortgage: Check the latest mortgage rates online through LendingTree. They've got one of the largest networks of lenders that compete for your business. Your goal should be to get as many written offers as possible and then use the offers as leverage to get the lowest interest rate possible from them or your existing bank. When banks compete, you win.
Updated for 2017 and beyond.