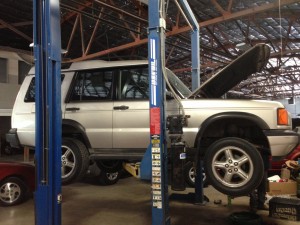 We previously described the mass affluent class by income, wealth, and investable assets. Mass affluent is essentially a subset of the middle class that's well educated and upwardly mobile due to their education and optimism. Given you're reading a personal finance site for fun and education and I'm writing personal finance articles, let's all consider ourselves mass affluent with upside potential! Hooray!
After 10 years of owning the same car, I've decided to finally buy something new within the next six months. There are a number of problems with Moose, a 2000 Land Rover Discover II, including:
• Warning lights on for the traction control, hill decent, and ABS.
• Check engine light is permanently on.
• Sunroof doesn't open or close.
• Heated seats don't work.
• No Bluetooth.
• CD changer doesn't work.
• Front passenger seat no longer adjusts due to broken motor.
• Cigarette charger doesn't work, which means I can't charge my mobile devices on long road trips.
• Brakes are mushy even after changing them two years ago.
• Not sure if the airbags work since they haven't had their 10 year service.
• Gears don't connect once every 50 starts for some reason. Have to turn him off, wait for 10 seconds, and turn back on to reengage the gears.
• Two balding tires that cost $200 to replace each.
Other than these 12 problems I can think of, Moose runs like a champ!
Over the past three years I've spent about $1,100 buying him a new alternator, a new serpentine belt, a tune up, and fixing a massively leaking fuel pump. If there is one more problem that costs over $500, I'm sad to say that I've got to let him go. It's hard to do because he's been so good to me. Moose has never broken down, not even in the worst Tahoe snow storm. If I'm ever in an accident, I feel safe that Moose will hold up better as well.
I'm starting to fear that I'll one day get stranded somewhere when Moose experiences some transmission glitch. I know all I have to do is call roadside assistance and wait 45 minutes for a boost or a tow, but that's not ideal if I'm rushing somewhere. If you have an older car, getting roadside assistance for several bucks a month is the best thing ever. I did leave my lights on several times before and roadside assistance came quickly to give me a jump.
I'd love to finally find a new vehicle that has all the creature comforts that many people for the past five years have taken for granted. You know, like being able to plug in your mobile phone to listen to some tunes. I've come up with a list of vehicles I'm considering for myself and for the mass affluent. Let me know which particular car or category you'd choose and why.