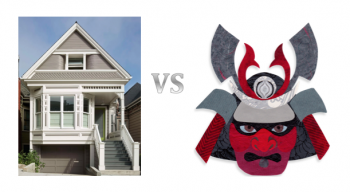 In Stocks vs. Real Estate, I compare which asset class is best suited for which type of person to make the most amount of money. My preference is for real estate due to its tangibility, income, utility, and one's ability to improve the asset class. As a real estate owner, there's a correlation between effort and reward. Whereas with stocks, you are a minority shareholder with no say in the business.
I'm someone who always likes to take action. Thus, I feel helpless when a CEO like Carly Fiorina decides to overpay for Compaq and in the process blows up Hewlett Packard. After all, Packard once said, "More companies die from indigestion than of starvation." At least Carly got a multi-million dollar severance package.
In this article, I'd like to compare making money in real estate versus making money online. I've been a real estate investor since 2003 and started my site in 2009. At the present time, I'm fortunate that both asset classes are healthy income engines.
Making Money In Real Estate Versus Online
When trying to compare two things, I find it helpful to create a comparison matrix of different variables. In this showdown, I'd like to use the following: Ease To Start, Ease Of Maintenance Income Upside, Profitability, Sustainability, Joy, Risk, and Exit Potential.
The scale is between 1-10 with 10 being the easiest/best/most enjoyable and 1 being the hardest/worst/least enjoyable.
Ease To Start
For real estate, it generally takes 10% – 20% down to buy a primary home residence. If you are to buy a rental property or multi-unit building, the down payment requirement often rises to 30%. If we take the median home price in America of $230,000, we are talking about $23,000 – $69,000 in startup capital plus ongoing property taxes, maintenance, potential HOA fees, and insurance.
For an online business, it costs $48 a year for a basic server account with a free domain name for the first year. You can use one of the hundreds of free WordPress designs, or you can spend $50 and get something a little fancier with custom designs from the Genesis framework. As your site grows, you can pay for more powerful hosting and hire a webmaster to make sure your site is up as much as possible. After seven years of blogging, it now costs me $160 a month for a dedicated server and $35 for a webmaster on retainer to support my site.
Because of lower start up costs, it's very clear many more people can start a website than buy a property. There is no need to slave away at work and save every last penny to come up with a large downpayment. Over my seven-year blogging career, I've seen countless blogging buddies – who were making under $50,000 a year at their day jobs – quit their jobs to blog full-time after a couple years. If you live in a low-cost area, all the more reason to start a blog that has no boundaries.
As for degree of startup difficulty, I give real estate a score of 3. Not only do you have to come up with the down payment, you've got to buy the right type of property in the right location. Blogging gets a score of 10 because you can create a blog in 30 minutes or less. Further, you just need to use your own creativity or hire a creative person to come up with a pleasing design and original content.
Ease Of Maintenance
For real estate, something always breaks because nothing physical ever lasts forever. Over the past six months, I've had to replace a microwave oven, fix some loose door handles, replace a window hinge, and repair a broken wood plank. On average, I expect something to be fixed every three months based on the amount of property I own. It's just part of the job being a landlord.
If you have a list of reliable plumbers, electricians, and handymen to fix things, you're half way there because everything is fixable. It just takes money, time, and coordination. Other things to account for are natural disasters. Good thing for property insurance.
For blogging, things break too. Whenever there is a WordPress (blogging platform) update, sometimes the various plug-ins (typically free features that make your site unique e.g. comment plugin, search box, ad widget) installed may no longer work because they haven't been updated to be compatible with the latest WordPress update. Your shared host might go down because it was overloaded by another site's traffic. A construction worker might accidentally sever a cable, causing your site to go down for six hours like mine did earlier this year. Then, of course, there's the possibility someone might hack your site. If you've ever seen those 404 error messages or down for maintenance pages when you visit a site, it's because something is broken.
With real estate, once you've got your list of go-to repairmen, maintenance is not that big of a headache. The headache is finding reliable, affordable repairmen. If you don't have a property manager, then you must take time out of your day to meet the repairman on site. I use the strategy of authorizing my tenants to hire someone from my list to fix what's broken up to $200 ASAP without waiting for my approval. I then reimburse them for their out of pocket cost.
I know very little about fixing a website. This is why I've got a brilliant guy on retainer for $35 a month to monitor Financial Samurai. He always knows what to do, and I rest easy knowing my site is in good hands if anything bad happens.
Based on the ongoing cost and peace of mind, with regards to maintenance, I give real estate a 5 and blogging an 9.
Income Upside
With real estate, income is stickier. Rent is generally fixed for one year and raised the next to at least keep up with inflation. Having a reliable source of income is very comforting to many people because it allows you to budget more precisely. Even though rent increases move in a step-up function with limited upside, rent is sticky on the way down too. During the past two downturns, I never had to lower my rent once because by the time the lease was up for renewal, the economy was already recovering. The worst case was keeping rents flat for another year.
With blogging, income is much more volatile. Despite having grown to the relatively large size of ~1M organic pageviews a month, I still see 20% month over month fluctuations in my revenue. The reasons for revenue volatility are many and could include changes in click-through rates, search interests, clients shutting down or changing their terms, seasonality, and Google algorithmic changes. Every month, it's a little adventure learning how much you made as an entrepreneur. But the correlation is relatively tight with traffic growth.
Given there are over three billion people online and only one master tenant for your rental property, the income upside from blogging is much greater. Couple this fact with low startup costs, and it's apparent why blogging has become such a popular small business choice for so many people.
For income upside, real estate gets a 7 because it is a very defensive income stream that also has a natural tailwind due to inflation. Blogging gets an 8 because there is much more upside if you can get things right, but you can also have much larger downswings if things go poorly. Think about real estate as a bond and blogging as a growth stock that's also paying a dividend.
Profitability
Unless you pay 100% cash for a property, it's hard to immediately turn a profit due to mortgage expense, maintenance, property taxes, HOAs, and vacancy. If you buy properties in more expensive coastal cities like San Francisco, NYC, LA, and maybe Miami, it often takes 2-3 years to break even after putting down 20% because their cap rates (net rental yields) are so low e.g. 3%-4% vs. 10% in the Midwest.
A longer breakeven point is the reason why I like to buy a property to live in for at least two years first and then rent it out. During the time I'm living in the property, I can improve it, take the mortgage interest deduction, and learn everything there is to know about the neighborhood and property before marketing it as a rental.
Generally, the longer you rent out your property, the larger your operating profit margin. This is because your costs are largely fixed while rent is usually increasing due to inflation. Wait 10 years and you might have a 50% operating profit margin e.g. $2,000 rent, $1,000 all-in costs = $1,000 profits on $2,000 in revenue.
Compared with almost all other businesses in the world, an online business has huge profit margins. For example, you can run a site for less than $100 a year and make $10,000 a year before tax as a side hobby if you wanted to. That is a 99% operating profit margin ($9,900 / $10,000) if you don't account for your time.
Let's say you decide to create an info-product like a book. Once you've spent the time making the book incredibly valuable, thanks to search engines, you can link your book's sales page on your site, kick back, and let the money roll in. If you want to increase your sales, you can write relevant articles about the book, do guest show appearances, and throw in some advertising dollars.
I currently make over $36,000 a year from sales of my severance negotiation book in its second edition. I lose about 5% on each sale due to fees paid to Paypal and eJunkie.
The biggest downside to profitability for blogging is time. I spend about 25 hours each week writing, responding, prospecting, and optimizing. That's 1,300 hours a year. Alternatively, I only spend around 12 hours a year on real estate if I don't need to look for tenants and 30 hours a year if I do. Therefore, depending on how much you value your time, real estate can be considered much more profitable.
For profitability, I give real estate a 7 and blogging a 5. It's hard to make a significant income blogging in the beginning, but once you get going, the upside is massive.
Joy
Real estate is enjoyable because you feel proud owning a tangible asset. Every time I drive by one of my rental properties, I feel very happy to have scrimped and saved in my early 20s to buy San Francisco real estate in 2003, 2005, and 2014. Given one of my properties is across from a park, I sometimes pull over on the way home, get out of my car, go sit on a park bench, stare at my condo and reminisce. To own a piece of America is such an indescribably wonderful feeling.
On the flip side, dealing with HOA members can, at times, get very hellish. Further, when a tenant doesn't take care of my property as agreed in the lease, I get very bummed out. For these reasons, I give real estate investing an 8 in terms of joy.
There's a different type of joy when running your own online business. I would describe the feeling more like "perpetual satisfaction." Every day I wake up feeling like it's Christmas morning because I'm curious to know if anybody shared my post or left an insightful comment. Can you imagine always feeling like a kid the morning before you're about to open presents? Magnificent!
It's incredibly satisfying to put your thoughts into words and see an article make its way through the internet. You get a tremendous feeling of accomplishment when you create your own product that never existed before. The law of attraction dictates you will find your tribe of people who share your same interests. That's wonderful.
It was this perpetual satisfaction that allowed me to feel 50% happier, despite making 80% less after leaving my day job the first two years. But I'm fortunate because I've seen growth online for the past seven years. If you aren't growing, it's comforting to know there are many ways to boost your online business' visibility through effort. You can guest post on other sites and spend more time marketing your work over social media, to name a few strategies. Being able to make a difference and affect positive change is what gives people joy across all activities!
In terms of joy, I give running a blog or web business a 9. Blogging is not a 10 because there will be the inevitable server crash or extremely rude commenter/client.
Key realization: The reason why both real estate and blogging score so highly in Joy is because both are entrepreneurial endeavors where you are your own boss. You are the king of your castle and CEO of your business. Being your own boss feels so much better than having to report to someone!
Sustainability
Real estate is incredibly sustainable. All you've got to do is keep up with the regular maintenance and your property can last over 100 years. There are wonderful Victorians and Edwardians here in San Francisco from 1880 – 1920 that are in great shape. Unfortunately, exterior paint jobs can cost $10,000 – $50,000. Changing the electrical system from knob and tube can run $20,000 – $50,000. And building or remodeling a master bathroom can easily cost $50,000 – $100,000.
If you want to do the bare minimum, real estate doesn't cost that much to maintain compared to the income it can generate. Changing the carpets on a 1,000 sqft place should cost no more than $2,000 every 10 years. Appliances last 10-20 years. Interior painting can be done once every 5 – 10 years for $2,500. If you want, you can leave your property empty and it will sustain itself just fine. Given these reasons, I give real estate a 9 for sustainability.
They say that most businesses don't last beyond the five-year mark. There are a plethora of reasons why this is so, but I think one of the main reasons for failure is a lack of effort. Given margins are so high with an online business, the only reason why your site would fail is if you give up producing content or releasing new products. Of course, you could simply have dull content or a bad product. But very few people are ignorant enough not to learn from their mistakes and improve.
I strongly believe in my ability to work as hard as possible to never fail due to a lack of effort. Therefore, I believe sustaining a website is also a 9. If I can speak forever, I can write forever. It's that simple. But over the years, I've also seen hundreds of sites come and go because they couldn't sustain their output. Therefore, a more objective rating is a 7 when compared to real estate.
Risk
No risk, no reward as they say. Due to leverage in real estate, you can either make $5 for every dollar your asset goes up with a 20% down payment, or you can lose 100% of your down payment if your property declines by ~20%. Due to the long term trend of real estate moving up and to the right, the risk of owning real estate declines over time. You just don't want to over lever at the top of the market and be forced to sell at the bottom.
There's also concentration risk when buying real estate. The median American has ~80% of his/her net worth tied into real estate. This is why I've been doing more research into real estate crowdsourcing companies that allow for smaller, more surgical real estate investments around the country. Due to leverage and concentration risk, I give real estate a 6. If I knew everybody would hold onto their property for 20+ years, then I'd give real estate an 8.
The biggest risk you have when blogging is your pride. You're either going to write something that resonates with someone or you're going to hear crickets. If you're someone who is not a self-starter and doesn't have a thick skin, blogging can crunch your ego.
Given blogging costs less than $100 a year to run a basic site, there's very little financial risk. If nobody visits your site your life will be fine. Since you've probably already paid for hosting for the year, you can just leave your site up and do nothing rather than take it down. There won't be a need to do a short sale or pack your bags. For these reasons, I give blogging a 9 in terms of risk. Even if you get no readers, you'll learn a tremendous amount of new skills in writing, marketing, SEO, social media, advertising negotiations, HTML, and more.
Exit Potential
Every time I buy a property I promise to hold it for at least 10 years. Time fixes a lot of profitability problems with real estate, which is why I recommend everybody buy property as young as they possibly can. I also promised myself before starting Financial Samurai that I would last for at least 10 years, no matter what. The longer you are around online, the more credibility you have.
Unfortunately, all good things must come to an end. Selling a property is probably easier than selling a website because it has a more stable income stream, it's an easier asset to understand, and there's a large installed base of buyers. People have been property owners since the founding of our great nation on July 4, 1776.
The price you can get for a property depends on where your property is. In places such as Manhattan and San Francisco, you can sell your property for 20-30X estimated annual rent e.g. a rental property that can command $100,000 a year in rent can sell for $2M – $3M. If your property is in the Midwest, you might only be able to sell for 6-10X annual rent.
The market for buying and selling an online business is much less developed. As a result, it's harder to sell your website for top dollar. The best multiple of annual revenue I've seen is 10X. Most of the online sales are for a mere 2-4X revenue. As a result, I am a strong buyer of websites that generate cash flow than a seller. The market will need at least a couple more years to develop.
It is much easier to sell real estate for top dollar. As a result, I give real estate a 9 and blogging a 6. I would give real estate a 10, but the 5% commission take still exists despite the internet allowing buyers to easily find properties they like and electronically sign documents with boiler plate legalese allowing sellers to easily transact as well.

Why Not Do Both?
Based on my scores, running your own web business or blog is more profitable and more enjoyable than being a real estate investor. Before starting Financial Samurai, real estate was absolutely my favorite asset class to build wealth. But as I get older and hopefully wiser, I find I have less patience dealing with people. I like the asset-light model of running a business.
You'd think I'd also enjoy investing in stocks more, but it's a distant third. The main reason is because I have no control over a stock's performance. Whereas with blogging, I know that if I spend 10 more hours a week writing, traffic and revenue will most likely increase. With real estate, I've got the ability to expand a property, find better tenants, and refinance my mortgage.
The more income streams you create, the safer your financial freedom will be. It's hard for anything good to last forever. My advice is to build your brand online, get neutral inflation by at least owning your primary residence, grow your dividend paying stock portfolio, and work a day job until you can't take it anymore.
By the time you want to negotiate a severance, you'll have so many income streams that you might never have to work for anybody again!
Related Post: How To Start A Profitable Blog Today
Real Estate Recommendations
Explore real estate crowdsourcing opportunities: If you don't have the downpayment to buy a property, don't want to deal with the hassle of managing real estate, or don't want to tie up your liquidity in physical real estate, take a look at Fundrise, one of the largest real estate crowdsourcing companies today.
Real estate is a key component of a diversified portfolio. Real estate crowdsourcing allows you to be more flexible in your real estate investments by investing beyond just where you live for the best returns possible. For example, cap rates are around 3% in San Francisco and New York City, but over 10% in the Midwest if you're looking for strictly investing income returns.
Sign up and take a look at all the residential and commercial investment opportunities around the country Fundrise has to offer. It's free to look.
Shop around for a mortgage: Check the latest mortgage rates online through LendingTree. They've got one of the largest networks of lenders that compete for your business. Your goal should be to get as many written offers as possible and then use the offers as leverage to get the lowest interest rate possible from them or your existing bank. When banks compete, you win.
Updated for 2019 and beyond. The longer I blog, the more I believe that blogging is a far superior asset class. Once you build momentum, cash flow really ramps up. For example, I sold a home in 2017 for $2,740,000 that was generating roughly $6,000 a month after all expenses. At the same time, I spent three months writing some content and optimizing existing content to generate an additional $6,000 a month with zero maintenance or property taxes.