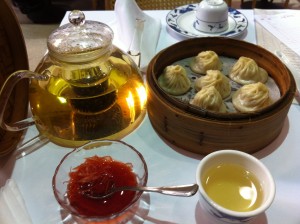 Despite highlighting four examples of people who are able to retire by 40, and providing very clear graphs that are mathematical tautologies on how to retire early, people still do not believe retiring by 40 is possible!  Do people really believe they can't live off $39,000, $60,000, and $88,000 a year for 20 years until they are in their early 60's and then live off other investments and Social Security?
Do people really believe that if they have $600,000, $900,000 and $1,400,000 in the bank today, they can't make it last for even longer than 20 years?  I am absolutely shocked by early retirement naysayers who believe they need so much more.
I will happily bet any amount of money that I could live off $1,400,000 for the next 25 years, even here in expensive San Francisco.  I'm not talking about retiring by 25, 30, or even 35 like I recently did.  I'm talking about retiring after 18 years working while consistently saving 55%+ of your after tax income!
Building wealth is straight-forward.  It's the psychology of wealth that fascinates me more than anything.  Why do people have limiting beliefs about themselves?  Is it due to low self-esteem, a lack of education, jealousy or delusion perhaps?  Is it the same reason why people are unhappy and bitter?  Let's tackle some push-backs and see if we can get to the bottom of things.
UNDERSTANDING LIMITING BELIEFS AND HOW TO OVERCOME
In the following section, I'd like to highlight some of the push-backs from commenters on my "How To Retire Early And Never Have To Work Again" post.  You should feel free to read the comments yourself.
Complaint #1: Income assumptions are too high.  Despite highlighting three different types of income assumptions (Average Jane, Go-Getter Floyd, Talented Felicity), the main focus from dissenters is about Average Jane's income!  There was no focus on Floyd or Felicity's much higher income at all. It was comment after comment about how Average Jane's income is too high.  Since when is starting off at $35,000, and making $80,000 after 10 years at the same company unbelievable?  Come on now.  Raise your standards!
Analysis: There is a lack of realization that average people can clearly make what Average Jane makes.  We're not talking about software engineers graduating from MIT who start off at $80,000 at 22 years old and make $200,000 by 28 years old.  We're not talking about Summa Cum Laude graduates we join strategic consulting firms with $65,000 base salaries and $15,000 year end bonuses their first year out.  Average Jane is a dedicated woman who worked hard for 10 straight years, got promoted along the way, and is doing OK at her sales job.  Her raises are not due to inflation, they are due to her performance and promotions.
Complaint #2: Inflation kills.  Yes, inflation is a powerful wealth zapper.  But guess what?  If inflation is out of control, your wages and your real assets are inflating out of control as well!  What do you think are the inputs accounting for the CPI and PPI figures?  There is a tight correlation with the 40 year chart of the 10-year yield and inflation.  Basically, the line has been going straight down.  If I wanted to include inflation in the picture, then I would equally assume a higher rate of wage inflation, and a higher rate of return on accumulated capital and investments.
Analysis:  The limiting belief here is that inflation is evil, which means we have to work longer than we want.  Inflation is neither good, nor evil.  It's just a fact of economics in a world with a growing population and limited resources.  You can choose to go with inflation and buy real assets and invest accordingly, or you can choose to go against inflation and keep all your money in a 0.2% yielding savings account, rent forever, and be a price taker.  For savers, as inflation ticks up, so will interest rates.
Complaint #3: "It just can't be done because I'm not there yet."  Just because you can't retire by 40, doesn't mean that other people can't retire early if they save 55% of their after tax income religiously for 18 years out of college.
Analysis: The limiting belief here is that this person believes he's special.  He believes that since he is special, and since he's not on track to retire by 40, he believes it's absurd for someone his age to have $185,000 saved up in his tax-deferred retirement plan based on my savings guide.  The delusional person believes it's impossible that other people age 30 can make $100,000 since it is so difficult to do, even though he makes $100,000 himself!  What a strange world we live in.
Complaint Bonus: "Why would you ever give up a $150,000 salary and retire early?"  One of the questions followed by a couple expletives from one dissenter on another site.  Clearly, the person does not make $150,000, nor has the person long enough to experience that there's more to work than just money.  $150,000 is the median income for 29 year olds coming out of the Top 10 business schools.
Analysis: The limiting belief here is thinking he knows something he has not experienced yet.  It's like someone teaching you how to be a millionaire, without being a millionaire themselves.  This person believes that a $150,000 income is so huge, it is inconceivable to ever give up.  If he ever made that kind of money, he would work forever!  For the older folks out there, we all know that priorities change.  Career and money might shift towards family, friends, and a more balanced lifestyle.  Furthermore, if you are making $150,000 or more for for a while, it's easier to let that money go for things you cherish more.
CONCLUSION
Limiting beliefs hurt your wealth creation goals.  Have the self-esteem and courage to believe in yourself and your wealth creation abilities!  Know that you can make more if you want to.  Know that you can save more of your after-tax income if you want to.  And if you don't want to, then stop complaining because not wanting the optionality of retiring early is exactly what you want.  It feels better to spend your money now, and work for longer because you enjoy your job.
At the same time, stop believing you are anything special!  You can't be delusional into thinking that you can retire early while not saving, investing, and building various income streams.  Please be rational with your thought process.  I write from experience, and I'm telling you the Average Jane's of the world can live off a $600,000 nut now for the next 20 years because I know of an Average Jane who is doing just that.  I'm telling you that a Talented Felicity can live off a $1.4 million nut, because we're having coffee in a couple weeks to catch up.
I make an unrealistic scenario in my post that we do NOTHING after the age of 40 until we begin to withdraw from our 401Ks and receive Social Security.  Instead, I'm sure many of us will have encore careers or pursue a passion that will likely make us some money.  I know I will.
STARTING AN ONLINE BUSINESS
It's been over six years since I started Financial Samurai and I'm actually earning a good passive and active income stream online now. The top 1% of all posts on Financial Samurai generates 31% of all traffic and revenue.
I never thought I'd be able to quit my job in 2012 just three years after starting Financial Samurai. But by starting one financial crisis day in 2009, Financial Samurai now makes more than $200,000 a year. If you enjoy writing, creating, connecting with people online, and enjoying more freedom, see how you can set up a WordPress blog in 15 minutes like mine with my tutorial.
You never know where the journey will take you. I was able to travel to Cambodia, Malaysia, Taiwan, Korea, and Vietnam for four weeks while running my online business. Starting a website is the best lifestyle move I've ever made, and it could be for you too!
RETIREMENT RECOMMENDATION
Personal Capital, a FREE financial tool, came out with their incredible Retirement Planning Calculator that uses your linked accounts to run a Monte Carlo simulation to figure out your financial future. You can input various income and expense variables to see the outcomes. Definitely check to see how your finances are shaping up as it's free.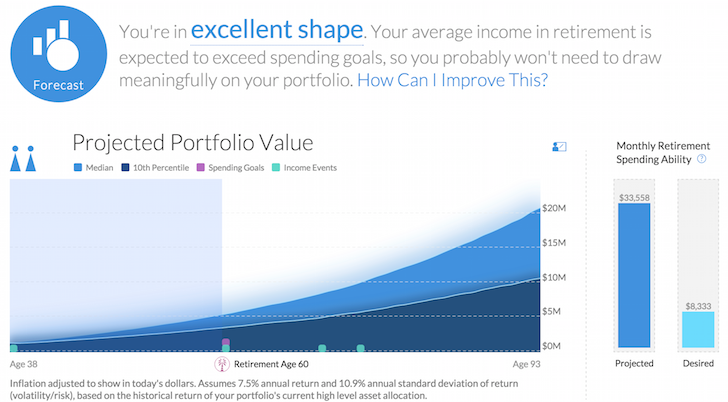 Updated for 2018 and beyond.