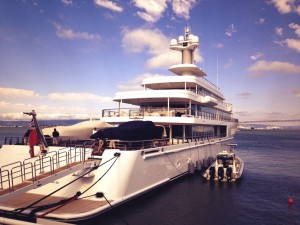 Although being a millionaire sounds nice, it's not that impressive anymore thanks to inflation. If you retired today at 65 with $1 million and no Social Security, you'd only be able to spend $40,000 – $45,000 a year for 25 years until you'd run out of money.
$40,000 – $45,000 a year is not bad for an individual or a couple with no debt. But it's not like you're popping Crystal in the hot tub on your luxury yacht in the South of France – not that that's what everybody wants to do of course.
The first thing we should do is pray the government doesn't raise the minimum Social Security age to something absurd like 85 years old or simply cut payouts drastically. If our prayers aren't answered, let's hope our 401ks and IRAs don't get taxed out the wazoo come distribution time. If our hopes for a well-managed government are crushed, then surely we'll have developed multiple income streams by retirement so no one event can get us down!
When I was working at McDonald's for $4.00 an hour, I filled up my 1987 Toyota Corolla FX16 babe-mobile for $1 a gallon. I distinctly remember not being excited about making $4.25 an hour, but I had to do it because my parents didn't give me much spending money. Besides, I wanted to do more than treat the ladies to free apple pies and Mcflurries.
The minimum wage in America is now between $8 – $11 an hour and gas is around $3.5 a gallon depending on where and what type you get. I think it's interesting that the minimum wage used to be 4X the amount of one gallon of gas. Now the gap has fallen to only ~3X as the cost of goods have surged faster than wage inflation.
I'm not sure whether this post will motivate people to accumulate more wealth or demoralize people who don't think amassing a $1 million net worth is remotely possibility. I constantly need motivation to try harder because I tend to kick back too much. Only until we fully understand reality can we come up with a realistic financial plan. 
Dreams Of Becoming A Real Millionaire
The most I ever thought I'd make after graduating from my public university, The College of William & Mary, was $100,000. I had $100,000 in my mind because that's how much a senior foreign service official was making back in the late 1990s. I respected my father's work and used him as a barometer for success.
I thought I'd start off at $30,000 and work my way up to that elusive six figure mark by the time I was 60. If I diligently saved at least 20% of my income and invested wisely, reaching the magical $1 million figure would be achieved. Related: How To Make Six Figures At Almost Any Age
But instead of going into the public sector, I joined a bulge bracket Wall St. firm that paid handsomely in exchange for what felt like indentured servitude for the first couple of years in Manhattan. Every single VP and Partner at Goldman Sachs were millionaires and I quickly became accustomed to the fact that I'd join their ranks if I stayed the course. Going public in 1999 was a cataclysmic event of wealth for everyone at the firm.
Sometime in my late 20s I crossed the one million net worth mark. But, I didn't really know until I started religiously tracking my finances after the financial crisis hit at age 31-32. I was already beginning to lose motivation working in finance after 10 years, and the fear of losing everything really kicked me into gear to start watching and actively managing my money.
I encourage people to develop individual financial wealth. Yes, it's nice to grow your wealth together with your partner, but divorces and separations happen all the time. Be independent, so that no matter what happens, nobody can take away your financial freedom! Please read The Average Net Worth For The Above Average Married Couple, especially if you are in a tenuous relationship.
Being a millionaire isn't all that it's cracked up to be because there are roughly 10 million millionaires in America alone, or roughly 4% of the working population. To put 4% in context, the Asian population in America is roughly 4.5%, and you see Asian people everywhere! Furthermore, thanks to the Stealth Wealth movement, we know there is much more untraceable wealth out there that the government doesn't know about.
Here's a chart I put together with rough prices of goods and services today vs. in the past. You'll notice there are a lot of significant increases, especially with tuition, real estate, and health care.
Current Prices vs. Historical Prices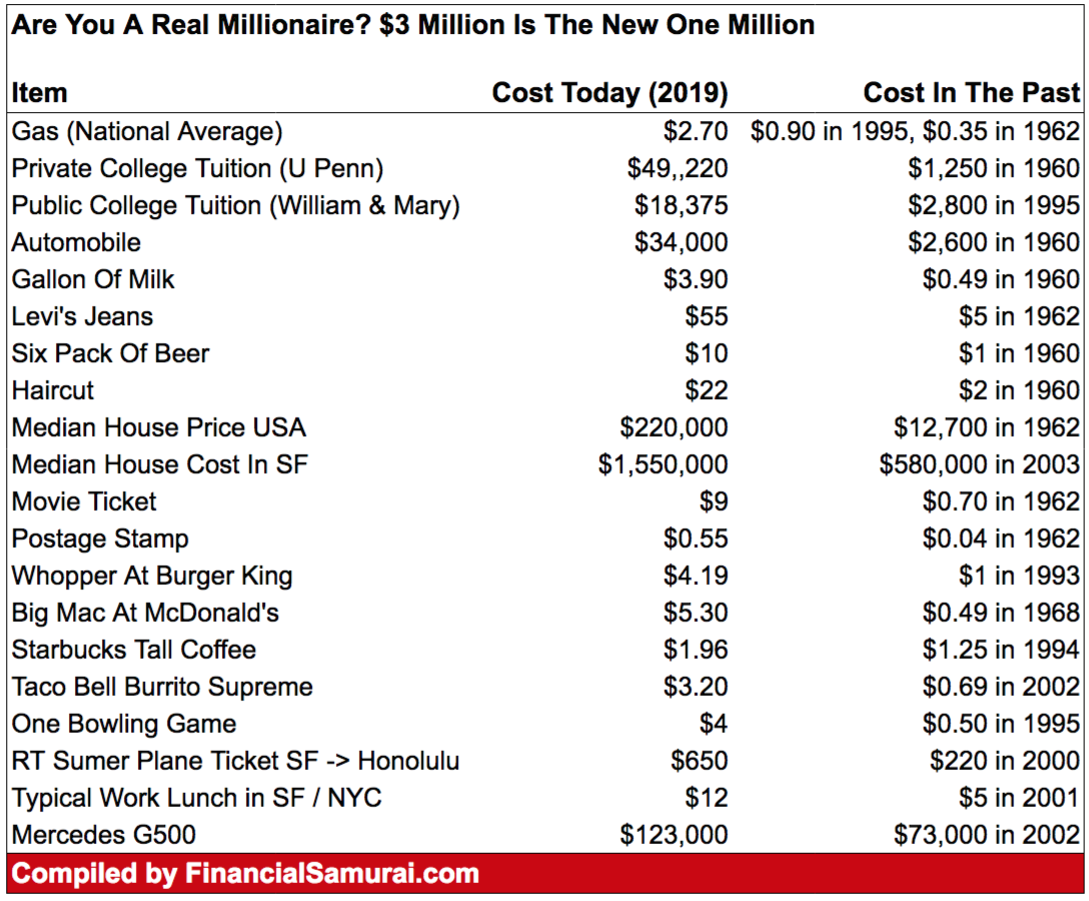 The most absurd rises in costs above are college tuition, automobile, and housing prices. Unless you are already rich or receive a scholarship, I really don't think it's worth paying $49,220 in tuition alone to go to U. Penn or any of the Ivy Leagues for that matter. Education is free now thanks to the internet and you can utilize the cost savings to start a business, join a club for net working, or a host of other things.
$34,000 for the average automobile today vs. $60,000 for the median household income shows why it's so easy for the typical person to get into so much financial trouble. Sure, financing and leasing makes cars more affordable, but it gives people a false sense of wealth, especially if they aren't aggressively saving already.
Finally, housing costs in cities such as San Francisco and New York City are incredibly expensive in a nationwide context. I remember buying my condo in 2003 for $580,500, which so happened to be the median housing price in San Francisco at the time. Back then, I thought $580,500 was relatively good value. But now Zillow says it's worth $1,2,80,000, which no longer sounds like good value. The price would have to be less than $800,000 for me to replicate the value I felt in 2003.
Here's a chart I put together of a real family of three just getting by on $300,000 a year. This family has over a $5 million net worth and is clearly living a relatively middle class lifestyle.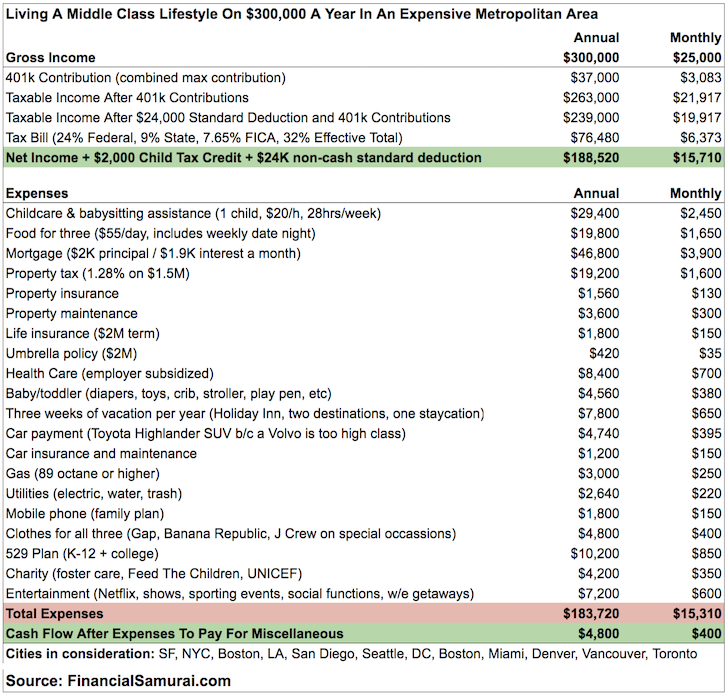 The New Millionaire Realty
Being a millionaire is nice, but it's not what it used to be. Shoot for a $3 million net worth if you're going to shoot for millionaire status. With a $3 million net worth and no government support at age 65, you can now spend a much more luxurious $120,000 a year or so until you run out of money in 25 years. Plus if you follow my ideal withdrawal rate in retirement (never touch principal), then you will never run out of money.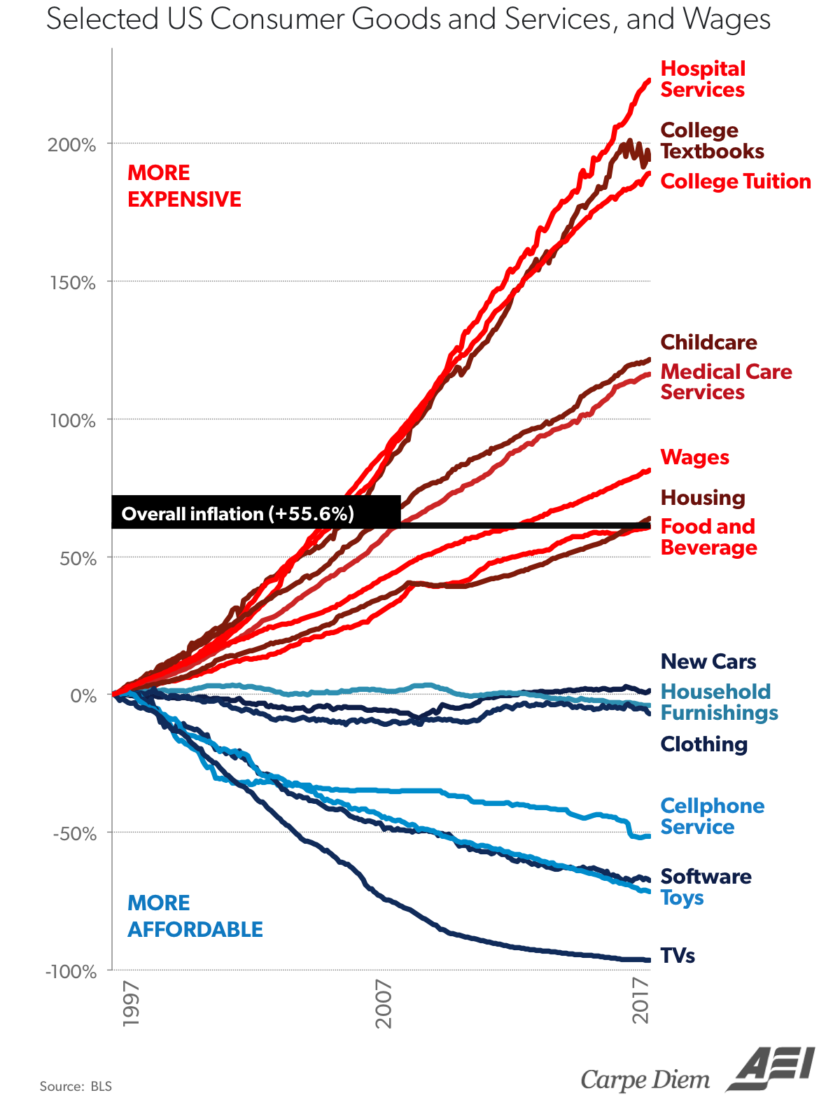 But if you don't make it to a $3 million net worth figure by retirement, don't worry. Life is still absolutely fantastic because we've got a large safety net from the government so far and a massive generational wealth transfer to look forward to. And if our government and our parents screw us, then at least we've got peace in America and free internet!
Recommendation To Build Wealth
Manage Your Finances In One Place: One of the best way to become financially independent and protect yourself is to get a handle on your finances by signing up with Personal Capital. They are a free online platform which aggregates all your financial accounts in one place so you can see where you can optimize your money. Before Personal Capital, I had to log into eight different systems to track 25+ difference accounts (brokerage, multiple banks, 401K, etc) to manage my finances on an Excel spreadsheet. Now, I can just log into Personal Capital to see how all my accounts are doing, including my net worth. I can also see how much I'm spending and saving every month through their cash flow tool.
The best feature is their Portfolio Fee Analyzer, which runs your investment portfolio(s) through its software in a click of a button to see what you are paying. I found out I was paying $1,700 a year in portfolio fees I had no idea I was hemorrhaging! There is no better financial tool online that has helped me more to achieve financial freedom. It only takes a minute to sign up.
Updated for 2019 and beyond.