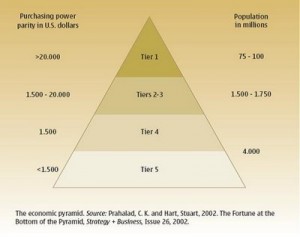 One of my favorite business school classes focused on Emerging Market Economies.  We read C.K. Prahalad's book called, "Fortune At The Bottom Of The Pyramid", which basically described how entrepreneurs were finding cost effective ways to serve the poorest people in the world and also be profitable.
Conventional business wisdom states that one must go after those consumers with the deepest pockets and the highest propensity to spend.  Prahalad argues that we have a social responsibility to help the other end of the spectrum improve their living standards and not be afraid of going bust in the process.
One of the keys that came out of helping the poor in emerging markets is the concept of micro-lending.  Micro-lending is a fascinating concept which essentially pools together the funds of people in usually small communities, and lends out those funds to a select few.  Together, a community is able to help each other more impactfully than if they were separate.  What's also very interesting is that the tighter the community, the lower the default rates compared to conventional banks because everybody feels a deep sense of responsibility.
THE YAKEZIE WRITING CONTEST