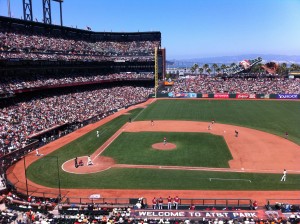 As the markets were melting down this past week I decided to go watch the World Champion San Francisco Giants beat up the lowly Arizona Diamondbacks in the middle of the day.  It's quite a treat to watch every game this season because of our current world champ status.  Next season, we'll be just another team, trying to figure out our way back to glory.
At $80 a ticket, access doesn't come cheap, but with the ticket comes all you can drink cervezas.  Besides, 1pm games are the best on sunny days.  Might as well go!  When my friends and I got there, we were shocked.  The stadium was absolutely PACKED!  We are talking 40,000 people enjoying a baseball game in the middle of a work day.  See picture above.
I thought about it for a second and came to the realization that the reason why 40,000 people can spend on average $50 per ticket during the middle of the day is because despite the market meltdown, we all have job security or don't need to work because we have the disposable income to spend.   With a sample set of 40,000, it's obvious that the economy will be just fine and that unemployment is actually better than what the media drones on and on about.
Think about it.  If you were broke, you'd just stay at home or go to a bar and watch the game on TV for free.  If you were worried about your job, you wouldn't ditch the afternoon to go watch a game.  You'd be working your tail off and trying to add value.  If you were unemployed, you aren't sweating it because you're getting $1,450/month in unemployment income for 99 weeks.  Spending $50 might be more wisely spent elsewhere, but it's sunny, and it's the SF Giants we're talking about!
People have more money than you know.  Why else do you think companies like Apple, Prada, and Tiffany's are doing so well?  I went to visit my friend's new place this past weekend and it was awesome!  They had been living in a quaint 1,300 square foot apartment for the past several years and now own a 5 bedroom, 4,600 house on a half acre in one of the most prime areas for $3.3 million!  He said he wasn't looking to buy, but couldn't pass up such a good deal when he was able to sell some of his start-up company shares.  Not bad for a guy in his mid-30s just 5 years out of business school wouldn't you say?
Don't listen to media schadenfreude about how bad unemployment and the economy are.  They are just bitter they are tied to their desks and can't come out and play.  I've got my finger on the buy trigger come flash crash, Moody's/Fitch credit downgrade, banishment of US treasuries by foreigners and political gridlock.  And, I'll bet you a hundred bucks that the rest of you are thinking the same thing as well.  Why?  Because you've got the cash baby!
INVESTMENT PLATFORM RECOMMENDATION
Invest In Ideas Not Stocks: Motif Investing is a terrific company based right here in the San Francisco Bay Area. They've raised over $60 million dollars from smart investors such as JP Morgan and Goldman Sachs because they are innovating the investment landscape with their "motifs." A motif is a basket of 30 stocks you can invest in, which are aimed to profit from a specific idea or underlying theme. Let's say you think new housing construction is going to quicken in the US next year. You could buy a housing motif which might contains Lennar, KBH, Home Depot, Bed, Bath, and Beyond, Zillow, and more in various weightings.
You can buy a basket of 30 stocks for only $9.95, instead of buying them individually for $7.95 through a typical broker. You can build your own motif, buy one of the motifs created by Motif Investing, or buy a motif by a fellow Motif Investor with a great track record. You can even buy retirement motifs, much like target date funds, except you don't have to pay the 1% management fee. You get up to $150 free when you start trading with Motif Investing. Given my focus on buying winning long-term ideas and ignoring the short-term volatility, I really like Motif Investing's value proposition for retail investors.
Updated on 2/10/2015. The bull market is alive and well. Don't forget to rebalance and manage your risk exposure. Everybody feels like a genius during good times.