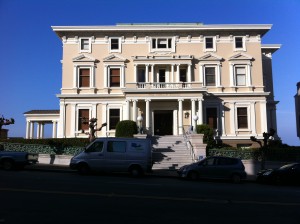 Back in July of 2010, I wrote a post entitled, "Am I Living In A Parallel Universe?" discussing the disconnect between the robustness on the ground in San Francisco and the incredibly negative mood by the mass media.  Even my online friends were making fun of my bullishness.  You guys know who you are!
Hopefully you guys not only increased your asset allocation towards equities, you also took advantage of the amazingly bubbliscious bond market and refinanced your debt.
At the end of 2010, Twitter was valued at some $3 billion bucks now its valued closer to $15B in 2015, despite the fall. Prince Alwaleed's 3% stake for $300 million in December of 2011 now values the company at some $9-10 billion!  The same thing has happened for Facebook, now valued at some $100 billion.  There is so much liquidity out there it's absolutely ridiculous how much new wealth is being created.  Look at more representative companies of the economy, such as McDonald's and IBM.  Both stocks are near record highs.
Let's discuss some reasons why people continuously are slow to recognize change.  We'll also discuss how you can improve your sense of reality by being more honest with yourself.
WHAT'S WRONG WITH PEOPLE
* We are delusional. Delusion is the root of many problems.  You are a C-student but you think you deserve an "A" lifestyle so you spend more than you have and get yourself in trouble.  The perfect metaphor is that you believe you can fly, so you jump off a building and die.  Back in the summer of 2010, you didn't believe the economy was recovering because your mind selectively chose to highlight all the suffering in the world, even though you yourself were fine!  People love to point out that everyone else is suffering but themselves.  You know that's just stupid because if you're fine, and you represent everybody else, then of course everyone is fine.
* We are dumb. Let's face it, we all think we are smarter than we really are, but the fact of the matter is, many of us are just dumb.  There are actually people out there that think that grades don't matter.  Seriously, that's just stupid if you think grades aren't one of many indicators people look at to select the best people possible to partner up with.  When traffic is horrendous, you can't get a reservation at your favorite restaurant until 10pm, your friends are all getting jobs, and the stock markets are marching higher due to better earnings and a re-rating, and you still think the economy isn't doing well, then you are dumb.
* It's hard to let go. Change is stressful and we hold on for longer than we should.  Money losing stocks are a great example.  The stock is down 10%, and we believe it'll recover.  The stock is now down 30%, and we continue to hold on until the stock is down 50%.  We finally sell, and the stock goes up.  We are so stubborn and so slow when it comes to change, that we end up missing out on opportunities.  When we feel hurt, we want other people to hurt too, so we can feel better about ourselves.
* We are as blind as dingbats. There are certain people or organizations out there that are just no-brainers to latch onto.  In "Riding Rocketships For Greater Success", I talk about how everyone should identify who is the rocket ship in their midst and hop aboard.  If you are not constantly surveying your community to identify who is the one with great potential, you are just missing out.  You need to build those relationships with those rocket ships, leverage off what they are doing, and create your own success as well.
HOW TO IMPROVE
* Be honest with yourself. The first thing to do is to conduct a thorough self-assessment of ones attributes to reduce the amount of disillusionment.  I can't surf, which means I will never be a cool surfer dude with nice deltoids and back muscles that can pick up beach babes.  I can't control myself around cheeseburgers and butter cookies, which means I will never have washboard abs or be a male model.  I have trouble hitting a top spin backhand, which means I will never be a truly elite tennis player.  Damn, I'm depressed now!  But, that's OK, it's better to be realistic than delusional.
* Recognize that many people are smarter, more attractive, and harder working than you. She will also get the better assignments and get more attention because she's not only speaks three languages fluently, she's just that much hotter than you.  He will always have more money than you because he started his business years earlier.  Once you recognize that you aren't hot sh*t, you are better able to recognize reality.
* Once you recognize reality, systematically work on improving those things you care about.  You can't be everything to everyone, but you can be great at a focused list of things.  The goal is to figure out what's important to you and focus like a mad person to get there.
CONCLUSION
2016 is going to be a better year than 2015.  You just have to open your eyes to see that things are improving.  Credit card use is on fire again.  Car sales are at a record high.  Unemployment rate has dipped to 8.6%.  Interest rates are at record lows.  Consumers are cashed up and spending.  Meanwhile, every single bad thing is known, barring another terrorist attack.
With political false promises as a final buttressing point, how can the economy not be back?
RECOMMENDATIONS TO BUILD WEALTH
* Manage Your Money In One Place: Sign up for Personal Capital, the web's #1 free wealth management tool to get a better handle on your finances. You can use Personal Capital to help monitor illegal use of your credit cards and other accounts with their tracking software. In addition to better money oversight, run your investments through their award-winning Investment Checkup tool to see exactly how much you are paying in fees. I was paying $1,700 a year in fees I had no idea I was paying.
After you link all your accounts, use their Retirement Planning calculator that pulls your real data to give you as pure an estimation of your financial future as possible using Monte Carlo simulation algorithms. Definitely run your numbers to see how you're doing. I've been using Personal Capital since 2012 and have seen my net worth skyrocket during this time thanks to better money management.
Updated for 2016