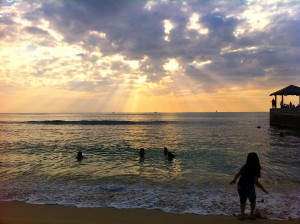 Every now and again, it's good to reflect on things in order to improve. You've likely read my updated About page already and have a decent sense of what this site is about after going through some of the posts.
There are thousands of personal finance blogs on the web and certainly millions more blogs across all categories you can potentially visit. It's just impossible to do and you've got to pick and choose. I'd like to formalize Financial Samurai's value proposition to help you understand why you want to keep coming back for more.
We are going to build more wealth, slice through more money bullshit, and be happier because of it!
THE FINANCIAL SAMURAI VALUE PROPOSITION
* The Joy of Communication: Interaction with all of you is what makes Financial Samurai so much fun. I tend to respond to the large majority of comments where there are questions. Even if you don't have questions, I like to drop an occasional note of observation and thanks. I'm not going to sit in a high chair far above and not interact with you readers. Hence, if you have questions, feel free to ask, and I'll get to them as efficiently as possible.
* Just Me And The Community: 99% of the posts are written by me and I do not employ staff writers or ghost writers. I've got a large backlog of posts that are ready to be published, including several good ones from Financial Samurai readers which I'm sure you'll find interesting. The whole point of having a blog is to share your own views and opinions, otherwise, you might as well just read a newspaper don't you think? I also welcome all well-written guest posts from the community. I've found that nobody cares more about your writing than yourself, which is why I tend to lose interest in sites that employ too many voices.  You'll be amazed at how many sites employ ghost writers by the way. I was shocked to find out myself.
* Quality Of Writing: I spend a lot of time editing my posts and guest posts so that they come out as clear and entertaining as possible. Of course there will be typos and grammatical errors here and there, but for the most part, the content is well put together. Remember, this is not the New York Times or The Washington Post! Articles are generally opinionated and I try and make readers think about issues at hand, even if they object. Despite having some controversial posts, you will hardly ever find nasty comments because I think the argument structures are sound. The average post length is around 1,500 words, and the posts have consistently come out 3-4X a week since 2009.
* Entertainment: I get easily bored, which is why I will only publish something that I find relatively entertaining. It's impossible to always have the most riveting content on the web. That said, even the most mundane things like raising your credit score can be told through an experience that will incite emotion. Furthermore, I will keep the topics forever changing. My focus is on real estate, health, insurance, taxes, retirement, government and relationships. There will seldom be a dull moment on Financial Samurai if I can help it. Thank goodness there are so many crooked politicians and companies out there!
* Integrity: Because I don't depend on online income to survive, or need to work anymore for that matter, I care less about what corporations, potential advertisers, and other bloggers think of me. It doesn't mean I don't care. I just care less. To go to war over something I believe in is a true honor.  I find it fun and invigorating to battle an opponent to the end! If you wrong me, like PG&E wronged me, I have no qualms about pointing out the injustices even if that means a lack of sponsorship in the future. If you treat me well, like Personal Capital has treated me well by not only providing excellent free financial tools to help people build wealth, but also reaching out to me for a part-time consulting offer in November 2013, I'll stay a loyal user until the very end. Everybody has the right to make money online and do what they want with their websites. There are certain things I need to be vague about in order to protect individual identities. However, it's the takeaways which are the most important thing.  It's what you say and do on the web, your social capital if you will, which matters most.
* First-Hand Experience: I'm not pontificating on what things would be like, or how things could be. I'm sharing with you my experiences and telling you what I've learned after 13 years working in finance, two years working in financial technology, and six years producing personal finance content on Financial Samurai. If I don't know about something, and find the subject interesting, I'll ask someone who does know to share their thoughts. Because I own a home, have rental properties, invest in stocks, invest in bonds, and invest in private companies, there is always going to be a ton of investment content that we will discuss. Maybe we'll all be able to make some good returns as a result.
Because I pay a crap load of taxes, hate taxes, and think the government is made up of crooks, we will constantly have philosophical debates on how to improve our country. Because I worked at McDonald's making $3.25 an hour and worked a lot of other low paying jobs since high school, I empathize with those who are financially struggling (See: Spoiled Or Clueless? Try Working A Minimum Wage Job As An Adult). As a manager in the workplace, you will gain career perspective on how to get ahead and blow yourself up. Finally, as a person who has lived in 7 different countries, and visited 50 more, you will find a diversity of cultural viewpoints to help expand the mind. I hate racism, bigotry, and ignorance.
* Financially Independent: One of the main underlying goals of reading any personal finance site is to figure out how to achieve financial independence. If someone could teach me how to retire early with real money and never have to work again, I would pay them a lot because time is priceless! Good thing for you, I've mathematically figured it out and have shown you how to realistically retire by 40 or 45 if you want to. Whether you take the leap of faith, it's up to you. When you work due to the joy of your work, and not because you need the paycheck to survive, that is a great feeling.  It's the same way I felt getting my MBA. Grades didn't matter, just the learning.  Hopefully by reading Financial Samurai, you will get a glimpse into the way someone who is financially independent thinks about things.
* Quality of Readers: We have the best personal finance readers on the web. Just spend time reading the comments to see for yourself. It's a virtuous cycle where good content attracts good readers who attract more good readers. I've learned so much from all of you, as I'm sure many of you have learned so much from the community as well. A large majority of us have moved beyond the basics of personal finance and are looking to maximize our lifestyles, super-charge our investments, optimize our taxation structures, see the world, and have a frolicking good time in the process! We will indulge a little more than average in some of the luxuries life has to offer. There's no point making money if you don't spend it. Check out details about the typical Financial Samurai reader!
MAY WE CONTINUE TO SLICE THROUGH MONEY'S MYSTERIES

I am a big fan of the personal finance and lifestyle blog community. So in essence, I am like all of you readers. I like to be entertained while learning something new in the process. Those sites that can offer such a combination are the sites that keep me coming back for more.
A blog is also a great testing ground for new things. It's been around six years since I started Financial Samurai and I'm actually earning a good passive income stream online. The top 1% of all posts on Financial Samurai generates 31% of all traffic. The average age of the top 1% posts is 2.3 years old. In other words, after putting in the hours to write some very meaty content over two years ago, 10 posts consistently generate a monthly recurring income stream that's completely passive.
I never thought I'd be able to quit my job in 2012 just three years after starting Financial Samurai. But by starting one financial crisis day in 2009, Financial Samurai actually makes more than my entire passive income total that took 15 years to build. If you enjoy writing, connecting with people online, and enjoying more freedom, see how you can set up a WordPress blog like mine in under 30 minutes with my step-by-step tutorial. It's cheap and easy to start. You never know where the adventure will take you!
Photo: Girl dancing in a Hawaiian sunset, SD.
Updated for 2017 and beyond.