I'm about to make the biggest financial decision of my life and I need your input.
Remember how I was saying in a previous post that I thought there would be a two or three-year slowdown in SF real estate starting in 4Q2015 before its off to the races after Airbnb or Uber IPO? Well, I was wrong! 2016 was a relatively mild year with low single digit returns partly due to an influx of new condo construction saturating the market. However, 2017 has turned out to be very strong with the median single family home price surging to $1.5M, an all-time high!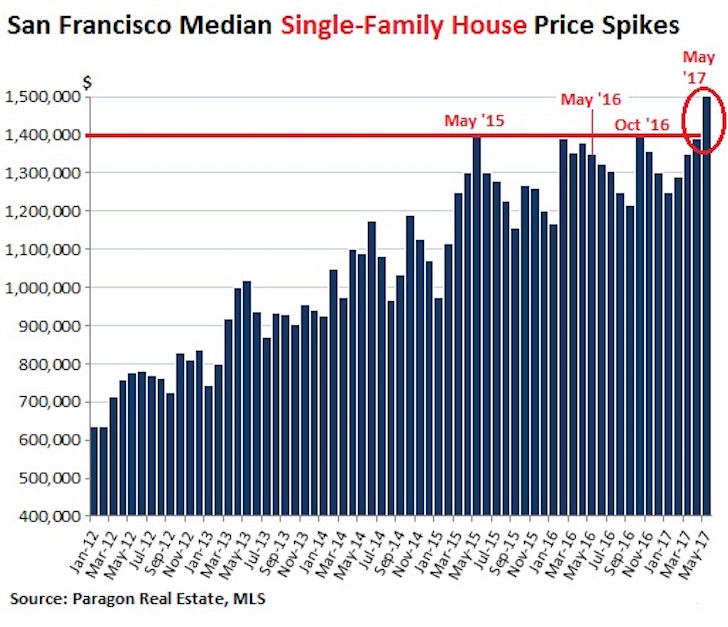 I've been very fortunate to ride this SF real estate bonanza since 2003. But after a recent bad tenant experience, I've been more open than ever to selling.
What I realized after Googling "should I sell my rental property" is that I've been thinking about doing just that since 2013 when one of my own posts showed up on the front page: Should I Sell My Rental Property And Simplify Life? At the time, I was going through another annoying situation with a condo neighbor. It's always a trip when your own stuff pops up in search that you forgot you wrote.
As fate would have it, just two weeks after my tenants vacated, I received an offer that might be too good to pass up. Given it's a good idea never to make big decisions when emotions are high, I thought I'd lay the situation out to gain some objective feedback. Let me first provide some background. 
Housing Situation
* Bought a single family home in an established SF neighborhood for $1.52M in early 2005. Put down $304,000 (20%), which was everything I had at the time.
* Four years left on an $810,000, 5/1 ARM at only 2.375%. It would be a shame to let this rate go after fighting so hard for it.
* Have a written offer for $2.742M (+80% higher than the purchase price). The original offer was $2.6M, but I countered at $2.79M. After a couple back and forths we agreed to $2.742M plus a $10K credit I'd provide at closing.
* The buyer hasn't released financing contingency yet, but said his bank is set to fund on June 19 or June 20. This gives me an out to cancel the deal before then if I find something better (buyer or renter) given I didn't give him a financing contingency extension. I accepted his offer after he removed his inspection contingency.
* Was renting the home for $9,000 a month. After one month of searching, I haven't found the ideal tenant for the price. I really don't want to rent to 4-5 guys again. Hence, there's a chance I may have to lower my asking price to find a more headache-free tenant.
* The 100X rule says that I should buy a $9,000/month rental property for $900,000 or less or conversely sell a property once it starts trading for much more than 100X monthly rent. At $9,000/month, the property currently trades at 303X monthly rent (25.25X annual rent). At $8,500/month, the property trades at a 321X monthly rent (26.75X annual rent).
* With my mortgage, it cash flows about $48,000 a year after all expenses or roughly $67,200 if you include the principal pay down. If the mortgage is paid off, then the property will cash flow about $7,200/month because the property tax is $21,888 / year and forever rising. I planned to pay off the mortgage within 10 years.
Why I'm Reluctant To Sell
* Commissions. I got the rate down to 4.5% from the traditional 5% – 6%. But that's still $123,000 in commissions. The longer I wait to sell, the lower commission rates will go.
* Property Transfer Tax = ~$25,000. What a waste of money to enrich our bloated city budget for doing nothing.
* Long term capital gains tax = At least $100,000 even after the $250K/$500K exclusion.
* A property for my child to live in. Once you've got your housing expense covered, you can afford to live comfortably in even the most expensive cities. I can't imagine what rent will cost in SF in 23 years.
* Step up basis. When I die, my child inherits the property at the market value not my purchase price. If he decides to sell the property immediately, he'll pay zero taxes.
* Proposition 13 means I'll have an artificially low property tax rate the higher the market goes.
* Capital appreciation. I believe San Francisco is one of the cheapest international cities in the world. Uber, Airbnb, Pinterest, Dropbox will all go public in the next 3-5 years, unleashing billions of liquidity into the SF Bay Area ecosystem. I'm surprised Pinterest was able to recently raise $150 million at a $12 billion valuation. I thought the company was going backwards.
* I've got demand at $9,000/month from 4-5 guys and $10,500 if I dare rent to six guys.
Why I'm OK Selling
* My original plan of living off my passive and semi-passive income streams in retirement is no longer necessary because I found a way to make a livable online income stream. If I didn't have an online income stream, I would never sell. Related: Ranking The Best Passive Income Streams
* I was willing to sell the property in 2012 for $1.7M, but no buyers were to be found. When I bought my current house in 2014, I was willing to sell my old house for $2.2M but I decided to take some extra risk and hold on. Before I got my offer for $2.742M, I told myself I would strongly consider selling for $2.6M.
* I'll still be long a single family home and a condo in SF after I sell.
* If there is a tech correction / recession, it'll be nice sitting on a lot of cash.
* I'll be following my Debt Optimization Framework. When you're done with the working world, it's a good idea to minimize debt to minimize the risk of having to go back to work.
* I've got a bird in the hand, which may never return if I let go.
* The $250K/$500K tax-free profit exclusion will go away next year.
* Supposedly I can 1031 exchange any profits over the $250K/$500K exclusion, meaning that I can pay zero taxes. I'll have to double check, but so far all my research says this is true. Please let me know if you think otherwise.
* I won't have to eventually spend $10K – $15K replacing the roof, $10K changing some windows, $8K painting the back of the house, $8K on a new furnace, and $15K for staging if I were to list my home on the MLS.
* I know exactly how I'll reinvest the proceeds. Each investment should earn more than the current ~2.2% net rental yield (cap rate).
$300,000 will go into Fundrise. If I can earn a 10% IRR over the next 5 years, then I'll 100% match the rental income lost from the sale with much less capital required. My earlier investments have started to pay dividends, which I'll write about in my 2Q2017 investment update.
$300,000 will be invested in various national REITs for higher income.
$500,000 will be invested in various tax-free California municipal bonds.
$100,000 will be used to pay down my 4.25% vacation property mortgage. I should pay down more, but I just hate feeding a mistake.
$100,000 will be invested in various equity structured notes with downside protection.
$50,000 will be used to speculate in individual equity names.
$300,000 will just sit in the bank as I patiently wait for a stock market or real estate market correction that may never come.
$150,000 will be earmarked for long-term capital gains tax if I don't do a 1031 exchange.
What Would You Do?
When I bought the house in 2005 for $1.52M, I felt strongly the house could easily be worth $2M in a short period of time. As a result, I invested everything I had and lived very frugally for years after.
If you want to experience financial fear, get a $1.2M mortgage at the age of 28 on top of a $460K mortgage you already took out two years prior for a condo with nothing left in savings! It takes iron balls to take this type of risk. Ah, to be young, stupid, and full of courage again.
Unfortunately, the financial crisis hit several years later, delaying my beliefs and giving me all sorts of ulcers. There was definitely a point between 2008-2010 when I thought I'd have to start all over again. It was a very humbling time period, but I kept the faith, partly thanks to this site and many of you.
When you sidestep a bomb in 2008 – 2010 and then dodge a bullet in 2012 after not being able to find a buyer, you begin to wonder when will your luck run out. I took a similarly sized risk in 2014 by buying my current single family home with close to a $1M mortgage while already having a $900K mortgage on the home I'm considering selling today. When you don't have a steady paycheck, this is a risky move! But due to this decision, I've experienced double appreciation with leverage.
They say you can never lose if you lock in a gain. At the same time, I feel strongly San Francisco home prices will be much higher 10 – 20 years from now. What would you do? Gut it out as a landlord, hire a property manager despite the already low yield, do a 1031 exchange, or sell and reinvest the proceeds in various higher yielding, lower maintenance assets?
I feel I've reached a clearing price where I'm somewhat ambivalent with either outcome. But I know I'm missing something since it's hard to be completely emotionally detached from a home I spent 10 years of my life in. Heck, Financial Samurai was born in this house!
Update: I ended up selling my SF rental house for $2,740,000 and reinvesting all the proceeds in 100% passive investments. I am so much happier not having to maintain this house now that I'm a father. Truly, managing rental properties is a young person's game!

Loading ...
Wealth Building Recommendations
Explore real estate crowdfunding: If you're looking to buy property as an investment or reinvest your house sale proceeds, take a look at Fundrise, one of the largest real estate crowdfunding platforms today. They allow everyone to invest in mid-market commercial real estate deals across the country that were once only available to institutions or super high net worth individuals. They are the pioneers of eREIT funds and they are creating an Opportunity Fund to take advantage of tax-efficient Opportunity Zones. Thanks to technology, it's now much easier to take advantage of lower valuation, higher net rental yield properties across America.
Shop around for a better mortgage rate: Check the latest mortgage rates online through LendingTree. They've got one of the largest networks of lenders that compete for your business. Your goal should be to get as many written offers as possible and then use the offers as leverage to get the lowest interest rate possible from them or your existing bank. When banks compete, you win. Interest rates have come back down.
Updated for 2019 and beyond.