If you want to get rich, you might as well focus on joining industries that pay very well. But there's more to just joining a well-paying industry to get you to a million dollar income. You've also got to perform at a high level, survive cutthroat competition, and receive lots of luck along the way.
Corporate politics can be brutal on your climb to the top of the pyramid. Oftentimes, it's those who've been able to successfully sell themselves internally who achieve the greatest rewards.
During my career in investment banking, I was too defiant. Despite getting promoted quickly in my 20s, I stalled in my 30s because I didn't want to relocate to grind cities like New York or Hong Kong. Nor could I pretend to like enough people who could push me forward. In the end, I decided to see what I could do entirely with my own fingers.
We know that an American top 1% income starts at around $450,000 in 2020. We also know that a top 1% income varies by age as well. For those interested in making a top 0.1% income, let's take a look at some career profiles. 
The People Who Make $1 Million A Year Or More
Managing Director, Investment Banking – Achieving the title of Managing Director has always meant that you'd finally break seven figures a year, at least when I worked in the industry between 1999 – 2012. The typical MD base is around $400,000 – $500,000, and they would often earn a bonus of $500,000 or more.
But the bonus is often paid in deferred stock and cash. For example, out of the $500,000 bonus, only $200,000 might be paid in upfront cash. The remaining $300,000 is deferred over four years.
If you quit before the four years is up, you lose your deferred compensation, which is why negotiating a severance is huge in any industry with deferred compensation.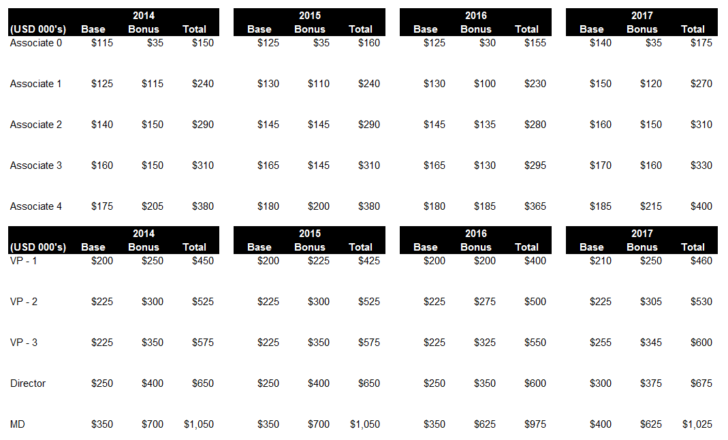 General Partner, Private Equity – Private equity is one of the most coveted next step careers for investment bankers. The hours are much better, while the pay also tends to be higher as well. These folks earn salary, bonuses, and carried interest, which can often lead to huge bucks.
Some of the top private equity firms include: Blackstone Group, KKR, Warburg Pincus, TPG, and various sovereign wealth funds like Temasek, GIC, and Abu Dhabi Investment Authority.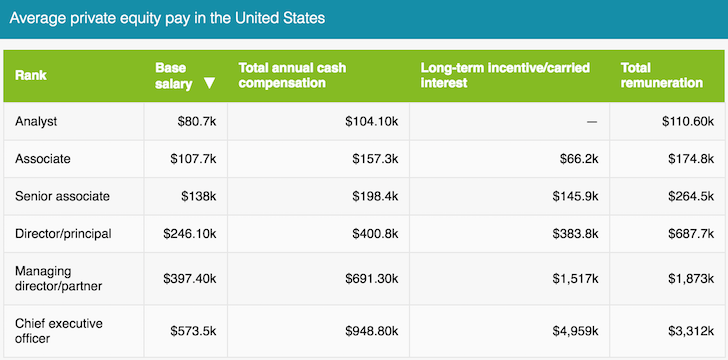 Portfolio Manager, Hedge Fund – Again, your compensation is based on performance, size of assets under management, and the number of employees. First-year associates out of business school can make $250,000 – $500,000 at the largest shops. By the time you become a general partner or portfolio manager, you should be making at least $1 million a year if your fund is over $500 million.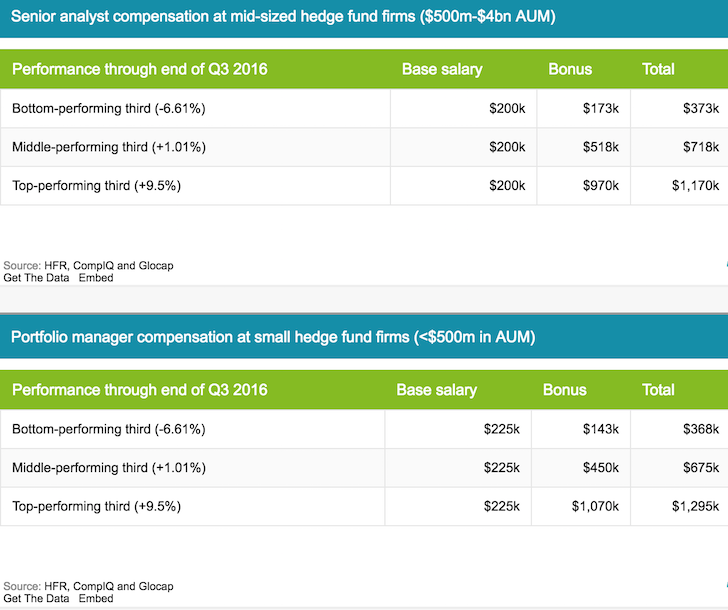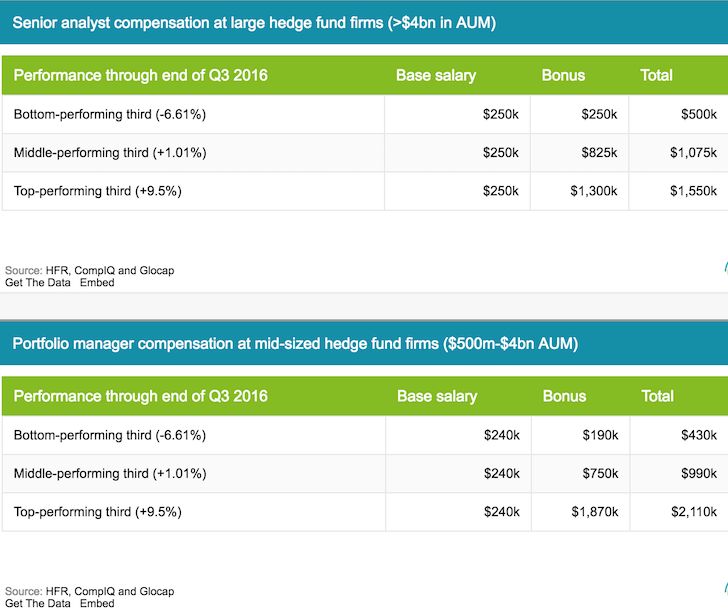 Portfolio Manager, Actively Managed Long Only Fund – Fund manager pay is based on tenure, performance, and assets under management. In order to earn $1 million a year, you will probably need to manage over $1 billion in assets under management and have a solid 5-year or longer track record of performance. A 1% fee on $1 billion generates $10 million a year in revenue to pay the portfolio manager, analysts, office rent, marketing, other operating expenses, and the overall company.
But most of these actively run funds are charging less now (~0.5%) due to the proliferation of index funds. Companies such as BlackRock, Fidelity, Wellington, T.Rowe. Price, Capital, PIMCO, Prudential, Nuveen, Invesco, Janus, AXA, Legg Mason, TIAA-CREF and many more all have portfolio managers and some analysts who earn over $1 million a year.
Principal/ General Partner, Venture Capital – Just like all the other money management industries, there are good venture capital firms and there are bucket shops. The largest VC firms like Benchmark, Sequoia, and Kleiner Perkins pay their General Partners multi-million dollars a year, especially if one of their investments has a huge exit such as when Whatsapp sold to Facebook for $19 billion in stock and cash.
I consider being a VC one of the best vacation jobs in the world because you don't have to build anything, you get to earn a nice salary with carry, and you don't have to prove your investment returns for years given the normal 5-10 year lockup periods for funds. By the time your limited partners discover you've made terrible investments, you'll have earned a lot of money and moved on to a new VC or started a new fund within the firm.
Analyst $ 80K – $ 150K
Associate $ 130K – $ 250K
Vice Presidents $ 200K – $ 250K + $ 0-1MM

carry

bonus
Principal/Junior MD $ 500K – $ 700K + $ 1-2 MM

carry

bonus
Managing Directors/Partners $ 1MM + $ 3-10MM

carry

bonus
Partner, Big Law – The starting salary for first-year associates is around $190,000. By their 8th year (34-35 years old), their salaries will have risen to around $330,000. The funny thing about big law is that everybody up to the 8th year all get paid pretty much the same across all firms.
Bonuses are nothing to write home about, often ranging between 0% – 20% of salary. Therefore, in order to make the big bucks in law, you need to become a partner where you're bringing in business and earning a percentage of profits.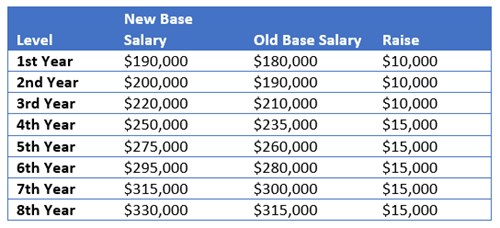 Strategy Consulting, Partner – Firms like McKinsey, Bain, and BCG are some of the top strategy/management consulting firms. But to get to partner and $1,000,000+ generally takes about 10 years after business school, and only a few make it that far. Here's the salary progression from the website managementconsulted.com.
First-year out of undergrad:
Base: ~$80k
Signing Bonus: ~$5k
Performance Bonus: up to ~$12k
First year out of MBA:
Base: ~$150k
Signing Bonus: ~$25k
Performance Bonus: up to ~$44k
Manager/Project Leader (2-3 years out of MBA):
Base: $190-210k
Bonus: $80-120k
Associate Principal/Senior Project Leader (4-5 years out of MBA):
Base: $230-300k
Bonus: $110-200k
Junior Partner/Principal (6-8 years out of MBA):
Base: $320-400k
Bonus: $300-500k
Senior Partner/Director (10+ years out of MBA):
Base: $400-600k
Bonus: $500k+ (all-in, senior partners at top firms usually make $1M+; top partners can make $4-5M while ultra-performers can make more)
Division I Football Coaches – The average salary of a Division I football coach is roughly $1.8 million. It is the football coach that is often the highest paid state employee. For example, Nick Saban took down $11,132,000 at Alabama in 2017. Not bad! Even Urban Meyer, a head coach full of controversy for covering things up makes over $6 million a year.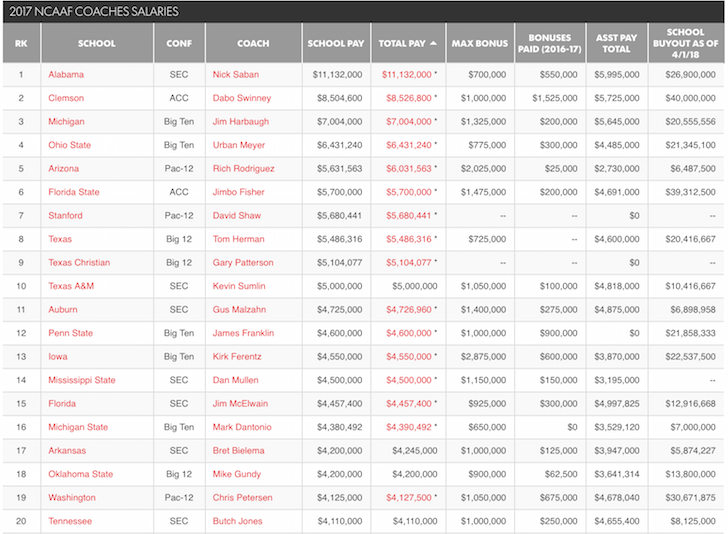 Public Company C-Level Executive – Don't let $1 salaries fool you. C-level executives are often paid mostly in stock compensation. The theory is to tie compensation to performance. They simply end up getting way more stock than anybody at the firm.
For example, Dara Khosrowshahi reportedly got a $200+ million package to join Uber and pretend that the firm cares about its minimum wage earning drivers.
Google CEO Sundar Pichai has a base salary of around $650,000, but got a stock grant worth $199 million in 2016. The median CEO pay for the top 100 largest companies reached a record $15.7 million in 2017.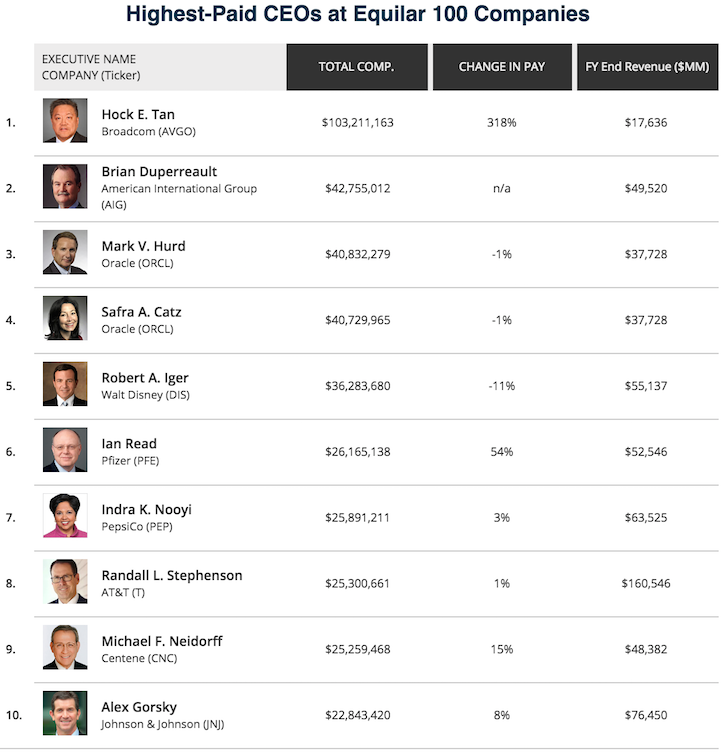 Self-Help Gurus – The self-help industry is estimated to be worth more than $11 billion dollars and growing because we're all jockeying to make more money and gain more prestige. The self-help industry is also considered recession-proof since even more people are looking to get out of the muck during downturns.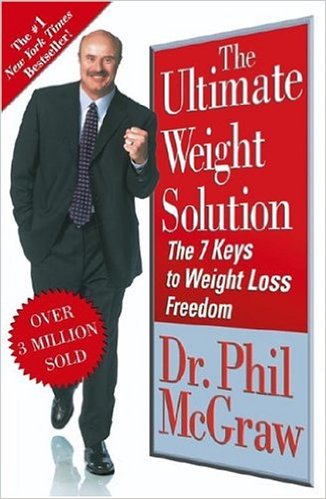 Folks like Tony Robbins make millions selling $10,000 self-help seminar tickets. His net worth is estimated at $500 million. TV personality Dr. Phil wrote a bestseller on how to lose weight and eat right, despite he himself being overweight. Then there are guys like James Altucher whose company generated over $11 million in sales selling himself as a cryptocurrency genius in order to sell his courses online.
Whether you succeed or fail, these people will always succeed because people are always feeling bad about themselves in this ultra-competitive world.
Professional Athletes – They make great money, but their longevity isn't very long. One estimate says that if you are able to finish every professional golf tournament at par, you will average $1 million a year in earnings. Did you know the NBA veteran's minimum salary is $2.4 million if you've been in the league for 10+ years? Pretty good if you can survive that long.
The average NBA player will make ~$25 million during his career. This is based on an average annual salary of $5.2 million and a career length of 4.8 years. In comparison, the average NFL player will make only $6.5 million due to a lower average salary of around $2 million a year and a shorter average career length of just 3.3 years. Elsewhere, the average MLB player earns about $3.3 million annually, while the average NHL player earns about $2.5 million.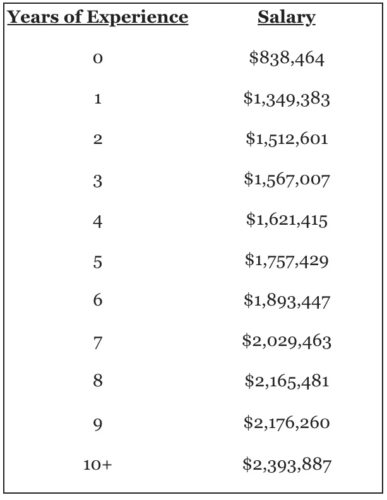 Entertainers – From actors, to musicians, to reality stars, being an entertainer today can be extremely lucrative. No wonder why so many people want to be famous! I thought Judge Judy's salary was only $47 million a year. But according to Forbes below, she took in $147 million in 2018.
Everybody wants to become a YouTube star nowadays with top earners who look like everyday folk earning $10 – $15 million a year. My favorite is Ryan Toys Review, a six year old who pulled down $11 million in 2017.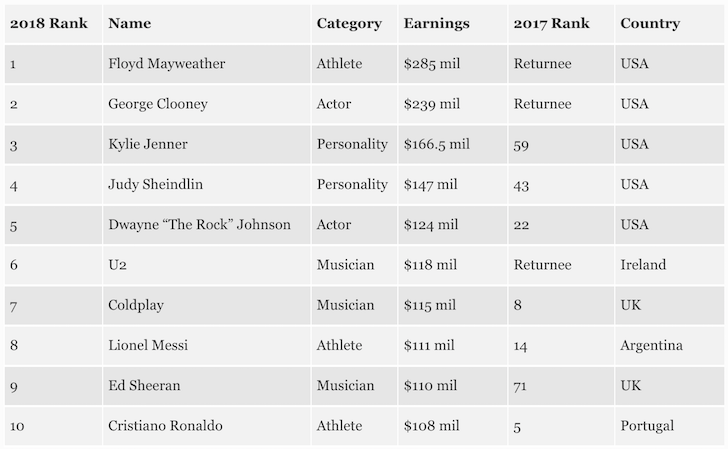 Doctors – Due to popular demand, I've added doctors to the list. I didn't include them in the beginning due to the enormous cost and time it takes to become a doctor compared to their compensation. Pay has actually been falling for doctors due to many factors, including: government intervention, private practice consolidation by hospitals, rising insurance costs, and more.
Orthopedists top the list with annual average compensation of $443,000, taking into account salary, bonus, and profit-sharing contributions, according to Medscape's 2016 physician compensation report. Cardiologists and dermatologists come in second and third for earnings, earning $410,000 and $381,000, respectively. The lowest earning doctors are pediatricians, which bring in about $204,000 annually.
In order to make over $1,000,000 a year as a doctor, you need to be a partner in your own private practice and have a great source of recurring clients. I personally think doctors are very underpaid for how much value the provide to society. Teachers too.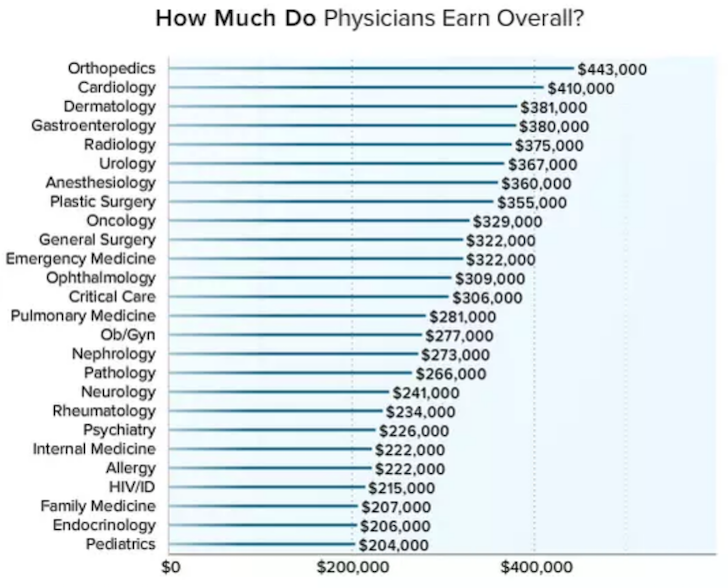 Online Entrepreneurs / Bloggers – Blogging is my favorite business in the world because you can simply write whatever is on your mind and advertisers will pay you, not your readers. Since you give away your product for free, there are no returns, no customer support, and no obligations to your customers, only freedom baby!
One of my favorite responses to an unhappy reader is, "I'll gladly refund any money you've paid to read my work." For some reason, they never respond. Whoo hoo! I'm telling ya, if you're irreverent and don't want to worry about your product spoiling or having a defect, blogging is the best.
Once you build a brand and can generate organic traffic of over one million pageviews a month, there's a decent chance you could make $1 million in revenue a year. Here's a sample income report from a personal finance blogger.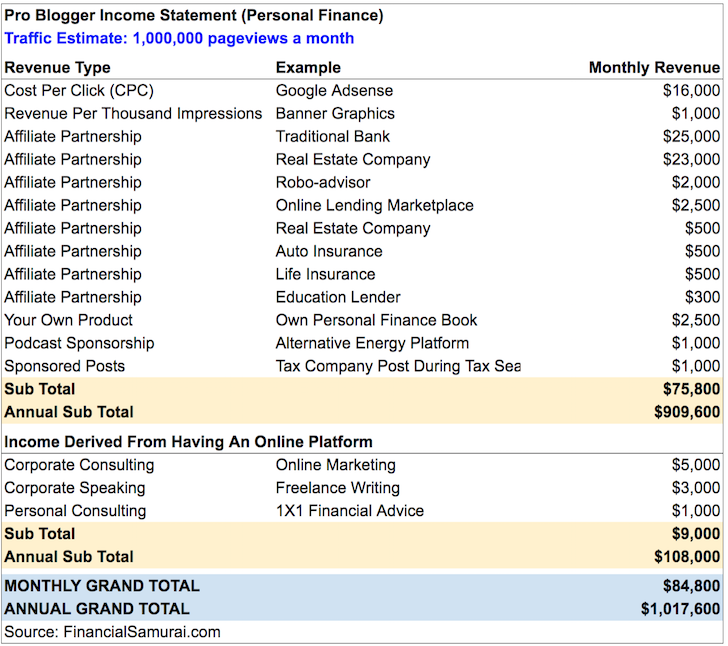 There are plenty of online entrepreneurs who are generating a tremendous amount of cash. They are in e-commerce, SAAS, and info product spacee.
As we've learned from the lockdowns in 2020, an online business is even more valuable that before, all things being equal, because its earnings are more defensive. When you can't shut down an online business, its valuation clearly goes up relative to other business that are at risk of being shut down.
The Million Dollar A Year Dream
The easiest way to make $1 million a year or more is as a public company non-founding CEO or senior executive. The compensation is outrageously high for what they do. CEOs have huge teams who do most of the work for them.
A CEO is really just an ambassador of the firm who tries to drum up positive PR. They sign off on decisions that have already been carefully vetted. They neither invent new ideas or get in the weeds.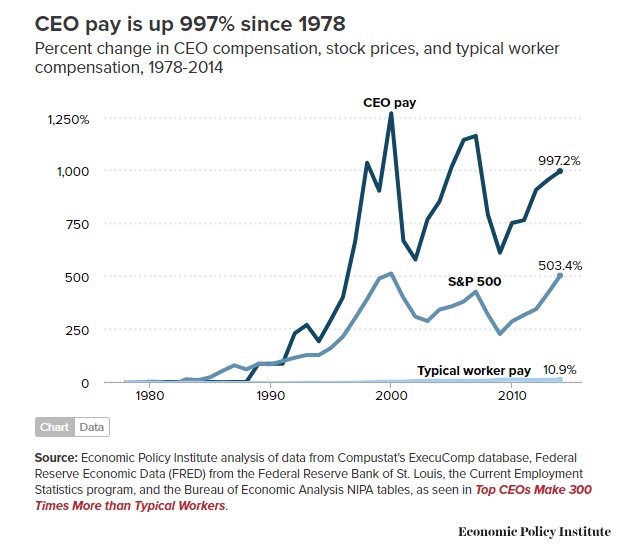 The hardest way to make $1 million a year or more is in a profession that relies mostly on performance. If you remove the CEO, the company will still run fine. The stock might even go up.
As a professional tennis player, nobody is going to win a match for you. As a fund manager, you're either outperforming your respective index or you aren't. As a professional blogger, you're either going to come up with interesting content that gets indexed and shared, or suffer in purgatory.
The upside is professions that rely mostly on performance provide the most satisfaction.
I don't have to tell you that earning $1 million a year is difficult. That's $83,333 a month in operating profit. Even if you do get to such a milestone, it's even harder to stay there over the long-term due to competitive forces that will eat away at your product or services.
Never assume you'll make $1 million again the next year. Instead, save as much of it as you can. If possible, figure out a way to build a brand around yourself or your business to expand your earning power.
Always work on improving your craft because eventually, you will become irrelevant. When that time comes, however, you already will have saved up a lovely nest egg to support you for the rest of your life in peace.
Remember, you only need to get rich once! Once you get rich, make sure you stay there by protecting your capital. After you amass enough wealth, your life will not get better and you will not get happier trying to amass even more.

Loading ...
Recommendations For Getting Rich
Stay On Top Of Your Money: Sign up for Personal Capital, the web's #1 free wealth management tool to get a better handle on your finances. Remember, it's not so much how much you make, but how much you keep. Run your investments through their award-winning Investment Checkup tool to see exactly how much you are paying in fees. Then make sure you run your financials through its Retirement Planner to make sure your financial future is on track. There's no rewind button on the road to financial freedom. Best get it right the first time!
Start Your Own Business: Not a day goes by where I'm not thankful for starting Financial Samurai in July 2009. Recessions are a perfect time to try and start a business and do something new. Here is my step-by-step guide to starting an online business. It takes less than $3/month and 45 minutes to set up.
Updated for 2H2020 and beyond