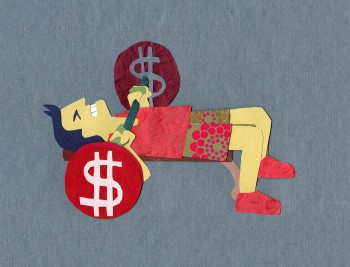 For years I worked hard for my money. I'd get into work before the sun came up and leave work after the sun set every day. The pressure to generate revenue was immense with some bosses relentlessly cracking the whip. Thank you sir, may I have another!
In the end, working hard was worth it due to the optionality I now have. Besides, it wasn't like I was going into harms way to combat gorilla soldiers in Iraq. Those guys are the true hard workers, which is why the government needs to make sure every opportunity is given to our troops back home.
Nowadays, I'm still working hard for my money ironically, because I've reset to zero. I'm being somewhat counter productive in retirement because I'm afraid of getting lazy. If I don't achieve my goals in one year or feel like I'm not on track, then I will probably just go back to work. To be frank, going back to work would be a failure, unless I found something incredibly awesome, like being a masseuse's guinea pig.
MAKING MONEY WORK FOR YOU IS HARD
I only work hard now because I have the energy. One day, my mind will fade to the point where even if I wanted to work hard, I couldn't. Saving money is EASY compared to making money work for you in this low interest rate environment. Almost anybody can save 10% of their income if they really want to, but I guess less than 1% of the population can return a risk-free 10% every year. Bernie Madoff claimed to do so, and look where he is!
Here are some common asset classes to evaluate:
* Physical Real Estate. One of my favorites takes advantage of rising rents and falling mortgage rates. Money is leveraged for a greater return, while the mortgage principal gets paid down. Hold long enough and I firmly believe most real estate investors will build tremendous wealth. Here is an example of almost $400,000 after taxes in wealth creation after nine years. I firmly believe that real estate is going to see a nice multi-year upswing until the government decides to take away our mortgage interest deductions!
Money Strength Grade: A
* Real Estate Crowdsourcing. I'm excited to invest with RealtyShares, the #1 real estate crowdsourcing platform in the country where you can invest in real estate projects around the country for as little as $5,000. The returns have been 9% – 15% over the past several years.
Money Strength Grade: B+
* Dividend Income / Stock Market. Dividend yields are a function of profits and payout ratios. Given the volatility of the stock market, dividend income has also been somewhat volatile. Sure, it's nice to get a 5% dividend yield, but not so nice if your stock is down 20%! My stock portfolios are bias towards large cap, dividend paying stocks, along with real estate private equity funds. I wish volatility in the stock markets would decrease, but until it does, it's important to stay on top of rebalancing and asset allocation. The stock market is now at all time highs in 2015. All of us are looking good who have exposure.
Wealthfront is an excellent algorithmic digital wealth advisor for those who want the lowest fees and can't be bothered with actively managing their money themselves once they've gone through the discovery process. In the long run, it is very hard to outperform any index, therefore, the key is to pay the lowest fees possible while being invested in the market. Wealthfront charges $0 in fees for the first $15,000 using my special invite and only 0.25% for any money over $15,000. You don't even have to fund your account to see what type of portfolio they'll build for you based off your risk tolerance. Their minimum is only $500 to get started. You can contribute automatically by linking up your checking account so you're always investing first, and then spending.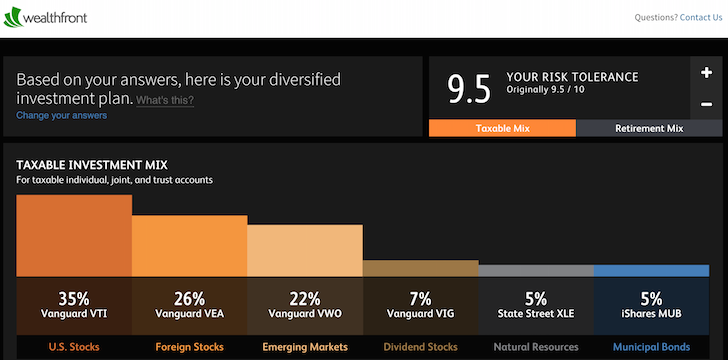 Money Strength Grade: B+
* CD Interest Income. CD interest income is guaranteed for principal up to $250,000 for singles and $500,000 for couples. When 5-year and 7-year CDs yielded over 4%, they were reasonably attractive, risk-free investments. Now with long-term CDs at only 1.5-2%, the value proposition is more difficult. Everybody should have some money in CDs as part of their diversification, but that portion of wealth should be declining. Take a look at my post on CD investment alternatives.
Money Strength Grade: C+
* Money Markets. The average money market account is 0.1%. That is tremendously pathetic. As a result, I moved some money online, which is yielding ~1%. I'm not going to get rich with 1%, but 1% is still 100X greater than where I was keeping my liquid cash at 0.1%. Money markets shouldn't be considered an investment. But, you might as well optimize your returns while you wait since the internet makes everything so easy.
Money Strength Grade: D
* Online income. Online income didn't really exist 15 years ago. For those of you who are able to effectively leverage the internet to generate income, the sky is the limit. I'm enjoying the whole online adventure and being careful not to overdo things. Making a sustainable living online takes a lot of creativity as well as a lot of content. You can't sit back and watch the dollars come in. But once you've started your own website, the sky is the limit due to its scaleability!
As you can see, not only can you make money directly from your site, you can also make money because of your site. I've been able to find many six figure consulting opportunities thanks to Financial Samurai. Learn how to start your own site in under 20 minutes with my step-by-step tutorial guide. You want to own your brand online.
Not a day goes by where I'm not thankful for starting my site in 2009. I never would have thought I could leave my job just 2.5 years later and be free!
Money Strength Grade: A-
* Physical gold. Physical gold is nice, but where are you going to put it? Gold prices have been steadily going up thanks to the Federal Reserver's loose monetary policy which is crushing the US Dollar. Unfortunately, gold provides no yield, so it is pure speculation. I've got a good chunk of change in the Vanguard Metals & Mining fund myself. However, I'm just gambling here as I expect QE4, baby!
Money Strength Grade: D
* Under Your Mattress. There are plenty of folks who keep their hard earned savings either under their mattress, in the freezer, or buried in their back yard. You might laugh, but it's true! When banks were going under, it wasn't unreasonable to just hoard physical cash, despite the FDIC guarantee. Just think what would happen if all electricity went away like in the show, Revolution? There would be no record of any of your wealth and you could never get any of it back. We really are taking a leap of faith by electronically transferring our money to financial institutions.
Money Strength Score: F-
SAVING MONEY IS THE EASY PART
If you think creating significant passive income is easy, you haven't been trying. It takes a tremendous amount of time to build up a large enough nut to create enough money to twiddle your thumbs in the hot tub all day. My money strength grade has gone from a self-assessed B+ down to a C given the fact I've got 25% of my net worth in CDs which are going to reset to a lousy 2% in the coming years if I don't do anything about it.
Why do you think people who sell businesses for millions, who win lotteries, or who depend on just one income stream fade down the road? Their money strength is weak because of little effort to maximize returns with the nut they had. Everybody needs a savings buffer and a passive income buffer to increase their chances for financial independence. It's not easy, but you should try!
Improve Your Money Strength Now!
Track Your Net Worth Easily For Free: Get a handle on your finances by signing up with Personal Capital. They are a free online financial tools platform which aggregates all your financial accounts in one place so you can see where you can optimize. Before Personal Capital, I had to log into eight different systems to track 28 different accounts (brokerage, multiple banks, 401K, etc) to manage my finances. Now, I can just log into Personal Capital to see how my stock accounts are doing, whether I have too much invested in real estate, and how my net worth growth is progressing. I can also see how much I'm spending and earning every month to make sure I'm within budget. Personal Capital takes less than one minute to sign up and is helping me build wealth for the long run for free.
About the Author: Sam began investing his own money ever since he opened a Charles Schwab brokerage account online in 1995. Sam loved investing so much that he decided to make a career out of investing by spending the next 13 years after college working at Goldman Sachs and Credit Suisse Group. During this time, Sam received his MBA from UC Berkeley with a focus on finance and real estate. He also became Series 7 and Series 63 registered. In 2012, Sam was able to retire at the age of 34 largely due to his investments that now generate roughly $210,000 a year in passive income. He spends time playing tennis, hanging out with family, consulting for leading fintech companies, and writing online to help others achieve financial freedom.
Updated for 2017 and beyond.