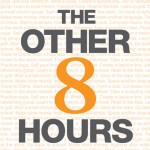 Author: Robert Pagliarini, author of The Six-Day Financial Makeover and president of Pacifica Wealth Advisors.  You may have seen him on Dr. Phil or 20/20.
Publisher & Book Info: St. Martin's Press, hard cover, 301 pages, $25.99.
Review: The main premise for Rob's book is that everybody's day is split into three eight hour parts: work, sleep, and everything else.  Rob's hope is to get you motivated to do more during the everything else portion to maximize your own potential.  First of all, I don't know anybody who only works 8 hours a day.  10 hours of work a day seems more realistic.  Second, who gets to sleep 8 hours a night?  Sounds like elusive bliss to me.   Let's assume 6 hours of nightly sleep instead, which ironically leaves the same 8 hours of time for everything else!
The Other 8 Hours is an enjoyable read because each chapter contains not only practical advice, but real life inspirational stories to help motivate readers to action.  Too many times we just come home, plop on the sofa, and do nothing.  That's no way to live.  Below are Rob's top 10 things he recommends doing with your spare time to help increase wealth and purpose.
Top 10 Creator Channels:
1) Blogging
2) Inventing
3) Writing Books, Screenplays, Music
4) Starting A Company
5) Reselling, Affiliating, and Licensing
6) Taking Advantage of Fads/Stunts
7) Working for Stock in a Company
8} Advancing or Jumping Careers
9) Freelancing
10) Turning Hobbies into Income
Blogging definitely has the potential to earn you a few shekels with enough time and dedication.  I've daydreamed about sitting on my yacht somewhere in the south of France writing to you about saving money on champagne and caviar!  Then reality sets in.  However it's always good to dream.
The item that most interests me is #2.  Rob dedicates a chapter to each of his 10 creator channels, which is very useful because many don't know where to start.  Rob provides a road map, highlights the pitfalls, and ends each chapter with actual resources you can use.  For inventing where do you go to develop a prototype, receive independent reviews, and hire an agent?  Many answers are all addressed.
WARNING THAT NEEDS FOLLOWING
One of Rob's key messages, which I wholeheartedly agree, is to NOT jump head first by quitting your job and investing everything you have in your business idea.  I'm sure there will be plenty of those will disagree with this premise.  How can you succeed if you don't put everything you have into your idea?  You can, but simply during the other 8 hours!
We always hear the tremendous entrepreneurial success stories, but we seldom ever hear of the failures.  Trust me, there are tons of failed ideas, and if you were to invest everything you have in a failed idea, it's going to take a lot for you to get back to your previous financial state.  Be methodical in your approach, test out your product thoroughly, and make sure you see signs of success before you quit your full time job.
CONCLUSION
Who wouldn't want more time, more money, and a better life?  It's simplistic to say a book will give you all that.  However, The Other 8 Hours helps provide a catalyst to get you going.  You won't just read a book that tells you what to do.  The Other 8 Hours helps shows you how.
WIN ONE OF TWO BOOKS – CONTEST ENDS ONE WEEK FROM TODAY

* Tweet and follow for one entry.
* Sign up for our RSS or E-mail feed for one entry.
* Comment about a project you are working on during your other 8 hours for one entry.  Do you think quitting your job to dedicate everything to your side project makes sense?
* If you have a blog, link back and highlight the contest for three entries.
Regards,
Sam @ Financial Samurai – "Slicing Through Money's Mysteries"