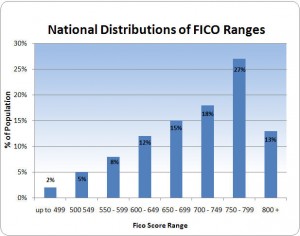 A very good friend of mine will only marry a woman with at least a Master's degree from a top 25 school. Given less than 10% of the western world has a Master's degree, it's kind of curious why he'd want to limit his pool of mates given he's still single at 35 years old. The answer is that he has a Doctorate in Medicine from Columbia and a cardiology fellowship from Cornell.
As any good friend should, I've made fun of him for years for being so picky. He'd always retort, "Look Sam, I'm a catch! If a woman wants to date me, they've got to be up to snuff." He's hilarious and I love him for it! I could never quite understand his insistence for a highly educated woman until I finally got an 805 on my credit score this summer. (How To Improve Your Credit Score To 800+)
The difference between an 805 credit score and a 770 credit score is negligible. You still get the best rates by lending institutions who gladly open up their coffers. But to go from a high 700s level to over 800 takes years. The process feels like plate tectonics where land moves only one inch a year. So being the very honest person that I am, I suddenly started thinking questions such as:
"Should I figure out someone's credit score before I marry them?" 
"Should I set a minimum credit score limit for a woman I plan on dating?"
"Should I raise my minimum credit score hurdle rate for prospective tenants to 760 from 720?"
"Can I fully trust someone with my financials if s/he has under a 700 credit score?"
"Will TransUnion send me a framed copy of my credit score if I ask?"
I'm suddenly an arrogant bastard! I went through some very similar thoughts after I finished business school as well. Suddenly, everybody without an MBA didn't seem as smart, especially my bosses who just had undergraduate degrees and not even CFA designations. Despite my more experienced bosses bringing in more revenue to the firm, I mentally discounted their achievements. The air of superiority only lasted for a couple months before I returned to a normal cog in the wheel. (Should I Get An MBA To Find A Wealthy Husband Or Wife?)
The more you achieve, the higher your expectations of others. I kind of feel sorry for children of very wealthy parents, brilliant entrepreneurs, celebrities, or double PhDs.
EVERYTHING IS A SCREENING MECHANISM