Are you wondering how commercial real estate is affected by the coronavirus? This post provides a great overview thanks to expert insights from CrowdStreet, one of the leading real estate marketplaces today.
We've discussed how single family home prices are holding up during the pandemic given inventory is down and mortgage rates are at record-lows. It's worth looking for bargains from the same sellers who sold stock when the Dow was below 19,000 or when the S&P 500 was below 2,300. These motivated sellers are out there. You just have to aggressively look to find them.
Now I want to turn our attention towards how commercial real estate is being affected by the coronavirus pandemic. Not only do I want to understand which types of commercial real estate are being most negatively impacted, I also want to know which types of commercial real estate are holding up. There is investment opportunity, especially as the economy gradually opens up.
To get some detailed analysis, who better to ask than CrowdStreet, a favorite real estate crowdfunding platform and a FS affiliate partner. Since 2014, CrowdStreet has been focused on commercial real estate opportunities mostly in 18-hour cities where valuations are lower and growth rates are higher due to demographic trends.
Commercial Real Estate And The Coronavirus Pandemic
Here are some thoughts on how various types of commercial real estate are being affected by the coronavirus pandemic. We'll analyze the various sectors from best performing to worst performing.
Industrial Commercial Real Estate
The long-term trend towards online shopping has been well documented, but practically overnight we were all forced to buy everything online (for some that includes groceries, the last holdout against e-commerce). Demand for large-scale distribution centers has skyrocketed in response.
At the same time, many distributors and retailers have found out the hard way that they do not have adequate last-mile distribution (the "out for delivery" part of your package tracking) which is often the most expensive and complicated part of the shipping process.
Yet a recent report from PWC shows 62% of consumers expect orders to be delivered within two days of purchasing (even though many sites are alerting customers to COVID-19 shipping delays).
Odds are there will be heightened demand for even more last-mile distribution spaces, especially in growing metro areas, as companies strive to ensure they are well-positioned for the future.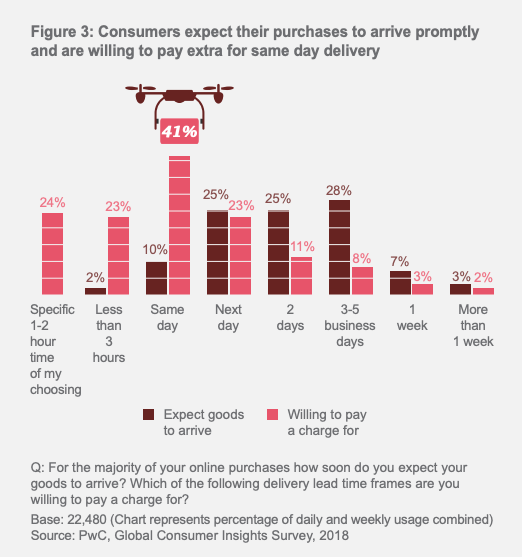 SOURCE: https://www.pwc.com/gx/en/retail-consumer/assets/delivery-expectations-global-consumer-insights-survey.pdf
Another type of industrial–data centers–are also lagging behind demand. Video conferencing company, Zoom went from 10 million daily meetings in December to over 200 million daily meetings in March, for instance.
The past month has exposed which cloud companies did not have adequate server space to handle an entirely remote workforce and although that demand may level out when offices reopen, cloud-based businesses were already putting a heavy stress on existing data centers.
Amongst REITs, data centers (Digital Realty Trust, Equinix Inc., CyrusOne, CoreSite Realty and QTS Realty Trust) were the only industry segment to show a positive gain for the first quarter of 2020, growing by 8.8%.
CrowdStreet's Investments team recently approved the company's first data center deal and the company is looking to launch the project on the Marketplace soon. In the meantime, you can have a look at what's currently available.
CrowdStreet's Chief Investment Officer, Ian Formigle, says, "This particular project represents a sale-leaseback with a company in the cloud computing space. The tenant's business has shown signs of strengthening during COVID times, with an uptick in demand of services and increased revenues."
Multifamily Commercial Real Estate
Multifamily is often considered a "recession-proof" asset class, largely because everyone wants/needs a roof over their head. However, the multifamily asset class is now largely segmented and different properties focus on specific renter profiles.
For instance, multifamily properties where the bulk of the tenants are working remotely and/or have jobs in growing sectors are well-positioned to remain occupied and to have continued strong rent collections.
In a recent live stream with CrowdStreet, Melissa Reagen of Nuveen Real Estate pointed out that 89% of apartment rents were collected in April, with higher quality apartments collecting at a higher rate. You can sign up to watch the insightful video.
Andrew Akers, a Senior Advisor with The UIP Companies, Inc (UIP) suspects that investor interest in the firm's recent CrowdStreet offering–a Class A, stabilized multifamily asset in a major metro–represented investors' "flight to quality."
Akers believes that the ongoing market uncertainty actually helped solidify the thinking of many real estate investors–buying a quality asset in a quality market, even in a time of stress, can be a good recipe for wealth preservation in addition to income and long-term appreciation.
However, workforce housing–often occupied by "blue-collar" households where jobs are tied to retail, the service industry, and construction–may find it harder to collect rent on time or in full.
To keep people in their homes, many municipalities are enacting strong renter protections to prevent evictions. But this means there may be a stretch of time where landlords are paying mortgages and expenses, but their tenants are not required to pay rent.
The ability of a landlord to collect rents is heavily tied to what their tenants do for work, so now, more than ever, it is important to understand the employment and economic drivers associated with the renter population of a property.
Medical Office Commercial Real Estate
The difference between critical medical tenants and non-critical tenants is very apparent at the moment. Elective and non-essential procedures are being canceled in order to protect both patients and healthcare workers, but some procedures–including dialysis and chemotherapy– can't be postponed.
Regardless of whether a medical tenant provides critical services or not, they often have a loyal patient base who will be looking to schedule services–everything from a teeth cleaning to ACL reconstruction surgery–as soon as they are allowed.
And thanks to the high cost of moving and heavy/expensive build-outs often required to bring a new medical office inline with the appropriate codes, it's likely that most medical tenants will not break their leases and will opt to renew when the time comes.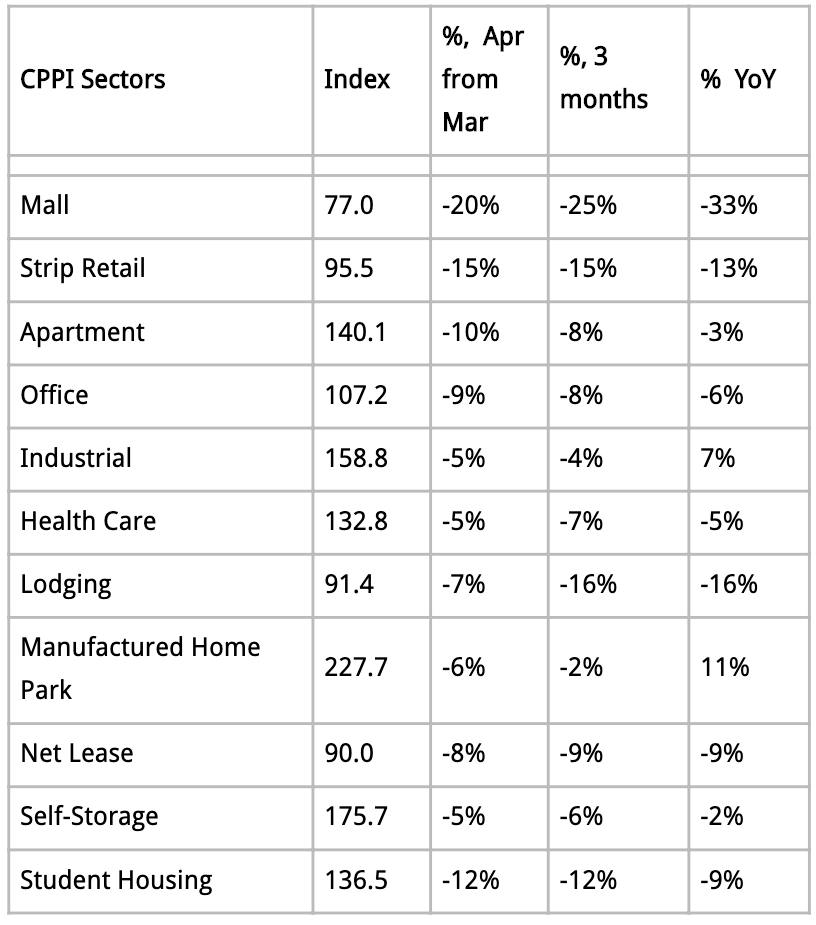 Office Commercial Real Estate
According to real estate data company CoreNet Global, the average amount of space per employee dropped from 225 square feet in 2010 to 176 square feet in 2012. And it's not like we've given employees that space back since then.
With the majority of traditional office jobs now working remotely thanks to COVID-19, many office tenants are realizing some jobs can stay remote even when we're allowed back in the office. This could further decrease the overall need for office space.
CrowdStreet's Chief Investment Officer Ian Formigle believes that COVID-19 is going to fundamentally change the way we think about and use office space. "Now that the decision makers have been forced to work from home, they might have very different opinions about what their office needs to look like."
Even the CEO at Morgan Stanley, James Gorman said the firm is likely to keep some percentage of its workforce at home, even after we're allowed back.
"With 90% of our employees at home, we've had almost no issues from our plant," Gorman said. "Can I see a future where part of every week, certainly part of every month, for a lot our employees will be at home? Absolutely."
On the other hand, there might also be a renewed importance placed on personal space and adequate distancing between employees (is this what finally frees us from the open floor plan?), which could prove to increase office demand.
It's important to remember that "open for business" will likely not mean everyone comes back to the office on the same day. Employees will probably be "phased in" over the coming months to help ensure everyone's health and safety.
It's too soon to say for sure exactly what the office of January 2021 will look like. But odds are it's not the office of January 2020.
The below chart provides an idea of how Industrial, Office, and Retail commercial real estate is performing post the coronavirus pandemic so far.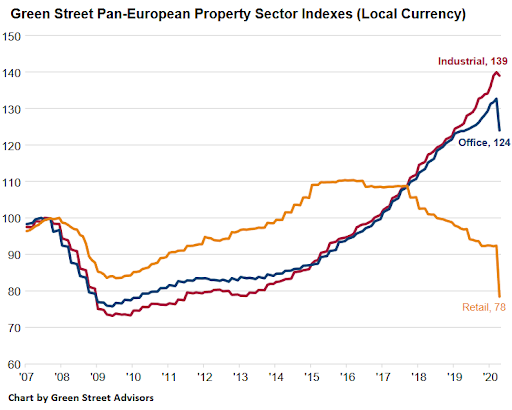 Hospitality Commercial Real Estate
The hospitality industry has arguably been hit the hardest and fastest in the wake of COVID-19. As of June 2020, about 25% of Marriott's 7,300 hotels around the world were temporarily closed, and the company is expected to report that in March, revenue per available room (REVPAR) decreased approximately 60% worldwide. Across the U.S., about 80% of all hotel rooms are empty.
As the immediate impact of COVID-19 became clearer, CrowdStreet's Investment team purged almost all of the hospitality deals from the Marketplace's pipeline.
As CrowdStreet's Director of Investments, Anna-Marie Allander Lieb, put it, "We saw the hospitality sector quickly decline with occupancy falling and bottoming out at approximately 20% nationwide. Historically, rebounds in the hospitality sector have taken twice the time it took to decline.
However, given the vastly different circumstances this time around, we'll be looking for signs that the country is emerging from COVID-19, with the lifting of stay-at-home orders as a signal that a recovery may start.
We'll also pay attention to how things unfold in China and areas of Europe where they are further ahead in their recoveries. That being said, we are starting to see opportunistic plays in the space with distressed pricing at a 60% discount to current basis, which shows great potential."
Hospitality could also bounce back the fastest once stay-at-home orders are lifted and it's safe for people to travel again. After months trapped at home, it's likely that people will flock back to markets where travel is strong. Even if they don't feel comfortable flying, they can opt to drive to vacation hotspots. 
Retail Commercial Real Estate
According to the National Retail Federation, the retail sector contributes approximately $2.6 trillion (about 25%) to the U.S. GDP and is the nation's largest private-sector employer. However, with only essential businesses allowed open under most stay-at-home orders, retailers have been hit hard. They have furloughed workers and shuttered stores.
According to Marcus & Millichap, April rent collection ranged from just 10-25% for mall owners with higher concentrations of nonessential tenants–fitness centers, hair salons, bookstores–and only 50–60% for landlords with "essential" tenants such as grocery stores and pharmacies.
What's interesting is that it's not just mom-and-pop retailers struggling to pay rent. Large retail tenants including Burlington Stores, Petco Animal Supplies, LVMH Moët Hennessy Louis Vuitton, Victoria's Secret, and Staples all failed to pay rent in full.
Only time will tell which retailers will recover first when consumers feel confident enough to go out and shop. CrowdStreet Investments team typically looks for retail investment opportunities anchored by a grocery store. Grocery stores tend to keep parking lots full.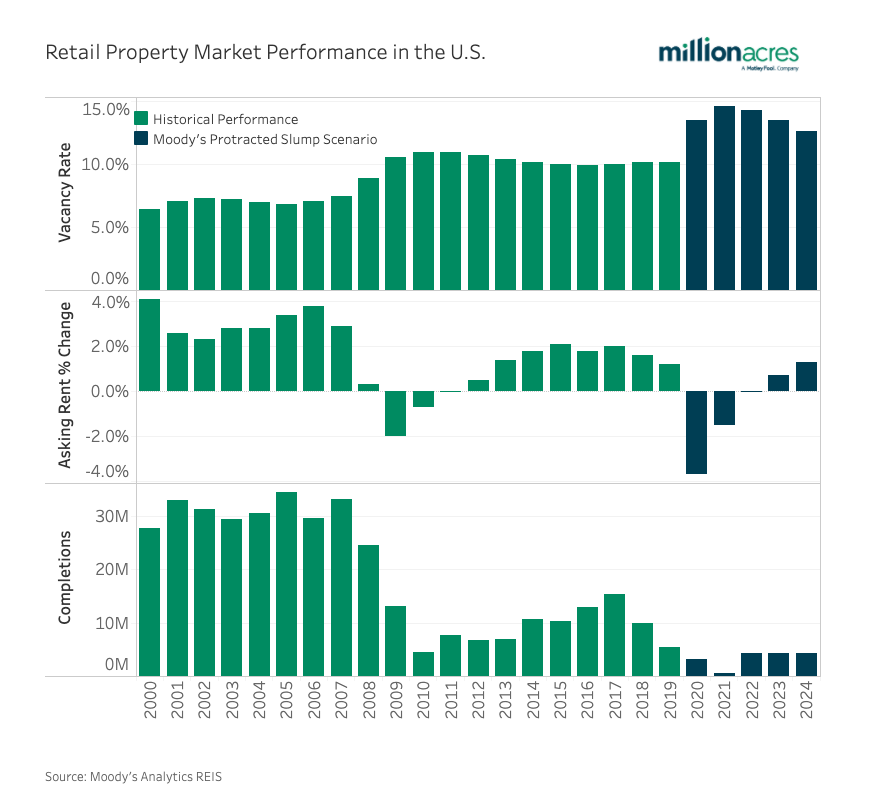 Investing Opportunities In Commercial Real Estate
Thanks to CrowdStreet's analysis, we've learned the following key points about how the coronavirus pandemic is affecting commercial real estate:
Industrial commercial real estate looks to be the most attractive type. This is due to the growth of distribution centers and data centers.
It's preferable to focus on Class-A multifamily apartments in a major metro. This is due to a greater percentage of white-collar workers who can work from home.
The default assumption is that office commercial real estate will decrease short-term as more employees work from home. However, office commercial real estate demand may actually increase over time. This is due to the desire for more personal space and adequate distancing. Workers have been getting bunched closer and closer together on open floor plans for years.
Hospitality commercial real estate may have the most opportunity for investors given CrowdStreet is seeing ~60% price cuts. If you believe travel will eventually come back, hospitality looks enticing at such levels.
Look for retail commercial real estate that has a grocery store as an anchor. However, retail's long downward trend is now accelerating.
As economies open up, the demand for commercial real estate should rebound. Most other parts of the economy have in May and June.
The key is to be opportunistic and look for deals that are offering sweeter terms to boost the risk/reward profile. CrowdStreet is diligently looking for such deals to showcase on its platform. Then it's up to us to invest in the ones that fit our investment goals the closest.
Readers, are there any particular types of commercial real estate you are looking to buy? Which type of commercial real estate do you see the most opportunity?