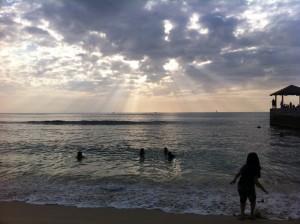 Sometimes I feel like a genius.  Sometimes I feel like a financial dumb ass.  Today is not one of those days of stupidity.  It hit me during bath time the other evening that the secret to early retirement isn't spending less than you earn, saving at least 30%+ of your after tax income, buying only what you need and living a frugal lifestyle.  Nope.  That's just status quo where one should be living that lifestyle anyway.
What I discovered is so much deeper, and so much more powerful than anything ANY of us personal finance "gurus" have discussed.  The secret to early retirement and leisurely living is so amazing that I don't know if I should even share with you guys since I could probably write a book, do a video, and make tons of money in the process.
Alas, I'm a nice guy, and am down with helping my fellow brothers and sisters get ahead so I'll share with you the secret.  There aren't any gimmicks, just the straight up truth.  Before you click the "read more" button, see if you can guess what exactly it is I'm talking about.  Think long and hard.  Now that you have, know that you could have just clicked "read more" anyway because you'll never figure it out!
THE SECRET TO GREAT RICHES AND KICKING BACK