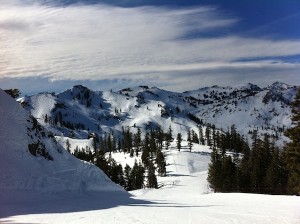 Unless you are really rich or don't care about financial returns, you probably shouldn't own any vacation property. In the summer of 2007, I bought a vacation property at my favorite resort up in Lake Tahoe. The property is in a secluded place with ski-in/ski-out during the winter and golf, hiking, and fishing on the premises during the summer. Ah, the good life!
Although Bear Sterns had gone under, I was still hopeful things wouldn't get too bad. Our government consistently bails everybody out after all. Unfortunately, I was wrong as there was no amount of money the government could inject into the system at the time that could stop the wave of defaults. Instead of making a lot of money from my job that year, my income got whacked and I lost over $200,000 in my vacation property the subsequent year.
I thought I was getting a deal for $700,000 because the owner had just bought the place a year ago for $815,000. Surely, a property with over $80,000 in gross annual rental revenue could not go much lower. Of course I was wrong because the condotel secondary mortgage market shut down as no banks were willing to lend for vacation properties anymore. The only people who could buy were those with enough cash. This was a great reminder why cash really is king.
As the financial crisis worsened in 2009, fellow resort owners started going into foreclosure, bringing values of adjacent properties down as well. This is a big problem with owning a condo. You are at the mercy of your neighbor down the hall. In a real estate downturn, the first properties to get hit are vacation properties because they are non essential. Meanwhile, you have tons of people shirking on their loans in California because we are a non-recourse state. If you stop paying your mortgage and hand back the keys, the banks cannot go after your other assets!
I'd like to go over some real estate mistake one should avoid making. It's good to relive financial errors in order to make better choices in the future!
SIX REAL ESTATE MISTAKES TO AVOID
1) Extrapolating your income. 2007 was a record year for corporate profits and my personal income. I remember getting my bonus at the age of 30 and distinctly thinking I could finally consider myself rich. I felt confident that I would continue to make a similar amount for the next 10 years. What I didn't anticipate was the beginning disconnect between performance and pay starting in 2008. It didn't matter how well I performed, I couldn't get paid well anymore because the overall profitability of the company was down. My pay was reduced for the next two years and only popped back to my 2007 highs in 2010 after I negotiated an aggressive guarantee since I was getting poached by a competitor.
There really is no income guarantees unless you work in a unionized job or the government. The private sector has become brutal in the way it cuts compensation and staff to compete today. Whenever things are going fantastically well, remind yourself that all good things come to an end. Extrapolate an income that flattens out or fades lower to be conservative. The median household income of Americans at $58,000 has basically gone nowhere in the past 10 years.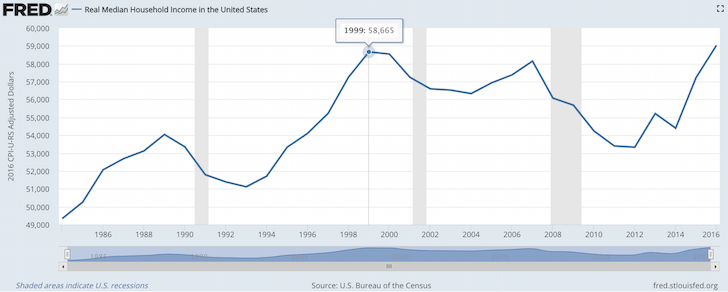 2) Not spending as much time looking over the property as possible. I realize that buying a property is a highly emotional experience. If you find something you like, you start getting nervous that someone else will snatch the property away from you, especially now that the housing bull market is back. The real estate inspection is incredibly important to insure that there are no hidden leaks, mold, foundation cracks, and other structural issues. I highly recommend you visit the property at least three times for an hour each at different times of the day and week. Ask a bunch of questions, and similar questions to see if you can catch inconsistencies from the selling agent.
Please realize that the real estate market is very collusive. Your real estate agent knows mortgage brokers who know title officers who know property appraisers. Every single industry has seen commission rates drop due to the advent of the internet and technology (think Expedia and travel agents) except for the real estate industry due to the higher risk in selling something so valuable. There will inevitably be some sort of conflict of interest with so many moving parts to a property purchase. The best thing you can do is keep shopping around for the lowest mortgage rates and call an independent inspector to re-inspect the property. Here's a related story on how my home insurance company tried to bilk me to pay 45% more in monthly premiums.
3) Not running the numbers over multiple scenarios. Before each property purchase, I create an entire spreadsheet with three different income and expense scenarios, especially for vacation and rental properties. I've got the Bullish, Neutral, and Bearish scenarios to work with. Only if I can survive for at least five years with the bearish scenario will I pull the trigger and buy the property I'm considering. Part of my assumptions in a bearish scenario now include a total loss of primary income, a 40% haircut in property prices, and 2% higher interest rates. Although if asset values are taking so much, interest rates will be going lower, and not higher.
My 2008 bearish property price downside scenario was 20% too optimistic! The unexpected positive was that I was able to modify my loan for free down to 4.25% for a 30-year fixed jumbo from 5.875% thanks to a Department of Justice lawsuit that forced Bank Of America to allow on-time payers refinance lower due to a drastic drop in interest rates. I do wonder whether Bank of America would have done anything to help if the government didn't step in. I'd read the loan mod post and check with your bank to see if you qualify.
4) Not getting a third opinion. Property often times blinds us. We begin to think irrationally once we've found our dream home because we fear if we don't act fast, someone else with take our home away. Realtors also blind us into buying or selling property that we otherwise shouldn't. Despite telling my real estate friend I wasn't interested in selling my home, he found a way to get me to list my house for three and a half weeks on the market. It was a pain to always show the house and keep everything super clean. To claim some of my authority back, I decided to price above market so that if there was a bid, I wouldn't feel bad selling. You can read more in, "Lessons Learned From Not Selling My House."
Every prospective home buyer should bring along at least two other people with them to inspect the property. At least one of these people should be a homeowner who will provide both the good and bad of homeownership.
5) Not talking to your neighbors. If you have a chance to speak to your neighbors, do it. Ask them what the pluses and minuses for the property's location. Maybe firetrucks wail their sirens constantly past 10pm. Maybe your block tends to flood when it rains. Maybe there's been an increasing amount of burglaries over the years. Or maybe your neighbor knows that the liquor store across the street is in contract and will be torn down and replaced with a respectable office building.
Your neighbors can provide all the candid detail which the selling real estate agent and fancy brochures cannot. Of course your neighbor probably wants the property to be sold for top dollar. But more often than not, you will be able to glean some fantastic information that will save or make you a lot of money.
6) Not checking the sales prices for comparable properties. The easiest and best way to check the sales prices of comparable homes is to punch in your desired property on Zillow.com. You can see sales history and home value estimates to get a ball park figure of the properties' worth. From there you've got to do your own calculations on mortgage cost, rental yields, and so forth to get a best guesstimate on value.
KEEP YOUR EYES WIDE OPEN
Vacation properties should be purchased primarily for lifestyle purposes only. When I bought my vacation property, I imagined a scenario where the family and close friends could go up and play. I wanted to always feel at home while on vacation and I really do every time I go up to Lake Tahoe three hours away. However, my purchase was a very poor economic decision if we just focus on the numbers. I'm here to help you not make the same mistakes.
Owning your primary residence is a wonderful situation once you've found your ideal home. It's a place where you'll probably spend at least 10 hours a day. You'll likely build equity over the long term as well as generate lots of happy memories if you buy within your means. Don't let the current housing good times convince you to make delusional financial calculations. Always buy a property to enjoy first, income second, and capital appreciation a distant third. If you do, the only thing that will change with the markets is your financial ego.
Recommendations
Explore real estate crowdsourcing opportunities: If you don't have the downpayment to buy a property, don't want to deal with the hassle of managing real estate, or don't want to tie up your liquidity in physical real estate, take a look at Fundrise, one of the largest real estate crowdsourcing companies today.
Real estate is a key component of a diversified portfolio. Real estate crowdsourcing allows you to be more flexible in your real estate investments by investing beyond just where you live for the best returns possible. For example, cap rates are around 3% in San Francisco and New York City, but over 10% in the Midwest if you're looking for strictly investing income returns. Sign up and take a look at all the residential and commercial investment opportunities around the country Fundrise has to offer. It's free to look.
Shop around for a mortgage: Check the latest mortgage rates online through LendingTree. They've got one of the largest networks of lenders that compete for your business. Your goal should be to get as many written offers as possible and then use the offers as leverage to get the lowest interest rate possible. This is exactly what I did to lock in a 2.375% 5/1 ARM for my latest refinance. For those looking to purchase property, the same thing is in order. If you've found a good deal, can afford the payments, and plan to own the property for 10+ years, I'd get neutral inflation and take advantage of the low rates.
Updated for 2019 and beyond.