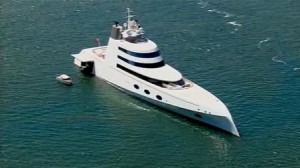 Well, well, well.  Not everyday does a $300 million dollar mega yacht stop by the San Francisco Bay Area!  The creatively named "A" yacht is owned by 38 year old Russian billionaire Andrey Melnichenko and his lovely supermodel wife Aleksandra!  Andrey made his money in fertilizer, banking, and energy and is worth a reported $4.4 billion dollars.  Interest alone on $4.4 billion at 4% is over $178 million a year!
The "A" looks like something out of a James Bond movie.  Can you imagine all the crazy parties on this bad boy?  Wow!  I rode my bike to the very north end of San Francisco to take a look and boy oh boy is it big.
Some nice mouth watering yacht stats for all you billionaire wannabes out there!