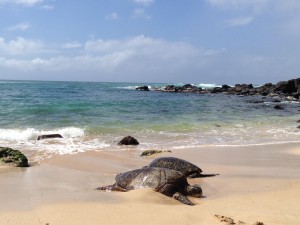 With my new goal of traveling at least 10 weeks a year, I've come to the realization it's wise to get a credit card whose primary design is to rack up maximum travel rewards points so I can travel even more. This post was originally about the Barclaycard Arrival. But now that it is 2016 and beyond, I wanted to highlight the Chase Sapphire Preferred® Card.
I use my Chase credit card for all my business and travel spending to get points for more free travel, insurance in case my bags are lost or my flight is stuck, and more insurance for defective products I buy and want to return. Everybody should have a credit card for the free 30 day credit. Just make sure to pay off your credit card every month in full! Check out some of the benefits:
Earn 50,000 bonus points when you spend $4,000 on purchases in the first 3 months from account opening. That's a ~$650 value right there.
Named a 'Best Credit Card' for Travel Rewards by MONEY Magazine.
You get 2X points on travel and dining at restaurants & 1 point per dollar spent on all other purchases.
I highly recommend the Chase card. You can click the link to compare other great travel rewards cards as well.
WHY THE BARCLAYCARD ARRIVAL IS A GOOD FIT FOR TRAVELERS
Barclays background: Barclays is a British multinational bank and financial services company that was founded in 1690. In 2004 Barclays bought Juniper Financial Corporation in an effort to expand their U.S. reach. Barclays now has 48 million customers in four dozen countries and territories.
1) Flexibility: The most significant difference between the Barclaycard Arrival Plus™ World Elite Mastercard® and other travel credit cards is the way miles are used. A typical travel reward credit card such as the U.S. Bank FlexPerks card partners with 150 airlines, and you must make your travel arrangements through U.S. Bank and one of their partners. You redeem your points to "pay". With Barclaycard Arrival, you are not restricted by partnering companies. You chose any airline or cruise company you would like, any hotel you would like, etc. and pay for your travel arrangements on your Barclaycard Arrival card.
Because you're booking your travel as someone would who is not using rewards, you're not confined by blackout dates or participating airlines. This is the ultimate in flexibility. You are free to book your travel plans through Expedia or other travel sites to try to find the best deals.
Once you have your arrangements in place, you can choose to redeem your miles for statement credit. Simply put, use your credit card to pay for your travel, redeem your miles, and watch your balance disappear. Rather than having you use your miles to pay for your arrangements upfront, Barclaycard credits the money you spend on the backend as a statement credit for the travel arrangements you already paid for.
According to Barclaycard Arrival, travel expenses include airlines, travel agencies, tour operators, hotels, motels, resorts, cruise lines, passenger railways, and car rental agencies. The only caveat here is that you must redeem miles for travel purchases within the last 90 days, so don't dawdle.
2) Bonus Miles: When you redeem miles to cover travel expenses, you get 10% back. Let's say you redeem 25,000 miles. You'll automatically get a bonus of 2,500 miles toward your next trip. Keep in mind you'll get 1 cent per mile, so redeeming 25,000 miles will be worth $250.
3) No Limit: There's no limit on the number of miles you can accrue, and they don't expire. Of course, your account must be in good standing, and it can't have more than 13 consecutive months of inactivity.
4) Insurance: Barclaycard offers other benefits such as $200,000 in automatic travel accident insurance, reimbursement for expenses if your bag is lost or delayed, trip cancellation coverage, and $0 fraud liability.
5) Double Miles: You earn 2 miles for every dollar you spend. This can be for purchases you or your authorized users make. Given I spent $9,200 on my four week Euro trip, I could be halfway to a round trip ticket to Hawaii already if I got the card before I left.
6) Sign Up Reward For New Members: Barclaycard is currently offering 40,000 miles to new members (that equates to $400 for travel), assuming you use your card for at least $3,000 in purchases within 90 days of sign up.
HOW MUCH ARE THE FEES?
There are minimal fees with the Barclaycard Arrival as long as you use your credit card responsibly and pay it off each month, which we all do. Let's review.
What You'll Love – No Foreign Transaction Fees
As I mentioned before, there are no foreign transaction fees when you make a purchase in another country. While the friends you are traveling with use their card and pay a 3 or 4% transaction fee, you can use yours and pay no fees. (Again, folks, research your cards. Choosing the right card makes a difference.)
Potential Fees You Won't Like
There is an annual fee of $89 (waived for the first year). Some might balk at this, but considering how quickly you can accrue points and the flexibility of the rewards program, this shouldn't be a deal breaker. To put it another way, $89 dollars is equivalent to roughly 8,900 points. You get 40,000 points for signing up and spending $3,000 within 90 days so you're already way ahead.
The APR is on the high side and ranges from 14.99% to 18.99%. It continues to amaze me how much credit card companies can charge consumers despite the 10-year bond yield hovering at only around 3%. If you goodness forbid want a cash advance, the APR is 25.24%.
Hopefully nobody reading this post ever carries a revolving credit card balance. Use a credit card to your advantage, and don't let credit card companies earn money off you because you are spending more than you can afford.
A No Fee Alternative to the Barclaycard Arrival 
If you'd rather not pay an annual fee, Barclaycard Arrival offers another version of the card by the same name: BarclayCard Arrival™ World MasterCard® – No Annual Fee Card. As a trade off, rather than earning two miles for every dollar you spend as you do on the Barclaycard Arrival with an annual fee, you'll only earn two miles for every dollar spent on two categories–travel and dining.
For every dollar spent on everything else, you'll earn one mile. I this this is a fine alternative, especially for folks who aren't super avid travelers who aren't focusing all their money on just one card to earn double the points. However, if you can focus your spending on a card that offers 2X the miles, the annual $89 is pretty low.
You also get a signup bonus with the no annual fee version – charge $3,000 in 90 days and get 20,000 miles added to your account. Like the Barclaycard with an annual fee, this card does not charge foreign transaction fees.
ADDING BARCLAYCARD ARRIVAL TO MY WALLET
Based on my renewed desire to travel for 10 weeks a year with a travel budget of $2,500 each week, I should be able to rack up around 50,000 miles a year just on travel if I use my Barclaycard Arrival. I will easily spend another $1,000-$2,000 a month on expenses on the card, providing a total of around 100,000 rewards points every year thanks to earning 2X points for every dollar spent. 100,000 rewards points is equivalent to $1,000 and can be used to buy at least two round-trip tickets to Honolulu or NYC from SF every single year. Perfect!
RECOMMENDATIONS TO BUILD WEALTH
* Manage Your Money In One Place: Sign up for Personal Capital, the web's #1 free wealth management tool to get a better handle on your finances. You can use Personal Capital to help monitor illegal use of your credit cards and other accounts with their tracking software. In addition to better money oversight, run your investments through their award-winning Investment Checkup tool to see exactly how much you are paying in fees. I was paying $1,700 a year in fees I had no idea I was paying.
After you link all your accounts, use their Retirement Planning calculator that pulls your real data to give you as pure an estimation of your financial future as possible using Monte Carlo simulation algorithms. Definitely run your numbers to see how you're doing. I've been using Personal Capital since 2012 and have seen my net worth skyrocket during this time thanks to better money management.
Regards,
Sam