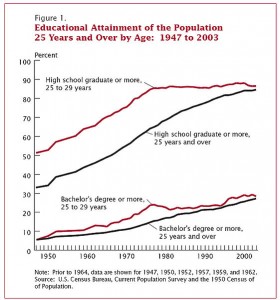 Two realizations have come to us recently: 1) There is a big time disconnect between reported unemployment of 9%, and the 1-2% unemployment levels among the tens of thousands of people we know in person and who read this site and 2) Only ~30-35% of Americans over 25 have their associate's and/or college degrees.  No wonder there is such a big disconnect!
I grew up in an environment where if I didn't study in high school, I was heavily disciplined for my lack of effort.  It became very clear to me at 14 that if I slacked off in high school, I was screwed because grades averaged over four years for college admissions to see.  It was embedded in my brain that college was the only way to get a job and make it on my own.  We know this is not as true now, thanks to the internet and the relative ease to reach many more customers.  But, back then, that was all I knew and I venture to guess it was similar for many of you too.
Never once did I consider not going to college or dropping out.  Failure was not an option, partly because I didn't want to return to McDonald's making egg McMuffins at 6:30am, and face a manager who made us staff feel like shit everyday.  We'd rebel by eating all the apple pies we could and slip an extra burger into friendly customer's bags.  Even then, $3.15 an hour felt like crappy pay.  The other reason why I wanted to do well was because I wanted to be rich!
BASHING A COLLEGE EDUCATION IS LIKE BASHING IN YOUR OWN BRAINS
It's become trendy to bash college degrees now that unemployment is so high.  Critics highlight the low return on investment of college as tuition skyrockets.  Indeed, tuition costs are out of control.  However, nobody said you have to go to XYZ private school and do poorly.  There are plenty of public schools that educate just as well at 1/4th the price.  And, if you plan to spend $50,000 a year on private school, you might as well go to Harvard than Boston University don't you think?!
Growing up, I had no other option.  It was either go to college or die.  As I talked to more and more people about college, they told me something interesting.  They believe that many people actually are too lazy to put in the 4 years to study and graduate!  I always thought that those who didn't go to college were either geniuses or lacked the financial means.  Who wouldn't want to party it up with no parental supervision and learn something along the way?  I never once considered that laziness was a reason.  Is laziness really a reason?  I find it hard to believe.
Critics of college are missing the point.  If you don't go to college, you are structurally disadvantaged from earning a higher wage or holding on to your job.  When downturns happen, companies whack the lowest person on the totem pole first.  Companies also become extremely picky because those with doctorate degrees are vying for masters degrees jobs.  Masters degrees holders are vying for bachelors degrees jobs.  And bachelors degrees holders are applying at Starbucks and McDonald's!  So, what the hell is a high school degree holder going to do? Shine shoes on the street?  How is s/he going to compete with the bachelors degree candidate?  It's brutally difficult!
SOLUTION TO THE EDUCATION BUBBLE
Of course there comes a point where you are over-educated, and you pay too much and screw yourself in the process if the economy is bad.  So be careful on the other end as well. Sure, there is an education bubble for those who go to ridiculously expensive schools who plan to enter an occupation that doesn't provide a good ROI. The easiest way to pop the education bubble is to simply enforce higher lending standards on students.
Let's say only students who get a B+ average or better are allowed to get a college loan at the cheapest rate.  The worse you do, the higher your rate.  If you are averaging D's, then no loan for you!  I can envision a rate chart like this: 2% interest for A average, 4% interest for B average, 10% interest for C average, and no loans for anything worse.  This is how we evaluate potential mortgage borrowers via their credit scores, why not do the same thing with grades?  No brainer in my opinion.
EDUCATION GUARANTEES OPPORTUNITY, NOT SUCCESS
In bull markets, companies need warm bodies because there's so much demand for their products.  Companies can't risk pissing off their clients, and know that it's game time to seize their opportunity while things are good and maximize profits.  In downturns, variable costs i.e. you and me are the first to go.  A company isn't going to let go of their star producer.  They are going to get rid of their worst producers.
A college degree doesn't guarantee you anything.  What it does do is put you 70% ahead of everybody else without one!  If you are to put your life savings on someone to succeed, you would bet on the person with a college degree over one with only a high school degree 10 times out of 10 to get and retain a job. Yes, there are always exceptions, and I can find an exception to your exception too, so the point is moot.
For those of us with college degrees, let us realize we are in the massive minority. High school only graduates outnumber us 3 to 1. As a result, we need to know that there are two different worlds out there.  For those without college degrees, consider getting a college degree, even if it's just at a community college. The statistics don't lie.  If the unemployment rate of college educated folks is around 2%, and we make up 30% of the population, then the unemployment rate for the rest hovers around 14%-16% to average 9% national unemployment!
The world is damn competitive, so bear down, grit your teeth, and get that degree!  And if you've got a bachelor's degree, you might as well get a master's degree if you've got time! Make 2015 and beyond the year you get the most education possible.
Related: Should I Go To Private School Or Public School?
RECOMMENDATION TO BUILD WEALTH
Refinance Your Student Loans And Save: SoFi is a fantastic social lending company that provides rates as low as 1.9% variable with auto pay and 3.5% fixed with auto pay. The reason why they can offer lower rates than the rest is because they analyze you based on merit, quality of employment, and education besides just a credit score and financials. There is zero origination and prepayment fees. Offer terms are from 5, 10, 15, 20 years in both fixed and variable. Both private and public student loans can be refinanced.
Besides low rates, one of their best features is their unemployment benefits. If you lose your job while repaying your loans, you don't have to pay your loan for up to 12 months while you look for a new job! Interest will still accrue, but having this cash flow break is a huge benefit. They also provide job assistance guidance as well. You can apply to refinance or apply for a new student loan here.
Photo: Bureau of Labor Statistics. Updated for 2018 and beyond.