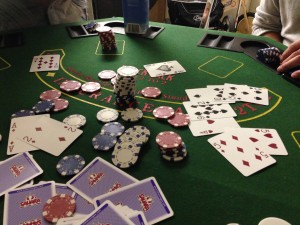 Sell too soon. Buy too early. Sound familiar? Welcome to the club. I am the King of making suboptimal trades due to fear and greed. Whenever I'm about to make a trade, I begin to have delusions thinking I'm smarter than the market. After all, I need to have conviction if I'm going to put tens or hundreds of thousands of dollars to work.
When my bid gets lifted or my offer gets hit, I've already made a mistake. Why? Because there are two sides to every trade and in that brief transactional moment the other side is usually always getting the better deal. For example, let's say you want to sell a stock with a limit at $10 a share. As soon as you sell, the stock will probably move higher with momentum. You start cursing yourself for not holding out a little while longer.
If you're looking at buying a stock that's been beaten up, chances are high that if your buy order gets filled the stock will continue to move lower due to an imbalance in sell orders. You then kick yourself for not being a little bit more patient to buyat a more favorable price. You can enter an order way below the existing share price, but nobody will be willing to sell.
If you focus on getting the best price possible when you're building a position, it's very easy to get frustrated with the volatility of the markets. If the stock performs well after purchase over the long run, your purchase of the day doesn't really matter. However, I'm focused on the short run and the long run. A lot of money is made or lost on the initial entry price.
Despite the stock market enabling me to buy my first property by 26, I'm going to highlight why I actually dislike investing in the stock market even if I'm making money. A lot of you folks will respond by saying "that's why I just buy and hold" which is fine. But those of you who want to go beyond plain index investing and are hooked to fortune hunting like me, this post is for you.
STOCK MARKET INVESTORS / TRADERS BEWARE
* Too in tune with the markets. I enjoy waking up an hour before the stock market open at 5:30am to digest every single piece of economic, political, and company specific news out there. My brain immediately comes up with a top down expectation of whether the market will go up or down and by how much. I then draw expectations for where my specific stock will trade. All of this dedication to knowledge becomes very defeating if the markets move against my expectations due to a scandal, an earnings miss, a flash crash, an impromptu Federal Reserve QE announcement, a terrorist attack, and so forth. The exogenous variables are endless and often times gut-wrenching. If you are the type of person who uses the last 20 minutes of class to double check your work multiple times, you're probably not going to love the stock market. It's often better to just be aloof.
* The markets are irrational with deep pockets. There's a great saying that the stock market can remain irrational longer than you can remain solvent. In other words, Apple stock might eventually go to $1,000 a share, but in the meantime the stock can also drop by 40% down to $385 a share from $705 and wipe you out, especially if you are on margin. The same thing goes for the stock market implosion in 2008-2009. So many people's retirement savings that took decades to build were obliterated in a matter of months. Someone was foolish enough to sell when the Dow was below 7,000 and the S&P 500 was below 700, otherwise we never would have gotten to such depressed levels in the first place.
* The markets are not a level playing field. If you are big and powerful, you get better access and better insights. There's a reason why traders do so well at big investment banks and fail when they go start their own fund. When you are a Wall Street trader, you see both sides of the trade. If you know there's a massive sell order worth $5 billion dollars of Google stock from Fidelity at $900 a share, you're probably not going to be buying Google stock as aggressively for your prop desk or your client. In fact, you'd probably look to sell first before Fidelity's order really depresses the stock. Asymmetric information is rampant in the stock markets. Retail investors get the short end of the stick. At the same time, active money managers consistently underperform their respective indexes.
* You have no control once you're in a position. Minority investors have no say in anything. Feeling helpless is very frustrating as it often times seems so obvious what management needs to do to get things back on track. For example, Apple refusing to entertain a larger iPhone screen size is maddening and stupid. It's as if they have their heads in the sand. It's good to be as large as Carl Icahn, David Tepper, and Warren Buffet because they can front run positions, announce their positions to the public, and get an extra lift once others start to follow their lead. At least with your day job, real estate investing, or entrepreneurial activities you can work harder to make more money. In the stock market, if you research harder you can still easily underperform or lose money.
* Monkeys can do better than you. Back in January of 2010, I started a ficticious fund call The Samurai Fund to prove that anybody can outperform the markets. The stocks included in the Samurai Fund were based off people's names. For example, my stock pick was SAM, or The Boston Brewing Company which produces Samuel Adams beer. My entry price was $46.60 a share. Three and a half years later, the stock is now trading at $154 a share, or up 350%! The Samurai Fund of 17 names is crushing the S&P 500 index. So now that you know monkeys can do better than you, how are you going to feel if you do all this research and actually underperform? You should feel like monkey poop.
* A constant reminder of how stupid you are. Let's say you bought Apple stock at $15 a share years back and sold it for a 6X return at around $100 a share. With the stock at over $400, every time you hear a mention of Apple, be it from a CNBC commentator, someone using their iPhone while driving, or seeing a snazzy ad on TV, you are going to feel like an idiot. I knew the housing market would have a banner year, so why the hell didn't I load the boat on Home Depot which is now up almost 30%? Because I'm stupid. 'Til this day, I still remember my Yahoo! stock getting up to $110 a share post split ($440 pre split) in 2000 and not selling. I could have been rich at 23 years old.
* You can actually lose money. I know it's hard to believe in this raging bull market that one could ever lose money, but you can, and lots of it! Everybody is a genius in a bull market, even a dumbass like me. For those who are sitting on Cloud 9 right now due to the rally, remind yourself that all your stock market gains mean jack shit if you don't lock in profits. Stocks have decomposed to nothing more than numbers on your computer screen which provides no utility. Dividends are nice, but if you're plowing the proceeds back into the markets, what are you really getting? Bigger numbers, but sometimes smaller numbers.
* Mood swings. I'm not a moody fella by any means. I love being optimistic about everything e.g. sprain an ankle, thank goodness I didn't break an ankle. But when my positions are going the wrong way, I can sense a thinning of patience. If I was a monk trading in a cave somewhere, I would be fine with a degradation in my mood. But I interact with plenty of folks and relationships suffer at the margin. One of the biggest benefits of not having to work a day job anymore is that I never bring home my frustrations from work. A bad day in the markets goes back to those bad days. When you've got so much emotion in much of what you do, the stock markets can really do a number on your psyche.
* A daily dose of emptiness. When I make money by creating something, I feel proud. Think about how amazing it is to make money from artwork for example. When I make money from money I feel an emptiness that is hard to describe. I didn't produce anything meaningful to society. All I did was successfully take advantage of the temporary dislocation in the markets. In fact, someone probably lost or made less at my expense. When stock market money is just digits on a computer screen, there's nothing tangible to feel good about. Of course it feels good to make money investing. The feeling just doesn't last very long at all.
* The majority of people say investing is easy when times are good. If you haven't made money in the stock market since 2009, you're probably an idiot. I've also never met anybody online who has lost money in the stock markets curiously enough. What matters is how you did in 1997, 2001, 2008-2009 and other periods of pain. If you can tell me you made money during this period or lost a significant amount less, then you are the man or woman. Until then, try to balance the bad with the good.
* Fees really take a bite out of your returns. The reason why money managers make millions and billions of dollars is because they have fantastic business models. It takes the same amount of brain power to manage a $1 billion dollar portfolio as it does a $50 billion dollar portfolio. The position sizes are just larger. After discovering I was paying over $1,700 in portfolio fees on a ~$400,000 401(k) portfolio, I decided right then and there to rollover my 401(k) into an IRA so I can just buy stocks directly myself. Paying $1,748.34 to be exact equates to $44,000 in fees over the next 25 years if my portfolio doesn't grow. I encourage you to read how you can reduce your 401(k) portfolio fees now if you've never run your portfolio through a fee analyzer.
INVESTING IS A NECESSARY ACTION
If you're risk averse and have been working for at least 10 years, you're probably lukewarm to the idea of putting the majority of your net worth in the stock market. The only people I know who absolutely love investing are those in their 20s, who've never experienced a significant downturn, or who simply don't have meaningful amounts invested in the markets.
If you lose 30% of your $50,000 portfolio, it's going to hurt, but it can be recouped through savings in no time. But let's say you lose 30% of your $500,000 retirement savings one year. Recovering $150,000 in losses is no easy feat with your existing salary and capital. I really encourage everyone to diversify their net worth and read my post on the recommended net worth allocation by age and work experience.  Take time to also read the proper allocation of stocks and bonds within your investment portfolio. Both articles have some very meaty content with charts and graphs which I think you will appreciate.
Having a portion of your net worth in the stock market is necessary to crush inflation and help build wealth over time. The key is to do your due diligence, stay disciplined in your investment process, and keep on contributing to your investments through thick and thin.
RECOMMENDATIONS TO BUILD WEALTH
Invest Your Money Efficiently: Wealthfront, the leading digital wealth advisor, is an excellent choice for those who want the lowest fees and can't be bothered with actively managing their money themselves once they've gone through the discovery process. All you'll be responsible for is methodically contributing to your investment account over time to build wealth.
In the long run, it is very hard to outperform any index, therefore, the key is to pay the lowest fees possible while being invested in the market. Wealthfront charges $0 in fees for the first $15,000 if you sign up via my link and only 0.25% for any money over $10,000. You don't even have to fund your account to see the various ETF portfolios they'll build for you based off your risk-tolerance. Invest your idle money cheaply, instead of letting it lose purchasing power due to inflation.
About the Author: Sam began investing his own money ever since he opened an online brokerage account online in 1995. Sam loved investing so much that he decided to make a career out of investing by spending the next 13 years after college working at Goldman Sachs and Credit Suisse Group. During this time, Sam received his MBA from UC Berkeley with a focus on finance and real estate. He also became Series 7 and Series 63 registered. In 2012, Sam was able to retire at the age of 34 largely due to his investments that now generate roughly $175,000 a year in passive income. He spends time playing tennis, hanging out with family, consulting for leading fintech companies, and writing online to help others achieve financial freedom.
Updated for 2016 and beyond.