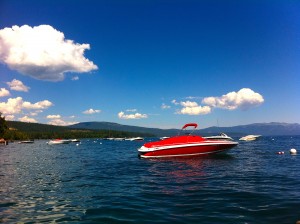 Personal Capital is a Silicon Valley digital wealth management company that launched in September, 2011 by former Intuit and PayPal CEO Bill Harris. His team's goal is to give everyday people more control over their finances by using their technology for free while modernizing personal wealth management advice over the Internet.
I'm always intrigued by tech companies here in the Valley because I've got the entrepreneurial bug as well. It's all about market disruption for the good of the consumer. Given a company needs to grow its user base and its profits in order to survive, I'm curious to know how a company with now over $215.3 million in venture funding plans to continue their growth path.
With employees to pay, offices in Redwood City, San Francisco, and Denver to support, and technology to continuously build, revenue must flow in to counteract the cash burn. The great thing is that Personal Capital reached a terrific milestone of managing over $7.5 billion in assets as of 2H2018. They track over $500 billion in assets from 1.6 million registered users of their free financial tools. Their growth rate looks to be accelerating as the become the leading digital wealth manager today.
TARGET USERS OF PERSONAL CAPITAL WEALTH MANAGEMENT
* Anybody who wants to get a better grasp of their entire financial situation.
* Anybody who has multiple money accounts across multiple institutions aiming to simplify.
* Hands-on types who take a proactive role in managing their finances (budgeting, net worth tracking, etc).
* Individuals who do a lot of investments in the stock market, bond market, and alternatives.
* Individuals who want to do some pro forma analysis on their retirement prospects using their free Retirement Planning Calculator.
* Individuals who are seeking financial advice from registered professionals.
The average Personal Capital user has around 15 separate money accounts when they register. Some of these accounts include checking, savings, CD, mortgage, credit card, overdraft protection, and investment accounts. When you've got 15 separate accounts, it's hard to get a bird's eye view of your finances to know where you can optimize. Personal Capital securely provides users with all their information in one place.
I've been thinking about signing up for an online wealth management company for a long time because I have over 35 financial accounts across five banks (USAA, CIT Bank, Citibank, BoA, First Republic) and two online trading platforms (E*trade and Fidelity). The reason why I have money with five banks is because the FDIC limit per individual account is $250,000. I didn't want to risk losing hundreds of thousands of dollars just in case a particular bank went under during the financial crisis. Besides, it's very easy to move money to higher interest savings and CD accounts.
Around 15 of my accounts are optimized to provide the best passive income returns possible. However, that still leaves 10 accounts where I have to mentally track or log into separate institutions to keep on top of my money. For example, I've got seven high interest CDs expiring across four banks over the next four years. It'd be nice if I could track them all in one place because the plan is to deploy CD money to alternative investments with higher returns. If you do not tell your bank you plan to invest your CD money elsewhere, they will automatically lock you in for another term!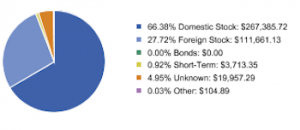 With Personal Capital, users can consolidate their mortgages, follow their credit card spending, get a historical analysis of their overall spending habits, track their net worth, and optimize their overall finances more intelligently. Personal Capital also shows your current stock allocation to allow you to make easier rebalancing decisions. Being able to combine my 401K assets and online brokerage assets into one snapshot helps with investment decisions.
Another fantastic feature Personal Capital has is its Portfolio Fee Analyzer tool. After running my 401k through the tool, I discovered I was paying $1,700 a year in fees I had no idea I was paying. As a result, I got out of poorly run actively managed funds like the Fidelity Tech Fund, and bought similar Vanguard funds with 80% less cost. I would have ended up paying well over $50,000 in fees by the time I was 60. I'm pretty positive that you are paying more in unknown fees as well once you run your investments through their tool.
SO HOW DOES PERSONAL CAPITAL MAKE MONEY?
Everything I've discussed so far is free for users, including their iPad and iPhone apps which basically mimics everything a desktop user can do on the go. Personal Capital makes money by targeting mass affluent users who have more than $100,000 aggregated in their accounts for its paid financial advisory services. Traditional wealth management companies such as Goldman, Bank Of America Merrill, and Citibank with physical offices around the world charge around 1-2% of assets under management for financial advisors to actively manage their client's money.
For a management fee of 0.49% – 0.89%, Personal Capital connects users to registered investment advisors, who then provide personalized wealth management advice online. The idea is to leverage the Internet to lower wealth management fees and capture multi-billion dollars worth of client assets in the process.
Here is the fee structure if you so choose to undertake financial advice. It's completely optional. You do not have to become a paying client. 
* First Million: 0.89%
For clients who invest $1 million or more:
* First $3 Million: 0.79%
* Next $2 Million: 0.69%
* Next $5 Million: 0.59%
* Over $10 Million: 0.49%
* Fees are up to date as of 2H2018
Obviously not every user on Personal Capital will want a paid financial advisor service and that's fine. You don't need to accept if they call and ask. The software is already built, so whether one person signs up for free or a million users sign up to get professional advice, the marginal costs are minimal. What they hope is for clients to grow their capital to the point where they would like financial advisory service.
If you talk to any of the private wealth management companies, they generally have a minimum threshold of $1 million in assets before they are willing to take you on. Citi private bank has a $3 million minimum and Goldman Sachs has a $5 million minimum for comparison. With Personal Capital, their target threshold at $100,000 is much lower given their lower operating costs, thereby bringing access to the mass affluent community.
FANTASTIC

FREE

TOOL TO HELP BUILD WEALTH
With 35 accounts to track, Personal Capital helps me manage money easier. Finances are chaotic, and Personal Capital's free financial dashboard helps make sense of it all. They are headquartered right here in the San Francisco Bay Area and I've personally interviewed the CEO, CFO, COO, and CTO multiple times to understand their business, and make sure they are doing great work.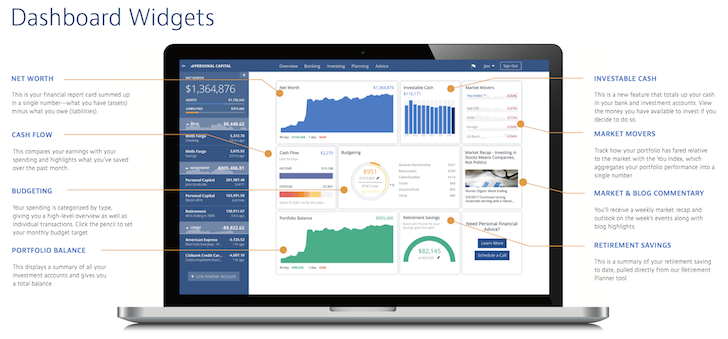 Here are more reasons to use Personal Capital's free tool:
1) Net Worth Overview. Gone are the days where you have to use an Excel spreadsheet to manually update every single asset and liability line item to calculate your net worth. Personal Capital updates your net worth automatically as soon as you log in because all your accounts are linked. They provide a pie chart of your assets as well as gives you a historical chart of your net worth progression. If you cannot find an account in their database, you can simply add it yourself. Personal Capital will also conveniently e-mail you a weekly snap shot of your latest net worth along with how the markets did, upcoming bills, latest insightful blog posts and accounts that need your attention. Below is a sample headline snapshot.
2) Tracks Your Cash Flow. Budgeting is personal finance 101. By tracking your income and your spending like a hawk, you will be able to save a lot more money than if you simply tried to guess everything. Think about all the times you withdrew cash from the ATM machine and had no idea where all the money went a couple days later. Aggregating all your accounts allows you to see where all your money is going. In the example above, this entrepreneur brought in over $38,000 in income and spent only $3,096. Now that's great cash flow!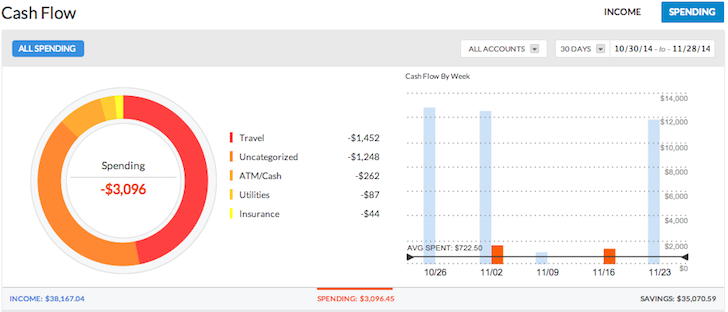 3) Helps You Balance Risk. With so many accounts, it's often hard to see exactly what's going where. For example, so many people were too overweight stocks before the financial crash in 2009. With Personal Capital, you can easily see where the imbalances are in your net worth so you can make smart adjustments. Now that it's a bull market, investors are probably too overweight equities and way underweight bonds once again. The Investment Checkup tool analyzes your portfolio's holdings based on size, style, and sector.  Personal Capital excels for those who have assets in the stock market. Personally, I like to maintain a 35%, 35%, 30% split between stocks, real estate, and CDs/bonds.

4) Shows Your Portfolio's Investment Efficiency. Based on your risk tolerance and investment objectives questionnaire, Personal Capital will give you an idea of where your current allocation is on the Efficient Frontier Curve. The Efficient Frontier Curve is the best returns for a certain level of risk. You want to be on the curve and not above or below.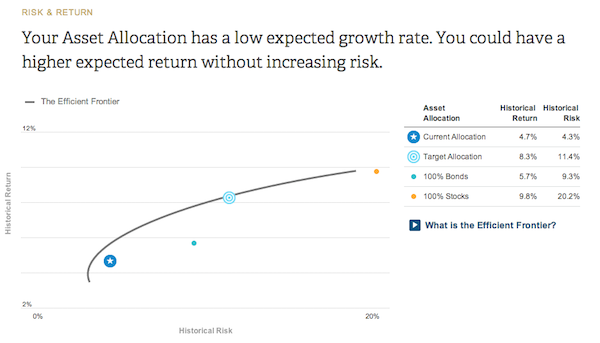 5) Recommends Specific Dollar Amounts To Invest. Financial advice is useless if there is no actionable advice. Personal Capital will recommend the specific dollar amounts to invest or reinvest in each asset class to get you to an optimal asset allocation. In this example below, the investor is too heavily weighted in cash. In order to get to his recommended target allocation the investor needs to increase stock holdings by roughly $200,000 and bond holdings by roughly $100,000. The fun part is figuring out which index funds to invest in each category. All investment related charts and analysis can be found in the Investing tab.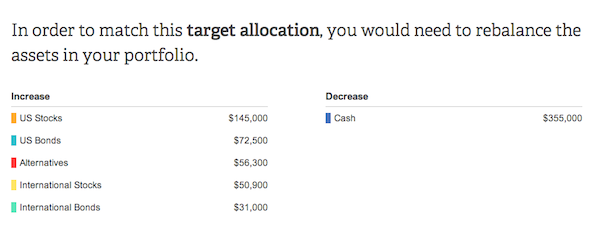 6) The Best Retirement Planning Calculator Today. The award winning product team came up with what I think is the best retirement calculator on the market because it uses real data and Monte Carlo simulations to come up with the most realistic financial scenarios for your future. Other calculators simply ask you to guess input values to then come up with your financial future. The problem with this method is that we often underestimate how much we are saving and spending! You can input different life events such as a wedding or home purchase in your cash flow statement and recalculate your financial future to see how you'll do. Everybody should give it a try.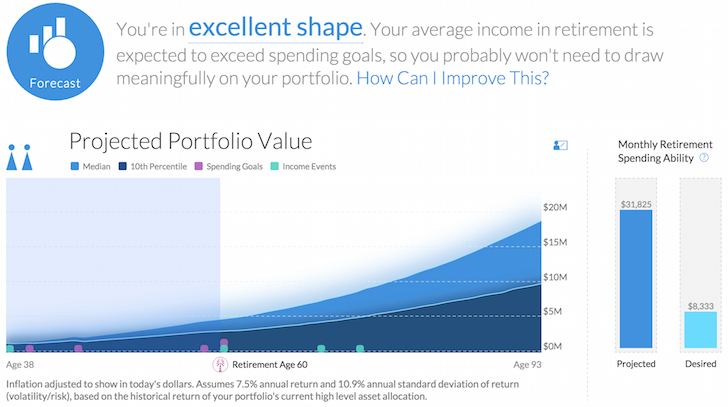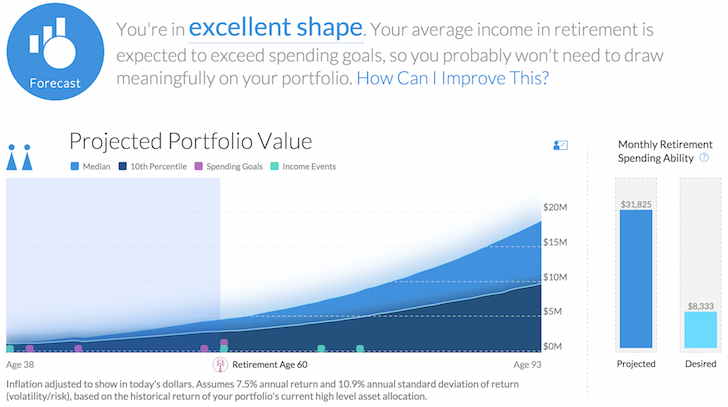 LEVERAGE TECHNOLOGY FOR FREE
When you know where your money is going and where it's being invested, you gain a tremendous amount of confidence in your financial well being. One of my biggest goals on Financial Samurai is to help everyone achieve financial independence sooner, rather than later. You may not be wealthy now, but just knowing you've got your finances in order and have a financial plan tremendously increases your chances of financial success.
Once you are financially secure, you free to do whatever you truly want. Get a handle on your finances by signing up with Personal Capital for free and aggregating all your accounts. The financial management tools are free and takes less than a minute to sign up. I spent the past 13 years meticulously tracking my own finances to achieve financial freedom. If I discovered Personal Capital earlier, I think I would have reached freedom even sooner!

About the Author: Sam began investing his own money ever since he opened an online brokerage account online in 1995. Sam loved investing so much that he decided to make a career out of investing by spending the next 13 years after college working at Goldman Sachs and Credit Suisse Group. During this time, Sam received his MBA from UC Berkeley with a focus on finance and real estate. He also became Series 7 and Series 63 registered. In 2012, Sam was able to retire at the age of 34 largely due to his investments that now generate roughly $200,000 a year in passive income. He spends time playing tennis, hanging out with family, consulting for leading fintech companies, and writing online to help others achieve financial freedom sooner, rather than later. With over 1 million organic pageviews a moth, FinancialSamurai.com is one of the largest and most trusted personal finance sites on the web since 2009. 
Updated for 2018 and beyond. 
Review Summary
Reviewed by
Review Date
Reviewed
Personal Capital Online Wealth Management
My Current Rating