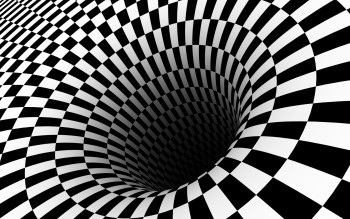 Unless your house is fully paid for, and unless you can access your retirement accounts today, your net worth is an illusion.  Although we've recovered quite a long way over the past 18 months, I don't think we can really count on property, stocks, and private equity investments to be there when we need them.  The recent market volatility reminds us to get realistic!
The only thing we can really count on is cold, hard cash.  I find it very misleading, as well as a little disingenuous that some say they are millionaires, when 70% of their net worth is tied up in an illiquid asset called "home equity." Your home is only worth as much as someone is willing to pay for it.  Even your 401K and IRA are suspect because those accounts can easily collapse.
A TYPICAL ASSET SIDE OF A NET WORTH CALCULATION:
Cash
Stocks

401K
IRA
Private Investments
Primary Residence
Rental Property
Valuables (Jewelry, Collectibles)
Pet Bunny
For retirement purposes, your assets should equate to CASH + liquid securities you can sell today + MORE CASH.  The way to look at net worth is consistent with my "Going Broke To Win Big" methodology.  Essentially, you want to operate life as if none of your assets except for your cash is dependable. Your retirement goal shouldn't be a net worth goal, it should be a cash goal.  If your home equity, 401k, IRA, private equity investments so happen to be there when you retire, great!  If not, no big deal because you never counted on it anyway.
Unfortunately, our government is printing cash like it's no tomorrow to pay off our extraordinary debt thanks to tremendous mismanagement.  Hence, even our cash is suspect in value and it's smart to buy real assets outside the country with stronger physical systems.  If you can't do that, I'd diversify your cash into as highest possible yielding rental property as you can.  Rental property is a very powerful asset to make money and hedge during inflationary periods!
As you age, feel free to regularly convert your investments into cash for that bankable guaranteed interest income.  At a steady return of 4%, there is absolutely zero fear once you build that nut.  Can you imagine the pain people felt over the past 24 months for those who had the majority of their retirement savings in stocks?
The liability side of the equation on the other hand is very straight forward.  Only a crook would embellish what they owe.  And since nobody reading here is a crook, we don't have to discuss the obvious things which should all be included in liabilities!
CONCLUSION
By risking all your retirement savings in the stock market, you're doing yourself a disservice.  I'm not saying don't continue maxing out your 401K and IRA accounts every year.  That is a given.  I'm just saying one should think twice before adding MORE of your cash into the stock market.  One of the easiest allocation rules can simply be your age.  A 40 year old should think about allocating 40% of their liquid assets into cash or stable bond funds, a 50 year old should allocate 50% to cash and so forth.
If you insist on including the value of your illiquid investments into your net worth calculation, then take at least a 50% haircut to the value. Have a cash retirement goal and not a net worth goal. You'll be happy you did.
RECOMMENDATION
Track Your Wealth For Free: In order to optimize your finances, you've first got to track your finances. I recommend signing up for Personal Capital's free financial tools so you can track your net worth, analyze your investment portfolios for excessive fees, and run your financials through their fantastic Retirement Planning Calculator. Those who are on top of their finances build much greater wealth longer term than those who don't. I've used Personal Capital since 2012. It's the best free financial app out there to manage your money.
Updated for 2017 and beyond.