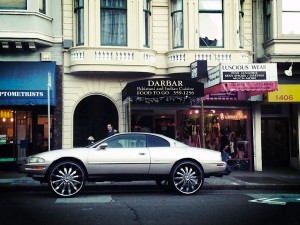 There's one simple observation I've noticed in my journey towards financial freedom. Rich people make things more expensive for the rest of us. Given the supply of desirable necessities such as homes, schools, food, and even water is finite, the rich bid up prices far beyond what the middle class can afford.
I remember back in 1995 thinking $20,000 to go to a private university was ridiculous. Now such a private university costs $50,000 in tuition. Ridiculous again, especially with the internet providing so much free education now. Did the median salary increase by 125% in the past 18 years? No. The median wage actually fell 8.9% from its peak in 1999 to around $50,000 per household. That is a double ass kicking!
I remember wanting to buy a sweet two bedroom, two bathroom, double balcony condo in Manhattan with a view of the Chrysler Building and Madison Square Park for $720,000 in 2000. The problem was I only had one year of post college savings and stock gains under my belt and had to borrow about $50,000 to achieve a 20% downpayment. The cost of the 1,350 square foot condo is now roughly $1.7+ million dollars sadly enough. Just take a look at the price per square foot values of ultra high end property and you'll see an increasing spread compared to the value of median priced property. Someone with enough money bought the place and is now that much richer as a result.
As my portfolio grew over time, I became much more risk averse with my investments. With the Asian financial crisis in 1997, the Russian Ruble collapse in 1998, the stock market implosion in 2000, and the mortgage market meltdown in 2008, it's hard not to come away with a more conservative investment style.
Now that I've built up a livable passive income stream, I've gravitated more towards absolute return once again. So long as I don't blow up the principal portion of my passive income stream, it's risk-on. We should strive to outperform the competition, especially if we have the buffer to do so. In this article I'd like to discuss the various benchmarks you should consider using to measure your performance based on your wealth and risk tolerance.
FINANCIAL BENCHMARKS TO GAUGE PERFORMANCE
* The S&P 500 Index. The easiest and most common benchmark if you live in America is comparing your portfolio's return with the 500 largest stocks in the country. I've taken things a little further and have benchmarked my entire net worth growth compared to the S&&P 500 index. In essence, I run my net worth like a multi-strategy fund comprised of real estate, equities, bonds, private equity, CDs, and now even a little entrepreneurship. Using your country's broader market wherever you live is a straightforward way to go.
* Risk Free Rate Of Return Times A Multiple. The risk free rate of return is the 10-year bond yield which changes every single day.  You need to figure out a reasonable multiple on that bond yield because you are guaranteed to return the yield if you put all your money into treasuries. What rate of return over the risk free rate (equity risk premium) do you require? My simple formula is to take the latest 10-year bond yield and multiply the figure by 3. If the 10-year bond yield is at 2%, then my investment target net of fees is 6%. Maybe you are more conservative and would like to use a 2X multiplier instead. It's up to you to decide.
* Sector Specific Exchange Traded Funds (ETFs). If you work in the real estate industry and invest in REITs and homebuilders, then perhaps you should consider benchmarking your financial performance to a homebuilder ETF such as ITB, XHB, or PKB. If you work in pharma at Genentech, then consider ETFs such as PJP, IHE, XPH. If you work in finance and own your bank's shares as part of your annual bonus, then maybe indexing yourself against XLF is a good idea. Whatever industry you are in, there is an index or an ETF for you to use.
* Consumer Price Index. The CPI is produced by the Bureau of Labor statistics and is often maligned as an unrealistic guage of inflation. For example, the current CPI is roughly 1.5%. How can this be if tuition and food prices are soaring? The CPI should be considered the base case benchmark for everyone to beat. Here is some inflation info for the past 10 years. Like the 10-year Treasury yield, I'd put a 3X multiple on the published CPI rate as an investment return target.
* The Case/Schiller Home Price Index. The Case/Shiller Home Price Index has risen to be the authoritative benchmark for real estate performance. The Index breaks down home price growth by region. Given we've discovered that a lion's share of the median net worth in America consists of property, then the Case/Shiller Index should be a relative good barometer for the median American.
* Hedge Fund Index. Hedge fund managers are supposed to be masters of the universe. Unfortunately, they suck a lot of wind in a bull market by nature of their mandate to hedge. They have absolute return goal where investors expect them to continuously make money even during recessions. One of the most widely followed hedge fund ETFs is HDG.  The HDG is designed to reflect hedge fund industry performance through an equally weighted composite of over 2000 constituent funds. The shares are up a dismal 1.5-2% at the time of this post compared to a 13-15% YTD return in the S&P 500.
ALTERNATIVE BENCHMARKS TO TRACK PERFORMANCE
* Your Parents At Your Age. Here's a fun one everyone can consider. Ask your parents or older relatives what their net worth was at your current age. You'll have to then inflate their values in today's dollars to make the comparison more true. Did your parents own a home yet? Did they still have student loans? Where were they in their career? Our elders are the greatest source of wisdom. It's always interesting to learn lessons from our parents so we can avoid mistakes they may have made.
* The 1/10th Rule For Car Buying. One of the key motivators since college to boost income is the 1/10th rule for car buying which recommends that people shouldn't spend more than 1/10th of their gross income on a car. Hence, if I saw a colleague, friend, or acquaintance buy a $30,000 car, I would assume that s/he is now making $300,000 a year through W2 income, stock investments, and various other sources of income. To not make $300,000 a year would be illogical given everybody I know would rather have more wealth. I realize that not everybody will have heard of or will follow my 1/0th rule, but I use it anyway to gauge peer income. Believing in this rule gave me the drive to make more money than I thought possible.
* The 30/30/3 Rule For Home Buying. The 30/30/3 rule simply states that you you should spend no more than 30% of your gross cash flow on a mortgage payment, have enough cash for a 30% downpayment split between a 20% downpayment and a 10% buffer, and a house should cost no more than 3X your gross income. The housing downturn revealed how overleveraged people were because they didn't make enough and put way too little down. If someone owns a $600,000 home, I assume they make at least $200,000 a year with a net worth of around $180,000 to $1.8 million dollars depending on age if they follow my net worth asset allocation recommendations. The 30/30/3 rule allows one to gauge their income and asset accumulation progress.
* Freedom Factor. Although my friend Jaabir hasn't had a steady job for three years, I consider him one of the wealthiest people I know because he gets to play tennis for five hours every single day. I don't care how little you make or how small your net worth, if you get to do what you love every day and not have to work too much for money, you are in the top tier of wealth. It's hard to assign a specific value or scale to the Freedom Factor benchmark. Right now I just divide things into those who have to work and those who do not have to work for money.
See if the average net worth of five peers comes close to equaling your own. You'll have to make some guesstimates based on their visible assets in this terrific world of stealth wealth.
DON'T OBSESS WITH COMPARISONS
Whatever benchmark you use to gauge your financial performance, make sure you have something to measure whether you're heading in the right direction. Although my base case benchmark is 3X the risk free rate, my aspirational benchmark is to have my overall net worth beat the S&P 500 when its returns are greater than 3X the risk free rate.
Given my roughly 30/40/30 split between stocks, real estate, and CDs, I've got a 30% drag on my net worth given my blended CD return is only around ~3.5% a year. As a result, I am working on my X Factor to make sure my net worth keeps up with the S&P 500 index. It gets harder and harder to keep up as your financial nut grows because of risk aversion.
Figuring out where you stand is a timeless pursuit. It's the reason why The Average Net Worth For The Above Average Person post continues to receive a huge amount of search traffic. But after you know, start focusing on things that matter most to you and do your best to forget about comparisons. Sometimes just moving forward is good enough!
RECOMMENDATIONS TO BUILD WEALTH
* Manage Your Finances In One Place: The best way to become financially independent and protect yourself is to get a handle on your finances by signing up with Personal Capital. They are a free online platform which aggregates all your financial accounts in one place so you can see where you can optimize. Before Personal Capital, I had to log into eight different systems to track 25+ difference accounts (brokerage, multiple banks, 401K, etc) to manage my finances. Now, I can just log into Personal Capital to see how my stock accounts are doing and how my net worth is progressing. I can also see how much I'm spending every month.
The best tool is their Portfolio Fee Analyzer which runs your investment portfolio through its software to see what you are paying. I found out I was paying $1,700 a year in portfolio fees I had no idea I was paying! They also recently launched the best Retirement Planning Calculator around, using your real data to run thousands of algorithms to see what your probability is for retirement success. Once you register, simply click the Advisor Tolls and Investing tab on the top right and then click Retirement Planner. There's no better free tool online to help you track your net worth, minimize investment expenses, and manage your wealth. Why gamble with your future?
* Invest Your Money Efficiently: Wealthfront, the leading digital wealth advisor, is an excellent choice for those who want the lowest fees and can't be bothered with actively managing their money themselves once they've gone through the discovery process. All you'll be responsible for is methodically contributing to your investment account over time to build wealth.
In the long run, it is very hard to outperform any index, therefore, the key is to pay the lowest fees possible while being invested in the market. Wealthfront charges $0 in fees for the first $15,000 if you sign up via my link and only 0.25% for any money over $10,000. You don't even have to fund your account to see the various ETF portfolios they'll build for you based off your risk-tolerance. Invest your idle money cheaply, instead of letting it lose purchasing power due to inflation.
About the Author: Sam began investing his own money ever since he opened an online brokerage account online in 1995. Sam loved investing so much that he decided to make a career out of investing by spending the next 13 years after college working at Goldman Sachs and Credit Suisse Group. During this time, Sam received his MBA from UC Berkeley with a focus on finance and real estate. He also became Series 7 and Series 63 registered. In 2012, Sam was able to retire at the age of 34 largely due to his investments that now generate roughly $175,000 a year in passive income. He spends time playing tennis, hanging out with family, consulting for leading fintech companies, and writing online to help others achieve financial freedom.
Updated for 2018 and beyond.