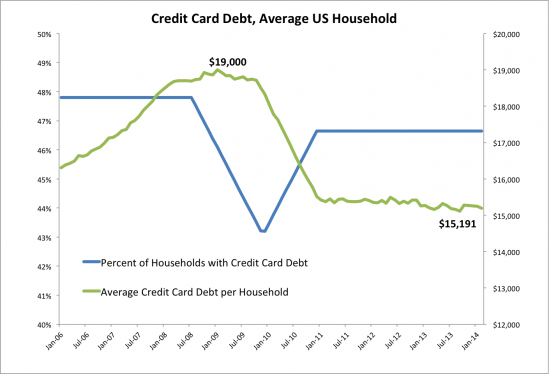 How many times have you withdrawn a wad of cash only to see it disappear a few days later with little idea where it all went? By putting as much expenditure on my credit cards as possible I get a handy dandy pie chart and expense line breakdown at the end of every month to see where my money is going. Furthermore, I get all those juicy rewards points that really begin to rack up over time.
The average household owes $15,191 based on data from the Federal Reserve and Nerd Wallet, a credit card lead generator. They also throw out a $7,191 number for average credit card debt for "non-indebted households." According to the Experian Intelliview tool, the average credit card balance per consumer was $3,779 in 1Q2013. However, consumers with low credit scores – like a "D" in the VantageScore range – had average credit card debt of $5,965. Finally, according to CreditCards.com the average credit card debt per U.S. adult, excluding zero-balance cards and store cards is $4,878. The average debt per credit card that usually carries a balance is $8,220. And the average debt per credit card that doesn't usually carry a balance is $1,037 (must equal spend).
It's hard to figure out what's the right number because they seem way too high and all over the place given the median household income is around $51,000. One way to finding a better average credit card debt and spend number is to simply get more datapoints with a short four question survey below.
The impact on the amount of average revolving credit card debt per household is largely determined by income. You might have an astounding $15,000 in revolving credit card debt, but if you are making $1 million a year, who cares? The more pertinent measure is average revolving monthly credit card debt to average monthly gross income.
What's confusing is that it's unclear whether people who pay off their credit card bills every month are also included in the average credit card debt per household. After all, when I charge something on my card, I have interest free debt for 28-31 days, depending on the month, until I pay the bill off in full. The solution is to simply calculate the average credit card spend a month to the average monthly gross income, and calculate the average revolving credit card debt a month to the average monthly gross income to get a more thorough picture.
MY AVERAGE CREDIT CARD MONTHLY EXPENDITURE
I logged on to my credit card account to see how much I've been spending the past four months and here's what I found:
May 2014 – $3,001 (had to buy a new oven)
April 2014 – $1,940
March 2014 – $1,709
Feb 2014 – $1,910
My average monthly credit card expenditure between three cards is therefore $2,140 for the past four months. I'm probably going to spend another $3,000 in June due to my London trip, but a lot of those expenses are going on my corporate card given I'll be meeting several business partners. $2,140 compares favorably to $3,779 – $15,191 in credit card debt for the average indebted household.
My average revolving credit card debt a month is $0 because I pay it off every month instead of paying for the usurious 10%+ rates.
THE MEDIAN HOUSEHOLD INCOME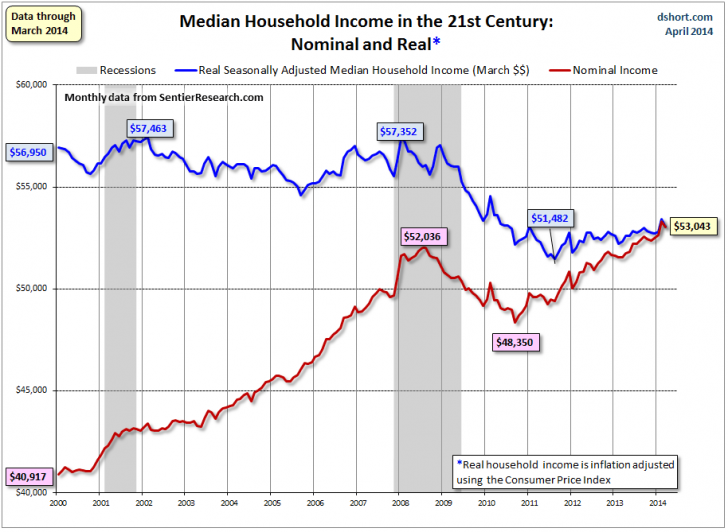 On the income side, my monthly gross income is more than $10,000 with the combination of passive income, entrepreneurial income, tennis teaching income, and consulting income. Hence, my ratio for credit card spend to income is less than 21.4% ($2,140 / $10,000). And given my credit card spend accounts for 90% of all my expenditure excluding mortgages, and my primary mortgage debt is less than 25% of my monthly income, my savings rate is over 50%. Pretty straightforward.
My average monthly revolving credit card debt to income is 0 ($0/$10,00 = 0).
CALCULATE AND COMPARE YOUR OWN NUMBERS
Tabulating your average monthly credit card spend and average monthly revolving credit card debt and comparing it to the national average is a good exercise. Even for those will large revolving credit card debt, I'm hopeful because you generally can't have large credit card debt without a large income.
I believe the majority of folks who get into financial trouble have more of a spending problem than an income problem. Credit card spending is much more controllable than making more money as an employee given raises average 2% a year nationally and entrepreneurship is brutally difficult. Credit card expenditure, on the other hand, can swing wildly month to month.
Is there any wonder why the average American is facing a difficult retirement with monthly credit card debt to monthly gross income at 357% ($15,000 divided by $4,250 = the monthly gross wage of a $51,000 median annual salary)? It's impossible to save if you owe 3.57X more in credit card debt than you pull in a month. The optimists can say that if we compare the $15,191 credit card debt figures to the median annual income (30%), things don't seem as bad, but who are we kidding? Even if we compare a more conservative $4,878 revolving credit card balance to a monthly gross income of $4,250, the revolving credit card balance is still more than 100% of income. Scary.
If you can't make more money, cut spending. If you can't cut spending, make more money. If you can't cut spending and can't make more money, then you are a contributor to the widening wealth gap. If you can cut spending and make more money, you're on the path to eventual financial freedom.

Loading ...

Loading ...

Loading ...

Loading ...
Chart credit: Nerd Wallet and Advisor Perspectives.
RECOMMENDATIONS
Track Your Net Worth For Free: In order to grow your net worth, it's important to thoroughly understand the details of your net worth. People are spending more than they think and saving less than they think. False beliefs add up to deleterious consequences over time as people wonder where all their money went. As soon as I started tracking my net worth through an Excel document 12 years ago, I was able to optimize my money for the greatest returns.
In 2012, I signed up for Personal Capital's free financial dashboard that tracks your net worth for you once you link all our accounts, analyzes your investment portfolio(s) for excessive fees, provides monthly cash flow analysis, and helps you forecast your retirement.
Check Your Experian Credit Score Today: For only $1 you can check what your latest Experian credit score is straight from their website. It's a good idea to see what your credit score is before applying for a loan. If it's below 720, you won't get the best rate, but at least you can spend time to improve your score. Furthermore, 1 out of 4 credit reports have errors, negatively affecting one's credit score. I had a $7 late electric bill that crushed my credit score by 100 points and almost derailed my mortgage refinance. The scary thing is, I had no idea for years! Check your credit score today.
Looking for an awesome travel rewards credit card? Check out the Chase Sapphire Preferred® Card and others. I use my Chase credit card for all my business and travel spending to get points for more free travel, insurance in case my bags are lost or my flight is stuck, and more insurance for defective products I buy and want to return. Everybody should have a credit card for the free 30 day credit. Just make sure to pay off your credit card every month in full! Check out some of the benefits:
Earn 50,000 bonus points when you spend $4,000 on purchases in the first 3 months from account opening. That's a ~$650 value right there.
Named a 'Best Credit Card' for Travel Rewards by MONEY Magazine.
You get 2X points on travel and dining at restaurants & 1 point per dollar spent on all other purchases.
Updated for 2017 and beyond.