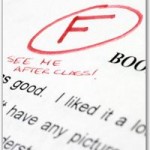 A lot of people still don't believe there's a high correlation between good grades and work life success.  Could it be that those who poo poo good grades as unnecessary are the ones who didn't get good grades themselves?  Let's imagine for the next couple seconds poor grades are poor indicators of success, even though for the first 22 years of your life, they are used in every aspect of progress.  Now that you've had your couple seconds, let's snap back to reality.
Here you are, about to graduate college with a mediocre "B" average and you're getting shot down during interviews left and right, assuming you are getting any.  From the employer's perspective, they can interview from any number of schools, each with a plethora of "A" students, so why bother with you?  Your stubborn self still holds on to the belief that grades don't matter, because you know you're going to be a star some day.
FOUR WAYS NOT TO LET POOR GRADES KEEP YOU DOWN
1) Be honest. You've not only got to be honest with your potential employer, graduate school, or whatever else you are applying to, you have to be honest with yourself.  You know if you studied an extra 10 hours a week instead of getting blitzed every other night at the toga parties chasing tail, you probably would have done better in college.  Your employer wants to hear from you that you are not delusional, and recognize your faults and have matured.
2) Use weakness to your advantage. Many employers actually fear the superstar straight "A" student because of the belief they might have heightened egos and massive expectations.  If you can prove to your potential employer that you've taken steps to change your behavior for the better, you will go a long way.  Nobody can be perfect forever, and so if you can be imperfect during some other time (college) and learn from your mistakes, chances are you will be much more valuable and mature during work.
3) Focus on other activities. Getting a 3.0 GPA isn't stellar, but it is good enough to get your foot in the door.  To make up for the "missing" 1.0, you need to discuss what you've learned in your extracurricular activities, which hopefully includes a part-time job, that made you a better person.  Organization, integrity, work ethic, compliance, and team work are the five key attributes an employer is looking for.  If you can demonstrate you've grasped these five things, you have more than made up for your lack of stellar grades.
4) Keep on hustling.  Like it or not, you are at a disadvantage vs. your peers with higher grades right out of college.  As a result, you have to make up for your lack of effort during school, by hustling more out of school.  Reach out more, send out more personalized search e-mails, attend more functions, designate more creative time, and get things done.
CONCLUSION – NO SUCH THING AS "A" FOR EFFORT
Yes, yes, I know you still don't think good grades are important towards work life, and therefore monetary success.  But just humor for me for a bit and put yourselves in the interviewer's shoes.  If you have 500 candidates to review for one position, and 400 of them have stellar grades, would you bother reading the other 100?  No, because we all have a limited amount of time, and the sample set of 400 is definitely good enough.  It's the law of large numbers folks.  If you don't pick up that $100 bill lying on the ground, someone else will.
Whatever you do, don't tell sob stories about why you were so mediocre.  Excuses are for losers, and you will never be able to assuage your interviewer about why your pet hamster caused you to play video games for 8 hours a day while you should have been studying.  The only time sob stories work is when your interviewer lets you in on her own tragedy, which you've also experienced.  Then, you guys can have a pity fest and go straight to the top!
Related: How To Make Six Figures At Almost Any Age
Refinance Your Student Loan With SoFi
SoFi is a fantastic social lending company that provides rates as low as 1.9% variable with auto pay and 3.5% fixed with auto pay. The reason why they can offer lower rates than the rest is because they analyze you based on merit, quality of employment, and education besides just your credit score and financials. When you just graduate or are early in your employment career, your credit score won't be as high, thereby penalizing you from getting the best rate possible. There is zero origination and prepayment fees. Offer terms are from 5, 10, 15, 20 years in both fixed and variable. Both private and public student loans can be refinanced.
Besides low rates, one of their best features is their unemployment benefits. If you lose your job while repaying your loans, you don't have to pay your loan for up to 12 months while you look for a new job! Interest will still accrue, but having this cash flow break is a huge benefit. They also provide job assistance guidance as well. You can apply for free to refinance or apply for a new student loan here.
Start Your Own Website, Be Your Own Boss
Grades suck? That's fine. Own website to own your brand online and earn extra income on the side. Why should LinkedIn, FB, and Twitter pop up when someone Google's your name? With your own website you can connect with potentially millions of people online, sell a product, sell some else's product, make passive income and find a lot of new consulting and FT work opportunities. Here's a step-by-step tutorial on how to create your own website.
Financial Samurai started as a personal journal to make sense of the financial crisis in 2009. By early 2012, it started making a livable income stream so I decided to negotiate a severance package. Years later, FS now makes more than I did as an Executive Director at a major bulge bracket firm with 90% less work and 100% more fun. Start your own WordPress website with Bluehost today. You never know where the journey will take you!
Updated for 2018 and beyond.