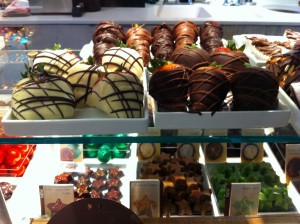 Linda shines at Davis Polk & Wardwell, one of our nation's most prestigious law firms.  Just eight years after Yale Law School, at the age of 34, Linda achieved her life long dream of making partner. At last I have arrived, Linda first thought to herself, recounting all the hours she spent since high school studying to get perfect grades and a perfect resume. That was five years ago.
One day while working on an important case, Linda walked by the pantry only to overhear her associates whisper about her. She couldn't quite catch everything they said, but phrases such as, "She's almost 40," and "Is she still single?" zinged her ears. Never one to doubt, Linda kept going for the rest of the week. The case is the priority, her mission, if you will. Her clients are fighting a hostile takeover from a competitor, and she and Davis, Polk & Wardwell must defend.
Breaking Down
At 11:00 PM on Friday, she finally returns exhausted to her grey-scaled, minimalism-inspired condo at the St. Regis Residences. With a soft glass of Cabernet, Linda looks out to the Bay Bridge and begins to cry. Why am I crying?, Linda thinks to herself. I successfully defended my client and the competitor is looking to sweeten their offer. My clients will be filthy rich! I'll be filthy rich.
Linda is unhappy because at 39 she is alone. There's nobody to share her $2 million a year income with and so she shares it with her apartment instead. She buys the most expensive amenities, such as the textured Brazilian cherrywood floors and Waterworks fixtures. She pays $2,600 a month in homeowners association dues alone so that she can have all the pampering in the world. One touch of a button and housekeeping will come and take away her laundry as well as shine her marble bathroom floors if she asked. What's the point of working so hard if not only to simplify my life?, Linda wonders.
If Looks Could Kill
Despite the frequent client wining and dining, Linda is extraordinarily lean. With high cheekbones and sunken cheeks, she looks almost like a gaunt cross-country runner who indulges in the latest protein bars. Her eyes are green and intense; she is a woman of focus and intent. She'll snap you with her stare, yet is unable to melt you with her smile.
Linda can't believe that almost fourteen years have passed since she first graduated from law school. People told her that her thirties would be the best years of her life. In many ways they were, as she had one success after another in her career. But, despite all the studying in college, she misses her twenties because she had her youth and her future. As trivial as it may seem, Linda misses having long hair and the ability to wear a pony tail if she wanted to. No, that's unprofessional and inconvenient, she told herself once she turned thirty. If I am to be taken seriously, I need to have shoulder length hair that is simple, yet powerful. Linda has all the power she's ever wanted now.
The Case
The one that got away was not a case, but a man she met during work right after she got promoted. He was a new lateral hire who came in as a second-year associate. Peter, age 28, was her subordinate. After many endless weeks of working together, they fell in love. On the weekends they would get away on road trips up to Napa Valley and stay at their favorite resort, Auberge du Soleil. Linda paid the $700 a night resort fee of course.
One weekend, as they were lounging by the pool, sipping Arnold Palmers and holding hands, the most senior partner's wife appeared. Peter and Linda's hands immediately released, but it was too late. The partner's wife had already spotted them and she was shocked. How could one of their newly promoted partners and a second year associate be having a relationship? The partner's wife was aghast, and Linda and Peter were ashamed.
Linda was petrified that all her hard work would be for nothing if word got out that she was having a relationship with one of her subordinates, seven years her junior. No, she's worked too hard to let some man ruin her career. Linda rushed over and spoke to the partner's wife in private, pleading her not to say a word. She agreed, but only if Linda stopped seeing Peter. Linda acquiesced.
Alone In The Darkness

It's been five years since the incident, and Linda's career has been on a rocket ship's path. Word never got out about her fling with her subordinate and Peter left several years ago for richer pastures. Linda has everything she's ever wanted, yet feels empty because she has nobody to share her good fortune with. Next week she turns forty and she worries whether she will be alone, forever.
Readers, what would do if you were Linda five years ago? Would you have defied the partner's wife's wishes for your love of Peter? Or, would you do as Linda did and break it off because she invested too much in her career?  Love or Career, which would you choose?
* Note: All names and the law firm have been changed for privacy.

Want to make extra money quickly and easily? I've recently tried out driving for Uber in 2015 because they are giving up to a $300 bonus after you make your 20th ride. After 125 hours, my gross pay is $32/hour, which is not too bad! I can see how people can easily make an extra $2,000 a month after commission and expenses with Uber or any ridesourcing company. I'd definitely sign up and drive until at least the bonus . Every time I plan to drive somewhere, like my main contracting gig down in San Mateo, I'll just turn on the Uber app to try and catch a fare towards the direction I'm going. Why not make extra money?
$32/hour is a huge pay cut for me and it's a humbling experience as well. But discovering the whole ridesourcing experience first hand is fascinating! I've got so many stories to share in the future about my experiences picking up random people.