In early 2005, at the age of 28, I took out a $1,220,000 mortgage to buy a $1,523,000 house in San Francisco. After having bought a modest condo a couple of years earlier, I wanted to go all-in. In retrospect, this was a crazy amount of debt to take on at that age.
When the downturn really started getting nasty in 2008, I was sweating bullets. By 2009, my firm had already gone through seven rounds of layoffs and I knew numerous people from other firms who had gotten laid off.
Thankfully, I didn't get laid off. After failing to sell the house for $1,700,000 in 2012, I tried again in 2017 and sold it for $2,745,000 to the one and only interested party. It felt amazing to not only walk away with a profit but to also get rid of $815,000 in mortgage debt.
When I decided to buy my current much cheaper house in 2019, I thought about taking advantage of low mortgage rates. However, I kept remembering the wonderful feeling I had when I got rid of the rental property mortgage in 2017.
Besides, I wanted to sell some stocks after a 10-year bull market and use a true all-cash offer to get a better deal. It ultimately worked through a couple real estate love letters and one breakup letter.
Having No Mortgage Debt Is The Way To Go
The debate between paying off debt and investing will rage on forever because everybody is at a different point in their financial lives. Further, no one person has the same risk tolerance or financial objectives.
I suggest readers follow my FS-DAIR methodology and do both when you're at the beginning or during the middle of your financial journey.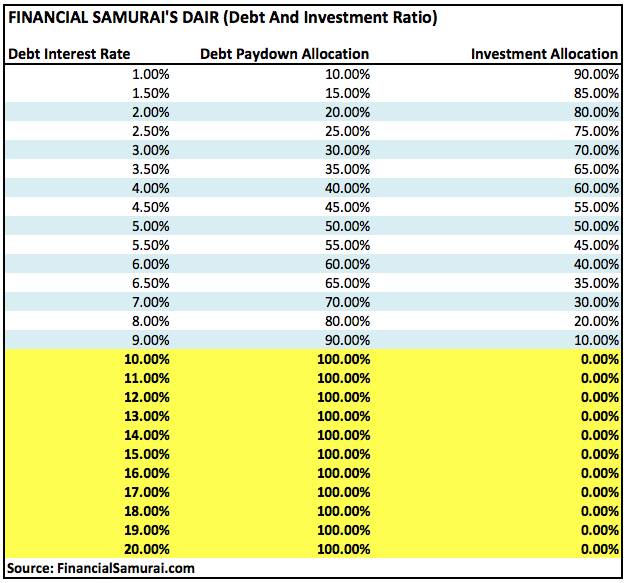 However, for those of you who are towards the end of your rapid wealth accumulation phase, I recommend shifting the balance in favor of paying down as much debt as possible. Ideally, you will be mortgage debt free by the time you cannot or no longer want to make money.
I understand the need for mortgages. Most people do not have enough cash to pay for a home. Another reason, however, is many people want to juice their real estate investment returns. Leverage is a wonderful tool on the way up, but it is also a devastating tool on the way down.
There was probably some point during the 2008 – 2009 financial crisis that on paper, approximately 90% of my primary home equity had been wiped out.
The feeling of potentially losing everything is something I never want to experience again. Therefore, I promised to refinance my mortgage every time mortgage rates dropped and I could break even within 12 months. I also promised to pay down extra principal every time I had some extra cash.
Although money is dirt cheap, not having to make monthly mortgage payments feels wonderful. Besides not paying any interest, I also don't have to deal with a bank that may one-day sell-off our mortgage and force us to change our autopay setup.
While I do enjoy popping into the bank once in a while to pay down extra principal, it feels better to never have to pop into the bank at all, especially now that we have this highly contagious virus lingering.
No Mortgage, Less Worry
Having no mortgage on our primary residence is one of the reasons why my wife and I have felt more calm during this global pandemic versus the 2008 – 2009 financial crisis. Yes, I still felt that jolt of fear when the S&P 500 was correcting by 10% a day, but it felt more like a body blow than an uppercut to the chin back then.
We also worry less about our retirement income getting slashed since our cost of living is so low. It's also nice to know that a bank doesn't have a lien against our property, just the city if we stop paying property taxes!
If you want to achieve financial independence quicker, do your best to keep housing expense at 10% of your gross income or lower. At this level of expense, you can withstand all sorts of financial mishaps and not really worry too much.
I have certainly desired to live in a much larger and fancier home before, especially now that we're in lockdown. However, it's been really hard to give up a frugal lifestyle that provides for more flexibility.


Since having my first child in 2017, I have focused on trying to reduce financial stress. As my parental responsibilities have increased with two kids now, reducing stress is even more important.
No Mortgage, More Courage!
Until 2020, I had never owned a principal residence without a mortgage. As I reflected on the 2008 – 2009 crisis, I reminisced that even though I strongly felt I should buy stocks down 50%, I couldn't force myself to do so beyond contributing to my 401(k). I was too worried about losing my job and money in all my investments.
This time around, not having a mortgage gave us more confidence to take on more risk. For example, after I did my stock market bottom analysis, I had no problem investing multiple six figures into the S&P 500 when it went below 2,500. I had some extra cash lying around, so why not take advantage.
Below is a screenshot of me buying $100,000+ worth of stock during the height of the panic. Given there are no more trading commissions, I decided to buy multiple tranches of stock since the swings were so volatile.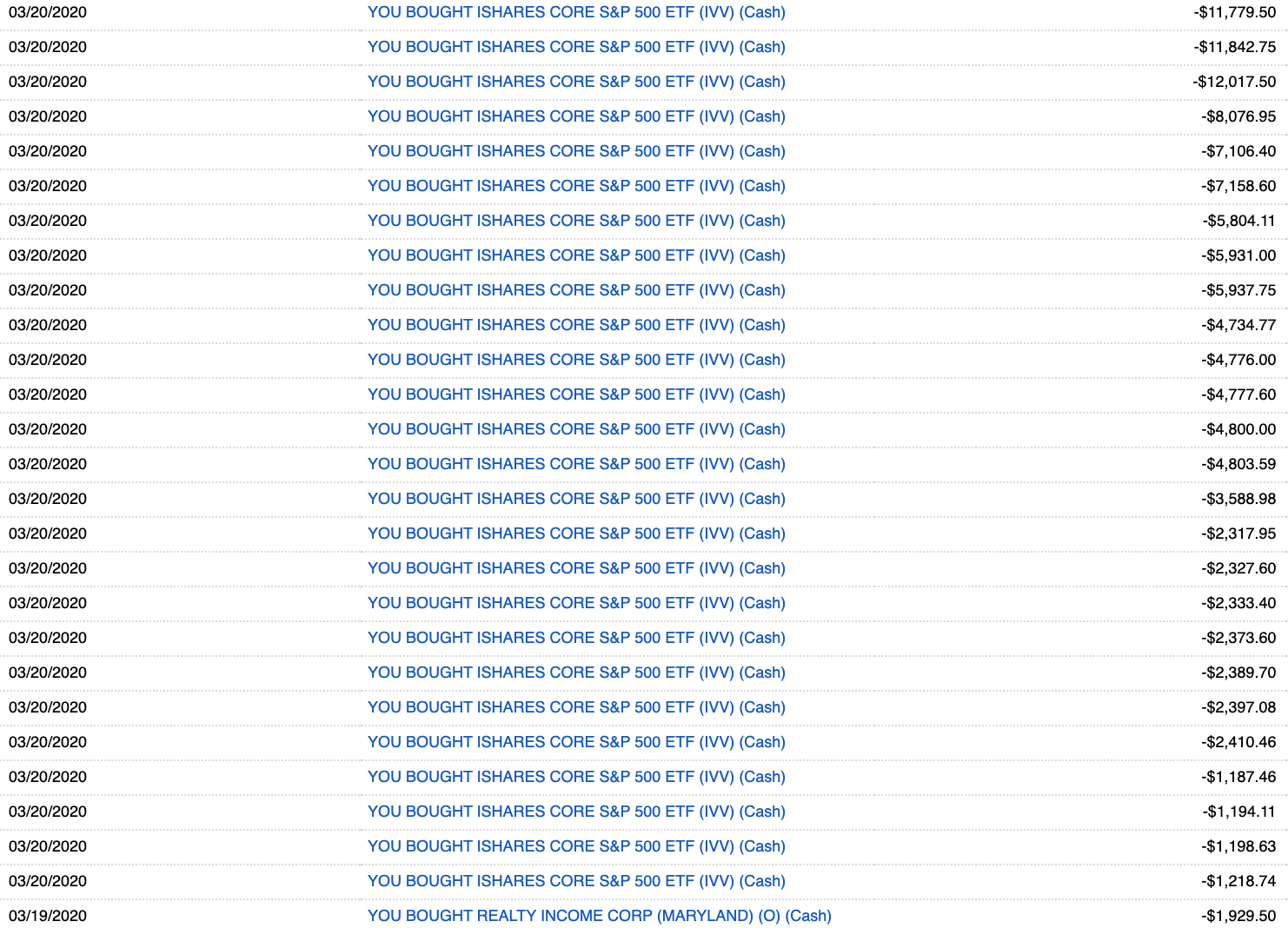 Whereas, if I had put down 20% and carried a $1,400,000 mortgage for our existing primary residence, I'm not sure I would have had the guts to buy on the way down. I don't even know if I could have written a rational article about analyzing a stock market bottom because I may have been too stressed out.
Further, if I had had a mortgage on our primary residence, that would have meant I wouldn't have had sold ~$1,000,000 in stocks in 2019 to help pay for the house in cash. Having a mortgage plus $1,000,000 in stocks that were declining would have made it too risky for me to invest more into the stock market.
I've since sold all the stock I bought below 2,500 to pay for an upcoming remodel and some goodies for my children. It's my way of trying to eke out a win during this difficult time since my overall portfolio is still down for the year with the S&P 500 at 2,750.
Other Activities That Require Courage
Besides having the courage to buy stocks when they are getting pounded, think about all the other things in your life that are scary to do. If you could some how muster up the courage to do them, your life could change for the better.
Courage to quit your job. Quitting your job in the middle of a global pandemic is no easy task. But with enhanced unemployment benefit, no debt, and learning how to negotiate a severance, your courage goes way up.
Courage to start a business. Most people don't want to start a small business because they don't have an idea, don't have the funds, don't have the time, and fear rejection. But thanks to the internet, the cost to start has gone way down. If you have no debt and low startup costs, then your courage to start goes up.
Courage to break up. Let's say you are saddled with debt and have an unstable job. Despite hating your partner, you stay in your loveless relationship for the financial security. If you don't have debt and have your finances in order, you can break free from your relationship and find happiness elsewhere.
No debt creates more courage.
Get Rid Of Your Mortgage Before You Retire
When you no longer care about maximizing your returns, you will naturally become more motivated to pay down your mortgage debt to zero, no matter how low the interest rate. You get more comfortable with boring single digit investment or net worth returns.
You might be wondering when will you naturally stop caring so much about maximizing your returns? The answer is when you have enough retirement income to cover a basic standard of living. The last thing you want to do is lose lots of money, lose so much time, and be forced back to work.
Therefore, if you find yourself one day very motivated to pay down your mortgage, you might just be closer to financial independence than you think. After all, actions speak louder than words.
Please pay off your primary mortgage before you retire. Peace of mind is worth way more than any amount of extra returns you might make investing elsewhere.
Now for those who are looking to buy property, now could be one of the best times in a long time. We'll discuss a pandemic real estate buying plan in a future article.
If you're looking to refinance your mortgage, check out Credible, my favorite lending marketplace to get competitive real quotes in minutes. I'm truly envious of all of you who get to refinance in 2020+. Rates are even lower than when I refinanced at the end of 2019.
Readers, where are you on the pay down mortgage versus invest debate? If you have paid off your mortgage, have you ever experienced regret doing so? Does having a paid-off mortgage feel better or worse during a bear market? Given the low interest rates, have you been tempted to take on more debt through a HELOC or cash-out refinance?