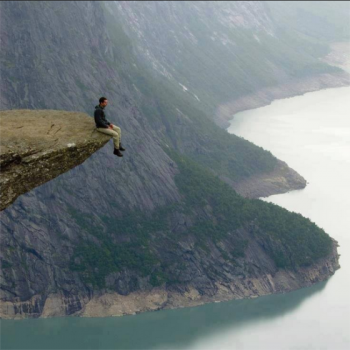 It's been two years since I paid off my rental property mortgage I took on in 2003, and already the satisfying feeling of accomplishment has worn off. Perhaps the reason why the feeling was so ephemeral was because there was no congratulations card, fancy dinner celebration, or surprise gift from the Anti Debt Welching Coalition For A Better America. The only thing that changed was an extra $1,308 in cash flow, which goes straight to savings.
Before taking on this mortgage, I experienced an eerily similar feeling of ambivalence in my early 20s. After working for 60+ hours a week from 2009 – 2001, while saving 100% of every bonus and 50% of each paycheck, I started thinking, what's the point of it all? Maybe I was experiencing a quarter life crisis. What I did know was that I no longer wanted to work in finance because making money felt pointless, especially after September 11 happened.
I was *this* close to leaving San Francisco for Honolulu in 2003 until I found a 2/2 condo overlooking a park in Pacific Heights for $580,000. Once I took out the $464,000 mortgage, my motivation to work hard shot through the roof! Suddenly, my paycheck felt meaningful because if I welched on my mortgage, I'd lose my $116,000 down payment and trash my credit score.
POWERING DOWN WITHOUT A MORTGAGE
Without debt, life is easy. And when life is easy, why would anyone but the craziest of people bother to take risks? It's totally irrational to work hard if there's no financial burden. Forget about trying to start your own huge business when you can just enjoy life now.
When I made a new year's resolution to pay off the rest of my ~$100,000 mortgage by the end of 2015, I unleashed an inner beast. Instead of continuing to consult for 25 hours a week, I got motivated and took on two more consulting jobs for a total of 60 hours a week for three months. All three companies were fascinating to work for. But making some extra money in order to pay off the mortgage was a significant motivator.
I noticed that as soon as I wrote the final check, my whole attitude changed. First, I stopped looking for more consulting work even though two out of the three contracts ended. Second, I decided to go on a 3.5 week trip to Asia to live life like a digital nomad. I then spent several days up in Yosemite to see if bears poop in the woods. Then I went to New York City for two weeks to watch the US Open and see some friends!
Finally, I'm now quizzically thinking of selling the property again in order to simplify life. There is little motivation at the moment to try and maximize cash flow, despite still being $50,000 away from my $200,000 a year passive income target.
Sure, not having to work 60 hours a week anymore means less stress and a healthier lifestyle. But it's not like I was stressed or unhappy working those hours in the first place. Instead, I was pretty thrilled to be able to do what I wanted to do while making a very healthy income. Something new occurred every day.
The biggest downside to paying off your mortgage is the complete loss of motivation to take risks and work hard. Only when your back is against the wall will you do everything possible to change. Having a mortgage is like an implicit back stop to not slack off.
REASONS NOT TO PAY OFF YOUR MORTGAGE
Here are some other reasons to not pay off your mortgage.
1) You lose your mortgage interest deduction. The mortgage interest is treated like a business expense for rental property and a tax deduction if its your primary residence. The higher your tax bracket, the more valuable the interest expense. For those in the 33% Federal tax bracket or higher, it's probably a better idea to keep your mortgage for as long as possible.
2) You lose a low borrowing cost. Interest rates are at close to all time lows, and they are scheduled to go up by the end of 2015 and in 2016. It makes sense to hold onto a low fixed mortgage rate for as long as possible . My mortgage had an interest rate of 3.375% a year. That's pretty cheap for a rental property, given rental property mortgages are generally 25 – 50 bps higher.
3) You tie up capital in an illiquid asset. Unless you have a very diversified net worth, having a lot of capital tied up in a property can be bad. Your property could blow over in the next storm, or burn down in a fire. If you are underinsured, you will pay dearly as insurance companies make it difficult for you to receive full benefits from a claim. Most Americans have a majority of their net worth tied up in the home. When the housing market collapsed, so did the net worths of millions. Hence, it may be best to have as little equity as possible or simply sell.
4) You decrease your financial returns. If you put 20% down, a 4% appreciation on the property means a 20% cash on cash return thanks to leverage e.g. $100,000 down payment on a $500,000 house that appreciates by $20,000 = $120,000 equity, a 20% increase. If you've paid off the other $400,000 in mortgage early, the return falls all the way down to 4%. Of course, with the $400,000 you used to pay down the mortgage, you might also blow yourself up by investing in Chinese stocks at the peak.
5) You might start being less efficient with your time. Instead of consulting for lots more money, I decided to spend my time discovering what it's like being an Uber driver. After all expenses, I'm only making $22-$25 an hour driving, which is not that bad if you want to sign up, especially to get the sign up bonus. But if I found another consulting contract, I could easily make 10X that amount. If I focused on my personal finance consulting practice, I could make 20X that amount. When it comes to making money, less debt can make you less disciplined. But I drive because I'm curious and fascinated with people's stories.
RIGHT SIZE YOUR DEBT EXPOSURE
If you love the feeling of progress, think twice about rapidly paying down your mortgage, especially if you only have one. "Thankfully," I've got three more! I've now got to re-create that sense of urgency to pay them off because it's hard when the rent is multiple times higher than the cost.
The only people who really complain about having no debt are those who are greedy for more money. They wish they had more liquidity to invest in the next hot stock or buy that diamond in the rough fixer. But greedy people are generally never satisfied.
Ideally, we'll all have $0 debt by the time we retire. After inputting various realistic expenses in my free retirement planning calculator, I've calculated that I can pay off all debt using current and anticipated cash flow in under 20 years. I'd like to think I'll be as active at 58 as I am today, but chances are high that I won't be as motivated. I'm already suffering from arthritic thumbs from typing too much on my iPhone.
Figure out when you plan to retire and divide your debt by the number of years left you plan to work. Now come up with a plan to be debt free by your retirement date. You'll be glad you did!
Recommendations
Refinance Your Mortgage: Check out LendingTree for some of the lowest free mortgage rate quotes online for purchase or refinance. They've got one of the largest banking networks today. Rates have come down post election, and even after the Fed started hiking interest rates. When banks compete, you win.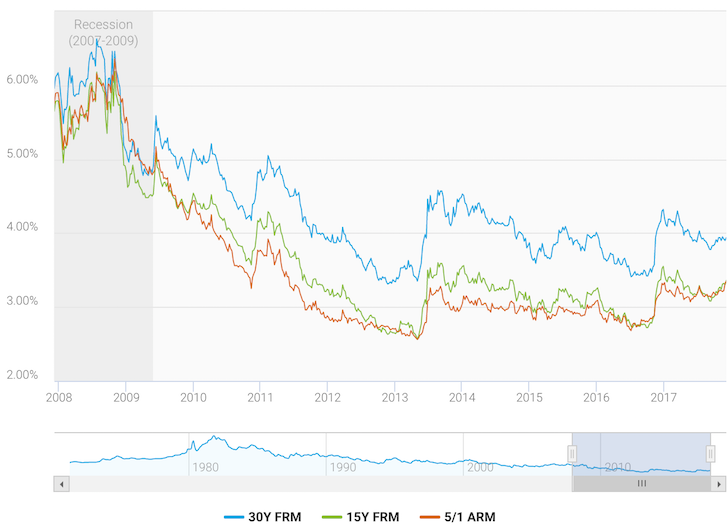 Explore real estate crowdsourcing opportunities: If you don't have the downpayment to buy a property, don't want to deal with the hassle of managing real estate, or don't want to tie up your liquidity in physical real estate, take a look at Fundrise, one of the largest real estate crowdsourcing companies today.
Real estate is a key component of a diversified portfolio. Real estate crowdsourcing allows you to be more flexible in your real estate investments by investing beyond just where you live for the best returns possible. For example, cap rates are around 3% in San Francisco and New York City, but over 10% in the Midwest if you're looking for strictly investing income returns.
Sign up and take a look at all the residential and commercial investment opportunities around the country Fundrise has to offer. It's free to look.
Updated for 2019 and beyond.