I'm bullish on single-family homes due to rising rents, rising home prices, negative real mortgage rates, undersupply, and declining vacancies. As prices soften over the next 12 months due to higher mortgage rates, i'm looking to buy more property.
I would buy another single-family homes, however, I'm tapped out because I bought a new single-family home in 2020. Further, with two young kids, I'm at my energy limit in terms of being a landlord.
Therefore, let's look at how to benefit from the single-family real estate boom without being a landlord. The following is a post from Financial Samurai partner, Fundrise. Fundrise was founded in 2012 and is one of the leading real estate crowdfunding platforms today with over 320,000 investors and $3 billion in assets under management.
Demographics are benefitting the single-family real estate market for the next couple decades. As a result, owning single-family rentals is one of my favorite assets.
The Real Estate Boom In Single-Family Homes
Once upon a time, finding a single-family home to rent in the suburbs was pretty unusual. Families who couldn't afford a downpayment on a home were locked out. The same for folks who weren't ready to commit to a long-term mortgage.
No longer. One of the hottest trends to emerge out of the upheaval of the pandemic has been the rise of the single-family rental market.
We're not talking about existing homes, leased out one at a time by small landlords. These are brand-new houses. Large home builders are now building entire communities of homes for the sole purpose of renting them out. Institutional investors are pouring billions of dollars into the sector.
And you don't need to be a private equity investor or an overworked landlord to invest. At Fundrise, our platform offers a simple way for you to access this emerging mega-trend.
Homes are going up quickly. Tens of thousands of houses were built specifically to serve as rentals from 2020 to 2021, according to data cited by the Wall Street Journal earlier this year.
The real estate consulting firm John Burns, estimates there are more than 200 companies (including ours) in the build-for-rent business — from money managers like BlackRock and J.P. Morgan, to home builders like Lennar and LGI Homes.
Single-Family Rental Demand Is Growing
Single-family rentals are essentially a whole new asset class. And renters aren't simply folks priced out of buying. They include millennials or empty nesters who might want to avoid the hassles of homeownership. Renters also include grandparents looking to live near their kids and city dwellers looking to dip their toe in suburban waters.
"Our renters are people who make great livings, they're at the early stages of forming their families and what they really desire is a great school district in a great community," one homebuilder in Scottsdale, AZ, told the Wall Street Journal in a recent article on the explosion in single-family rentals.
The rents for brand-new homes in these developments — often decked out with amenities like granite countertops and stainless steel appliances — are typically higher than they'd be if you were renting out an older home.
And rents for single-family homes are rising overall, up 6.6% from 2020, according to a recent report by CoreLogic, a real estate data firm. From 2019 to 2020, rents went up by just 1.7%. Rents are now accelerating upward in 2021.
It becomes even more clear that single-family detached houses are the hot property if you look at the difference in rent increases between detached units (standalone homes) and attached units (think townhouses): Rents rose 9.2% in detached homes, while attached single-family units grew 3.6%, according to CoreLogic.
Apartment List shows similar rent growth data for 2021 as the national vacancy index declines. Growth like this signals a major long-term opportunity.
Investing In The Real Estate Boom In The Right Locations
The hottest spots for single-family rentals in the U.S. are generally clustered in "the Sunbelt," or what we've been calling the Smile States.
The Smile States is an arc that stretches from Los Angeles to Orlando. It encompasses fast-growing cities like Phoenix, Austin, and Atlanta along the way.
Single-family rental rates increased at least 4% in all 12 of the Sunbelt locations that CoreLogic surveyed as part of its recent report.
But this is a trend that predates the pandemic. These regions have been seeing their populations grow faster than the Northeast and Midwest for the past decade, according to 2020 census numbers released in August.
Phoenix was the fastest growing city in the country over the past decade, according to the Census Bureau. The city's population rose 11.2% to 1.6 million people last year. Single-family rents went up 14% in the Phoenix metro area, according to CoreLogic's data.
Chart source: "Domino Effect: Single-Family Rent Growth Rate Spikes in May as Housing Economy Challenges Persist, CoreLogic Reports." CoreLogic, July 20,2021.
Overall, four of the Sunbelt metro areas had single-family rental markets with rent gains of at least 10%.
The Rental Market Is Less Volatile
The housing market surge that grew out of the pandemic is showing signs of slowing, as the rush to find more comfortable work-from-home housing is abating. We all knew double-digit year-over-year price appreciation growth forever was not sustainable.
However, the single-family rental boom continues to remain strong. Home builders are still putting up homes to rent, and the demand is there — especially with home prices so high. The irony is that the higher home prices go, the stronger the demand grows for rent.
The choice to rent a home is far less fraught than whether or not to buy. Further, the rental market has always been less prone to real estate boom bust cycles.
During the housing crash of 2008, for example, rent prices held relatively steady. If you look at rent data tracked in the Consumer Price Index, you'll see rent prices going up and to the right in a relatively smooth line. Home purchase prices — especially during the housing crash — have been much more volatile.
This is a crucial concept for anyone thinking of real estate investing going forward. Rising rents will likely continue as household formation increases. Although the pace of rent increases has finally slowed.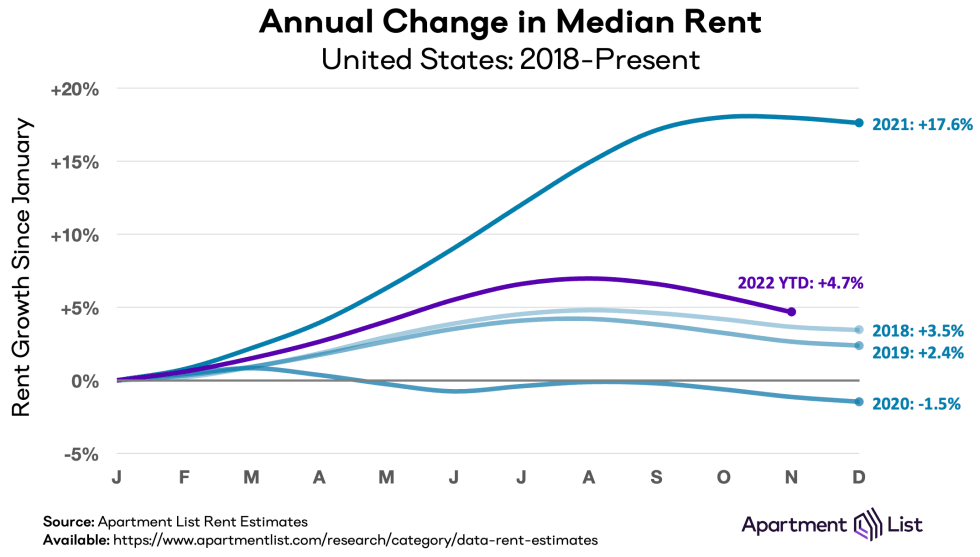 Related reading: Check out my Fundrise Review
What Institutional Real Estate Investors Are Doing
It would seem like the "simple way" to take advantage of the rise in single-family rentals would be to buy a house in a Sunbelt city and rent it out.
However, how many people have the time to become a landlord, staying on top of ongoing maintenance, securing tenants, paying for insurance, etc.?
Institutional investors are already putting a lot of money into the single-family market. But many of them are actually scooping up for-sale homes, outbidding regular folks, with the intent of redeploying them on the market for renters. They've drawn widespread criticism for driving up home prices.
At Fundrise, we've focused on investing in communities that are building brand new homes. We are also acquiring existing communities that were always intended to be used for rent.
Over the past year, that has meant successfully deployment of our investors' capital into single-family investments all across the Sunbelt.
Total single family inventory continues to remain depressed. With rising mortgage rates, expect even fewer houses to come to market as the average homeownership tenure continues to increase.
How Fundrise Is Investing In The Real Estate Boom
By June, Fundrise had invested in the acquisition or development of 452 single-family rental units, representing roughly $79.2 million. That same month, we got financial backing from Goldman Sachs — a $300 million credit facility that will allow us to scale up our investments in single-family rentals even more.
The investment bank's move is a signal of just how big this trend is becoming on Wall Street.
Beyond those existing investments, through a combination of new homes under contract and our development projects, we aim to scale up the portfolio to nearly 2,800 homes for lease in 12 markets over the next 20 months.
The following deployments as shown here:
Invest In The Single-Family Real Estate Boom With Us
You can get started with a Fundrise portfolio in just minutes through our new Flagship Interval Fund. It holds the majority of our single-family rental properties and was up 28% in 2021.
For decades, the main way to tap into the returns from the single-family home market was to buy a house. But given you had to live somewhere, it was hard to truly benefit unless you took out a home equity line of credit.
Fundrise returns have been strong in 2022, significantly outperforming public REITs and public stocks. In addition, Fundrise returns were strong in 2018 when public REITs and public stocks fell as well. Hence, if you want to diversify your investments, consider investing in private real estate in the Sunbelt.
Today, you can invest in single-family housing without becoming a landlord or even a homeowner. If you're still saving up for a down payment, you no longer have to wait as long to participate. And if you already own a home, you can surgically invest in other single-family homes without having to take on more leverage.
It's a powerful change. During times of uncertainty, real estate becomes an even more desirable asset class. People want to own tangible assets that provide utility, generate income, and hold its value.