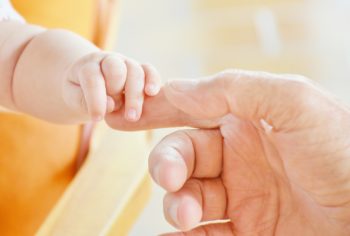 The purpose of this article is to:
Help folks realize that working from home and taking care of a child is not as easy as you might think. It's actually much easier to drop your kid off at daycare.
Discuss ways to be a better parent and more efficient producer while at home.
Encourage the 3% of the male parent population who are stay at home dads to speak up about their experiences. And of course hear from stay at home moms as well.
To recognize there is no one way to raise a baby since every baby and family situation is different.
According to Pew Research, two-parent households where both parents work full-time today make up 46 percent of the population, compared to 31 percent in 1970. We didn't want to be one of the 46 percent so we carefully planned for a life where we could both spend much as time raising our son while also keeping intellectually stimulated. We've only got one chance.
Working from home is more efficient than working in an office. You don't have to waste time commuting. You'll never get interrupted by colleagues and there aren't as many meetings. I can get done in four hours what it takes 10 hours to do in the office.
Before my son was born, I thought it'd be relatively easy to be a stay at home and work from home dad as well. But I was wrong. Here are some reasons why it's difficult to do both:
1) A life is in your hands. One look away and your baby or toddler could suffocate from a pillow, fall off the sofa, bonk his head while trying to stand, impale his eyes with a stick, or die in his sleep. You are always on duty as a stay at home parent. The only time you can rest is if your little one rests. Even then, rest may be a rarity as he may wake up constantly for the first several years. If you slack off at work, like most people do, generally nothing bad happens. If you slack off with your baby, it could be a disaster.
2) It's impossible to create good work and provide quality care at the same time. Because you can't lose sight of your baby for more than several seconds, the idea of concurrently working and caring is impossible. I can hold my baby on the floor and read my phone at the same time, but that's about it. Goodness forbid you have to do something like write, draw, or design for work. When taking care of a little one, it's best to be 100% present.
3) You lose your independence. There is never a regular schedule to follow when you are a stay at home parent. Your day is dictated by your little one's sleep schedule, bathroom schedule, eating schedule, and doctor visits. You are working whenever there is a glimpse of free time like I'm doing now at 11pm. The more independent you were before having kids, the harder the adjustment.
4) You relive all the unpleasantries of life. Most of us who are healthy don't see the doctor more than once a year. But if you have a little one, you are visiting a pediatrician about every three months and visiting other specialists if your baby has other developmental issues. While at the pediatrician, your baby is examined thoroughly and gets injected with vaccines, which hopefully cause no harm. And if you have to visit the hospital or a specialist, you may see other patients with issues much worse than your little one's.
5) You are always tired. Getting enough sleep is one of the keys to a happy and productive life. Your cognitive ability literally declines by 80%+ if you are sleep deprived. Having to take care of your little one while also having the responsibility of financially providing for your family drastically cuts into the amount and quality of sleep you can get. For the first three months of my baby's life, I felt like I pulled an all-nighter at work every other night. You get through the exhaustion by telling yourself, "this too shall pass."
6) You feel their pain. If you are a normal, sympathetic human being, you will feel the pain your child goes through as if it were your own. When your baby or toddler is crying, your body will naturally tense up trying to figure out what's wrong. Is he hungry? Is he tired? Does he have a tummy ache? A cold? Is he too hot? Does he have a blocked nasal passage? The longer your little one cries, the more pain you feel until it sometimes becomes unbearable where you also start crying.