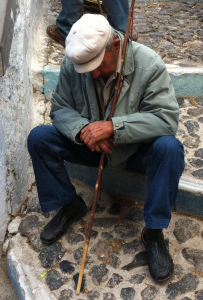 The following is a guest post by reader Dave Scott who shares his experience of taking care of his 97 year old grandmother. I'm thoroughly impressed with Dave's sense of duty and attitude throughout this entire article. You can tell he feels it's an honor to take care of his grandmother and he's looking for more insights on how to be a better caregiver. I'd like to have an open discussion during the holidays addressing the issues of cost, environment, emotions, responsibility and estate planning. 
It can be a great honor and a huge sense of responsibility to manage all the aspects of a aging family member's affairs when they are in need of your help. For approximately 20 years, I have been managing my grandmother's investment portfolio. All other aspects of her life were managed by her with a little bit of help from my father.
In late 2010, all that changed. At the age of 97, my grandmother needed to move into assisted living and was no longer capable of fully taking care of herself. During the same time period, her relationship with my father, her only living child, began to become strained and my father was battling his own health issues. As a result, I made the decision to move my grandmother from her current independent living home in Arizona to reside near me in Texas.
The responsibility dynamic changed, almost overnight, whereby I had just agreed to manage 98% of all of my grandmother's affairs. I was definitely up for the challenge and thought I was the best suited to take it on. However, it doesn't diminish the fact that this is not a trivial  undertaking.
Managing all aspects of a family members' life