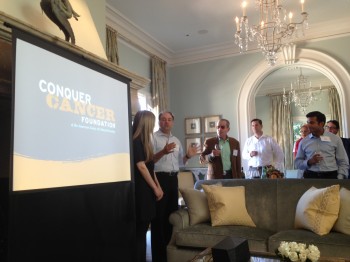 Recently I had the pleasure of participating in a Conquer Cancer Foundation event at the home of my friend, Dr. Thomas Roberts and his beautiful wife Susan. Tom used to be an attending staff oncologist at Massachusetts General Hospital and an instructor of medicine at Harvard Medical School before joining Farallon, one of the first hedge funds in the world to manage university endowments.
My favorite thing about Tom is not that he's a very smart and successful guy. The thing that stands out most about Tom is how nice and thoughtful he is. You might think a man of his stature wouldn't bother hanging around with someone like me, yet he's been nothing but kind and magnanimous with his time. We met on the tennis court several years ago and have been good friends ever since.
Tom is on the board of the Conquer Cancer Foundation and I've promised to help him spread the word about this devastating disease that has affected so many. Although I cannot match the funds that many generous benefactors have offered, I do have an online platform to help raise awareness. My grandfather died of skin cancer before the age of 65 and my good friend's father was recently diagnosed with bladder cancer. It seems like everybody I know has been affected by cancer to some degree, whether it be a family member, close friend, neighbor, or colleague.
Here are some cancer statistics:
* One out of every two men and one out of every three women will be diagnosed with cancer in their lifetime.
* There will be over 1.6 million new cancer cases diagnosed and nearly 600,000 cancer deaths in the US in 2014.
* Cancer remains the second most common cause of death in the US, accounting for nearly 1 of every 4 deaths.
* There are nearly 14.4 million survivors worldwide.