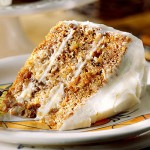 One of my best friends is blessed with skinny genes.  At 5′ 3″ tall, she weighs all of 105 pounds.  When we go out to eat, she doesn't just order a glass of iced tea and salad with dressing on the side.
She goes all out with mash potatoes, creamed spinach, BBQ oysters and then a nice juicy ribeye for a main course!  I gawk in amazement at her appetite while secretly groaning at trying to keep up towards the end.  After all, shouldn't she eat 40% less than me if she weighs 40% less?  Guess not!
Despite my friend's envious genetics, she isn't exactly iron woman when it comes to sports and outdoor activities.  After three miles on a 10 mile bike ride, she's pooped and waves at me to take a break.
Meanwhile, I'm going "lah, lah, lah" in my head, not even breaking a sweat as I soak in the glorious views of the Bay.  I let her catch up and we take a five minute pit-stop where she catches her breath as I go do some stretches and sit-ups.
THE GIMMICK