The median 401(k) balance is low. You likely won't be able to live off your 401(k) alone in retirement, but you should be able to combine your 401(k) with alternative savings, other passive investments, and Social Security to live a financially free life when the time comes to withdraw at the age of 59.5. Most Americans don't have pensions.
The reality is that the median account balance in the U.S. is only around $72,000 for 55-64 year olds in 2019 according to Vanguard, one of the largest 401k managers. The average 401k balance for 55-64 year olds is roughly $178,000.
But the average is screwed up to due the super wealthy. Even with $178,000 in your 401k at retirement age, you aren't going to be living it up for the next 20 – 30 years without alternative sources of income.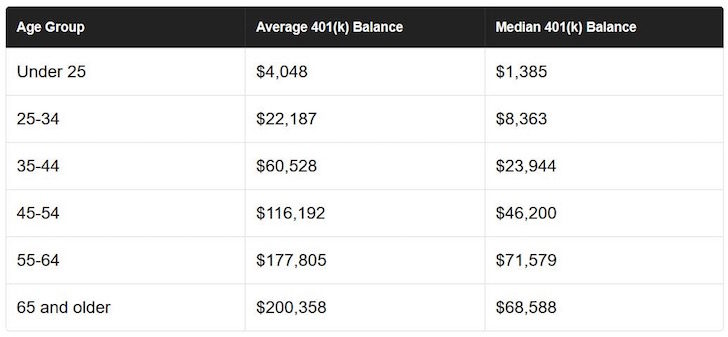 According to data from Fidelity, here's the average 401k breakdown by age in 2020:
Given the median age of Americans is 35.3 according to the US Census Bureau, the median 401(k) balance per person should be closer to $150,000 – $500,000 according to my 401(k) retirement savings guide instead of these pitifully low levels.
In this article, I'd like to share some stories on what happened to all the missing savings because we all know we should be maxing out our 401k every year for as long as we work.