Your net worth composition will likely change the wealthier you get. The wealthier you get, the generally more conservative your net worth allocation.
For example, my net worth composition in my 40s looks nothing like it did when I was in my 20s. I have a family to take care of don't want to go back to work. As a result, my net worth composition is more conservative with 26% in public equities.
If you're looking for how net worth compositions change by wealth, take a look at the below chart by Visual Capitalist. It highlights how much each asset is as a percentage of net worth from the Federal Reserve of Consumer Finances. After all, if you want to get rich, it's good to study how the rich allocate their money.
Notice how red (primary residence) quickly shrinks the wealthier you get while blue (business interests) quickly grows. The key to creating great wealth is to, therefore, build a business or acquire a significant share of equity in a business.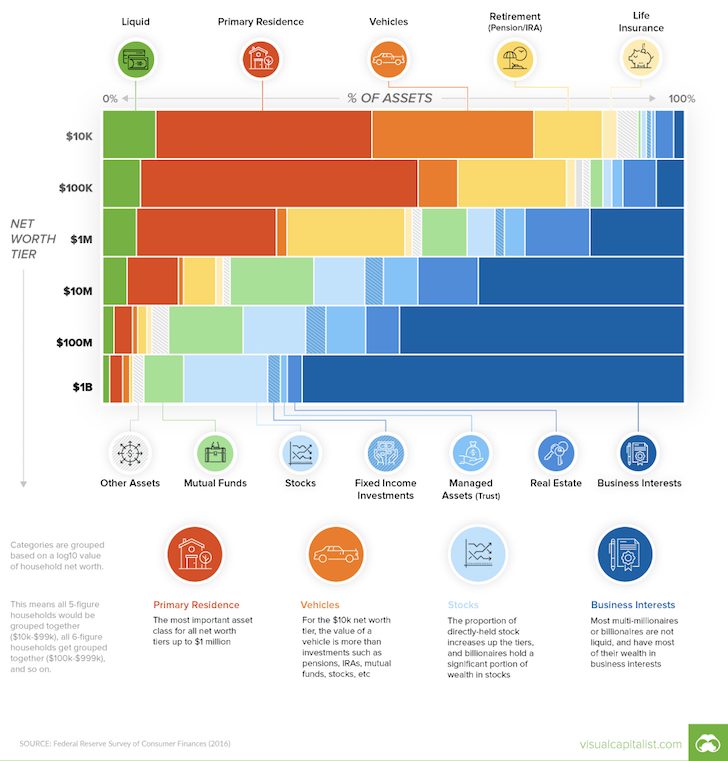 Net Worth Composition By Levels Of Wealth
Let's discuss each asset class in a little more detail. I think most Financial Samurai readers or people looking to achieve financial independence are targeting net worth amounts between $500,000 – $10,000,000. Therefore, my commentary is tilted towards this mass affluent net worth range.
Liquid Net Worth
As your net worth grows, you don't need to maintain the same percentage of liquidity to survive through difficult times because the absolute amount of your liquidity increases.
The only reason you would need a large percentage of your net worth in liquid assets is if you are highly leveraged. Shoot for 5% – 10% of your net worth in Liquid assets.
Related: The Need For Liquidity Is Overrated
Primary Residence
Notice how there is no asset category for Rent because Rent is a net worth drag. Everybody needs to figure out the right time to own their Primary Residence to at least stay neutral inflation.
I'm surprised the Primary Residence category doesn't take up an even greater percentage of net worth in the $100,000 and $10,000 net worth levels. During the financial crisis, so many Americans got obliterated because their Primary Residence was such a dominant portion of their net worth.
I'd get your Primary Residence down to 10% – 30% of your net worth using my Primary Residence Net Worth Rule. Live well, but make sure your home doesn't become a drag.
Related: Why Real Estate Will Always Be More Desirable Than Stocks
Vehicles
Like Primary Residence, the Vehicle percentage also declines rapidly as one's net worth grows. Vehicles are the most common net worth killer in my opinion. For some reason, Americans have a love affair with cars and trucks.
Maybe that's why folks in the $10,000 range have a huge portion of their net worth in Vehicles. The median price of a new car at about $48,000 after tax in 2023. Meanwhile, the typical American is spending the majority of their ~$76,000 gross household income on a car. That's nuts!
For financial freedom, please don't spend more than 1% – 5% of your net worth or 1/10th of your gross income on a car.
Retirement (Pension/IRA/401k)
Only a minority of Americans are now eligible for a pension. But for those who do have a pension, its value is much greater than you might realize. Given the contribution limits to a IRA and 401k, it's hard for Retirement to grow into a significant portion of one's net worth.
What's interesting about the data in the chart is that those with a $1,000,000 net worth have the largest percentage of their net worth in Retirement. Therefore, if you're amenable to finishing work as a "run of the mill millionaire," you should strive to max out your pre-tax retirement plans for as long as they work and treat it as bonus money once you are eligible to withdraw funds penalty free.
Related: How Much Should I Have In My 401(k) By Age?
Life Insurance
The fact that Life Insurance is one of the designated asset classes in the chart shows its importance in financial security. Many employees get Life Insurance as a default benefit from work. But often the amount is not enough to fully cover all liabilities.
Term Life insurance is cheap before the age of 35 if you are healthy. I highly encourage readers to lock in a long-term policy before a health issue occurs that jacks up your rates. I'm guessing the value of a whole life policy has something to do with this category.
If you want to get competitive life insurance quotes, check out PolicyGenius. PolicyGenius enables you to apply for life insurance in one place and compare the different quotes. If you have dependents and debt, please get life insurance coverage. The coverage should last until the debt is paid off or the kids become independent adults.
During the pandemic, my we realized my wife had half the life insurance coverage as I did. That made no sense since we are equals who both run Financial Samurai and take care of our kids. Through PolicyGenius, she was able to double her life insurance coverage for less!
Mutual Funds
I'm surprised Mutual Funds has the largest weighting for those in the $10,000,000 net worth level. If Mutual Funds are defined as actively run funds with high fees, then digital wealth advisors should channel their efforts towards these high net worth individuals.
Hopefully most investors are invested in index funds instead of actively run mutual funds. For 90% or more of your investable assets, I recommend investing passively.
Stocks
It's also interesting to see how Stocks increase as a percentage of net worth the wealthier one gets. Perhaps there's a higher level of knowledge or conviction as wealth grows.
But I suspect the real answer is that wealthier individuals have a greater percentage of net worth in their company stock. They are either company founders or senior executives with lots of RSUs or stock options. The net worth composition tends to tilt more heavily towards equity the richer you get.
Related: The Benefits Of Stocks Over Real Estate
Fixed Income
Despite the Fixed Income Market being much larger than the Stock Market, it's surprising to see how little the Fixed Income weighting is across all wealth tiers. However, given interest rates have been coming down since the 1980s, it's understandable that fewer people want to invest in fixed income.
One can make the assumption that Fixed Income is an uninspiring tool to stabilize wealth. It can be considered a Liquidity+ investment. Think about fixed income not so much as a wealth driver, but as a capital preservation tool. It's better to make 2% on your 10-year Treasury bond than lose 20% in a bear market.
Managed Assets (Trust)
It makes sense that the $10 million and $100 million levels have the highest percentage attributable to Managed Assets. You could pass down all your assets estate tax free up to $12.92 million per person in 2023. This amount is about double the estate tax threshold amount before the Tax Cuts And Jobs Act was passed in 2017.
However, it bears to reason that eventually, the estate tax threshold will go down under a democratic president. Let's see who remains in office in the future.
But everybody should create a revocable living trust. You'll save money and make clear your directors to your beneficiaries.
Real Estate (rentals/vacation properties)
Notice how Real Estate has the largest weighting for those in the $1,000,000 net worth group. However, real estate drops off with higher wealth levels.
In other words, Real Estate is one of the easiest ways to boost wealth to $1,000,000. After that, it becomes less desirable as time goes on due to maintenance, hassle, and ongoing property taxes.
Because you no longer will have the time or desire to deal with tenants and maintenance issues as your wealth increases, investing in real estate crowdfunding platforms such as Fundrise is going to be increasingly popular over time.
I've personally invested $810,000 in real estate crowdfunding to diversify my San Francisco real estate holdings. Further, I believe in the long-term trend of relocating to lower-cost areas of the country. Rents and property prices should be rising.
I'm happy living in a right-sized house while investing excess capital in the heartland of America where rental yields are 4-5X higher. I also believe buying rental properties today makes sense.
The value of rental income is strong due to a relatively low interest rate environment. Below is my private real estate investment dashboard where I've received over $624,000 in distributions and passive income so far. Being able to invest so I don't have to work as much is great!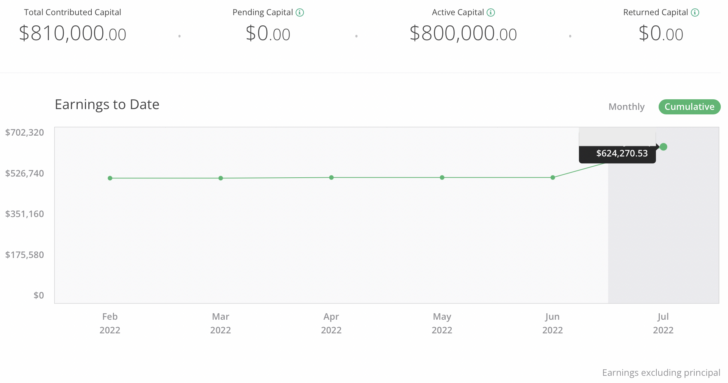 Business Interests Is Huge For High Net Worth People
Finally, we arrive at the key to building a fortune. Even the $10,000 net worth level has a sliver of Business Interests.
When the current CEO of Uber joined, he reportedly got a compensation package of around $200 million. He didn't have to come up with the idea, raise funds, and grind away for years for that type of money. His net worth composition is mostly in company stock.
All he has to do is be a good ambassador until he can sell all his stock after the company goes public. The current CEO of Google just sold stock worth $131 million and is getting another $340 million package.
Instead of becoming an executive, you can go the hard, but extremely satisfying route of creating your own business. The business doesn't have to be based around a revolutionary new product. Instead, you can simply build a business around a lifestyle like Financial Samurai.
Lifestyle Business Or Big Business
In 2010, I asked myself whether I'd rather own a lifestyle business or a big business. The lifestyle business would one day pump out $250,000 a year in free cash flow with only 3 hours of work a day and minimal stress.
The big business had a 20% chance of getting a $25 million payout by working 14 hour days. I'd have to experience maximum stress for three years. I decided the lifestyle business was the way to go because money doesn't buy happiness.
When you own a business, not only do you collect its profits, you can also sell the business for a multiple of its profits. This is where the illiquid portion of Business Interests comes in.
I've been approached a number of times since 2014 to sell. Each time I pass because I want something to do, especially now that I'm a stay at home dad.
Related: Top 10 Reasons For Starting An Online Business
A Different Mindset To Build Wealth
I was speaking to a very wealthy entrepreneur the other day. He said the greatest skill one can have is figuring out a way to hire talented people willing to dedicate their lives to making YOU rich.
Of course you will have to properly compensate them. However, it is these people who have confidence in themselves, but not enough confidence to make themselves rich through entrepreneurship who you want working for you.
Know your worth. If you are starting to get frustrated with the lack of efficiency at the office or you are beginning to tell yourself you can do it better, then give it a go. Make a better mousetrap.
When I started Financial Samurai in 2009 I found ZERO personal finance blogs written by people who worked in finance. They were all written by people trying to get out of debt. Or, they were written by engineers trying to optimize their content for credit card sign ups. What an opportunity to fill a void!
The people who get really rich are those who ask themselves, "Why not me too?" They believe they deserve to be rich and take action to make it happen.
Related: The Average Net Worth For The Above Average Person
Manage Your Net Worth Composition
Sign up for Personal Capital, the web's #1 free wealth management tool to get a better handle on your finances. In addition to better money oversight, run your investments through their award-winning Investment Checkup tool. It will show you exactly how much you are paying in fees.
I was paying $1,700 a year in fees I had no idea I was paying. After you link all your accounts, use their Retirement Planning calculator. It pulls your real data to give you as pure an estimation of your financial future as possible.
You can easily analyze your net worth composition and optimize it with Personal Capital.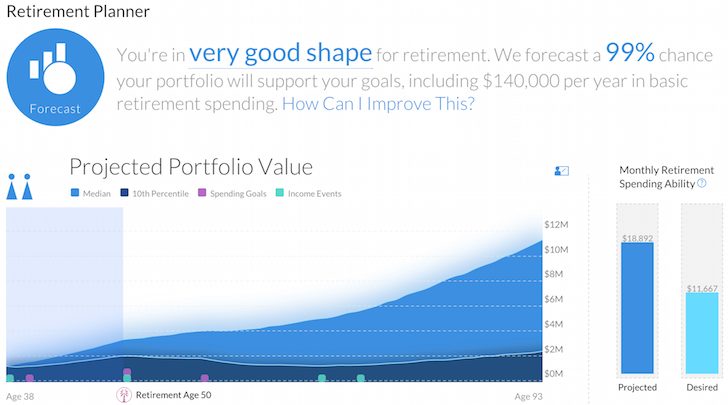 Invest In Real Estate
A good net worth composition has a solid real estate component. Real estate accounts for roughly 40% of my net worth because it is less volatile, produces income, and provides utility. In an inflationary environment as we're heading into, you want to be long real estate.
I've personally invested $810,000 in real estate crowdfunding across 18 projects to take advantage of lower valuations in the heartland of America. My real estate investments account for roughly 50% of my current passive income of ~$300,000.
Take a look at my two favorite real estate crowdfunding platforms. Bot are free to sign up and explore.
Fundrise: A way for accredited and non-accredited investors to diversify into real estate through private eREITs. Fundrise has been around since 2012 and has consistently generated steady returns, no matter what the stock market is doing. For most people, investing in a diversified eREIT is the way to go.
CrowdStreet: A way for accredited investors to invest in individual real estate opportunities mostly in 18-hour cities. 18-hour cities are secondary cities with lower valuations, higher rental yields, and potentially higher growth due to job growth and demographic trends. If you have a lot more capital, you can build your own select real estate portfolio.
More Recommendations
Pick up a copy of Buy This, Not That, my instant Wall Street Journal bestseller. The book helps you make more optimal investment decisions so you can live a better, more fulfilling life. 
For more nuanced personal finance content, join 55,000+ others and sign up for the free Financial Samurai newsletter and posts via e-mail. Financial Samurai is one of the largest independently-owned personal finance sites that started in 2009.