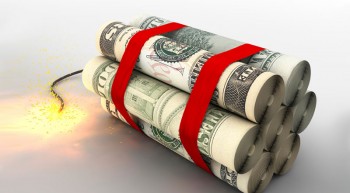 So far in 2016, managing my own investment portfolio has been difficult. Do you feel the same way? At the end of 2015 to be more defensive, I did some significant rebalancing by going to 40% bonds / 60% stocks from 20% bonds / 80% stocks. This move was not enough as the NASDAQ corrected by 15% and the S&P 500 by 10% in January and February.
With the latest rebound in the stock market, I've reduced my equity exposure further and now have a 52% weighting in bonds. 60% of my portfolio is under the segment "Macro Bets /Defensive Bets," with the Gold Miners ETF as my best performer YTD, up 49%. Let's have a look at the portfolio details. I'll also share my thoughts about active investing and how it has changed the older I get.
MOTIF INVESTING PORTFOLIO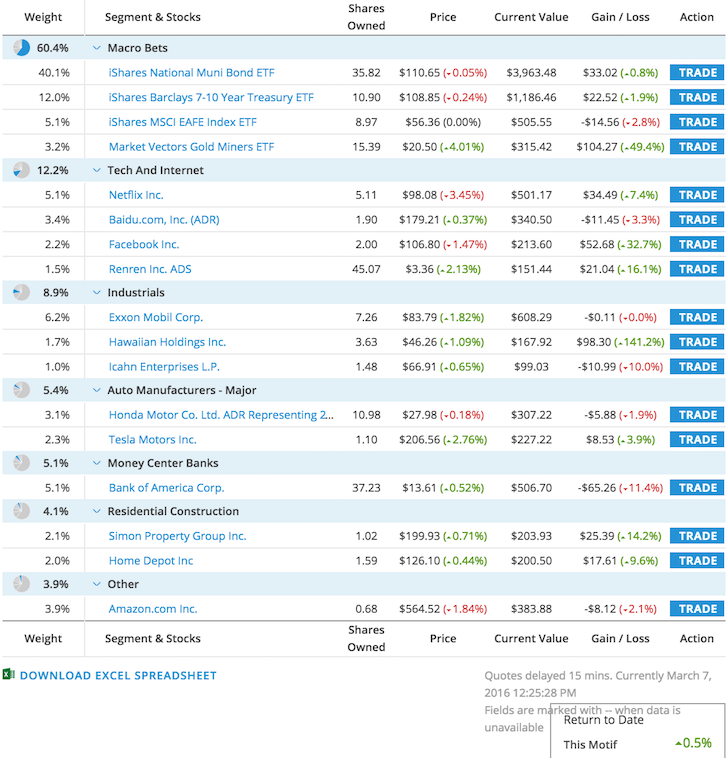 Key Thoughts
* Outperformance so far. As of March 7, 2016 my Motif Portfolio is up roughly 0.5%. With the S&P 500 down 2%, this is a 2.5% outperformance. If I was a professional money manager, a 2.5% outperformance is actually better than a sharp stick in the eye, putting the performance in the top decile. You'll see a performance chart below that shows no fund type in the green YTD. I started my portfolio with $10,015 at the end of January 2015 and it's up about 1.65% overall with a current balance of $10,168.90. Sadly, I'm not even outperforming a 5-year CD, but so aren't most fund managers. Don't look down on risk-free money! There's definitely a place for guaranteed returns in your net worth composition.
* Active investing requires passion. Active investing is for people who love to follow the markets and execute investment decisions. That used to be me for 20 years. If you're not excited about the opening bell at 9:30am EST and don't read investment news every day, active investing probably isn't for you. The stress of managing other people's money is why I don't work in the money management business, even though you can make a killing once you manage a sufficient amount of assets. I feel too guilty losing people money, so please don't follow my trades. This portfolio was down about 5% during the worst of the correction.
* Temptation to hug the index. I don't know how much longer I'll be able to outperform without spending more time following the markets and making investment decisions that may or may not pan out. A part of me wants to sell all positions and buy SPY, the S&P 500 ETF, and lock in the 2.5% outperformance for the rest of the year. But a larger part of me believes we'll see another correction some time this year. Because I'm sticking with my -1.4% S&P 500 performance prediction for 2016, my portfolio should continue to outperform the S&P 500 if my prediction comes true. I haven't gone 100% cash because I might be wrong, and I have a belief I'll be able to outperform (ego/confidence/delusion).
* Taking advantage of low energy prices. I like autos and airlines as low oil price plays. You're seeing the results of lower input costs in the latest quarterly earnings releases. Look at Hawaiian Airlines up 141% over the past 13 months. Who would have thought? Fiat/Chrysler was a bomb for me, so I got rid of that dog at the end of 2015. At current levels, I'm also a buyer of energy related stocks. Hence I'm long Exxon Mobile and Icahn Holdings.
* Tech/internet giants for growth. I'm sticking with the largest cap technology names in Facebook, Baidu, Netflix, and Amazon (new position). They corrected 20%+ and if things get really bad, these guys will survive, unlike my previous investment in GoPro which gave me a huge uppercut to the chin by declining 50%+ after it had already corrected by 30%. Renren is a speculative derivative VC play since it owns large stakes in SoFi and Motif Investing. But private equity valuations have gotten crushed this year, so who knows. I suspect a management buyout/privatization at some point given Renren's NAV is probably worth more than its current publicly traded market cap.
* Building a cash balance. 3% of my Motif balance is in cash, much like how other large actively run mutual funds can go up to 5% cash if they want to keep dry some ammunition in case of another correction. I plan to let the cash balance grow with dividend payments over the year. I expect June – October to be a terrible time for the stock market. Cash can definitely be considered an investment. Don't let anybody else tell you otherwise.
* The path of least resistance. Most of us put on weight as we age because it's easier to eat lots of yummy food than restrict our caloric intake and run three miles every day. The same trend goes for investing. Researching company cash flow statements, understanding the macroeconomic environment, and getting on company management calls takes work. We can wing it by just buying what sounds good, but we'd probably not make a very good return, unless we're in a raging bull market or very lucky. A volatile market leads to more passive index investing. At least when a position goes down, you feel better blaming the index instead of yourself. But you're never going to find your unicorn if you don't commit some capital towards hunting for multi-baggers.
ACTIVE VS PASSIVE INVESTING
So far, roughly 30% of my investable assets are making money because I'm actively managing them. This Motif portfolio is a reflection of my larger active portfolios (Rollover IRA, SEP IRA, Solo 401(k), and wealth management account with my main bank). This means that 70% of my investable assets are losing money because they are indexed to the market.
Given my background and performance, perhaps I should actively manage more of my money. But my passion for investing has waned. I left the investment world in 2012 to run an online media business, where the correlation with effort and reward is strong. I rebalance my actively managed portfolios once a quarter, and even that feels like too much sometimes.
The older I get, the more amenable I am to paying a fee to have someone invest my money 24/7. The emergence of digital wealth advisors like Wealthfront charge nothing for the first 15K under management and 0.25% a year for the rest. They do all the rebalancing for you so you can focus on something else. I'd be willing to pay someone up to a 1% fee a year for 90% of my portfolio if they could consistently provide a 5% – 10% net return forever.
If you're a frugal person with strong cash flow, you're going to eventually run into a problem where you have too much money to know what to do with it. The key is to have a proper asset allocation based on your risk tolerance and follow a contribution game plan. Allocate capital to where you think you'll get the best return. And most of all, stay disciplined with your contributions.
Readers, how has your investment portfolio done this year? In terms of stock/bond allocation, how have you positioned your investment portfolio for the rest of the year?  Are there any particular sectors or stock ideas that interest you?