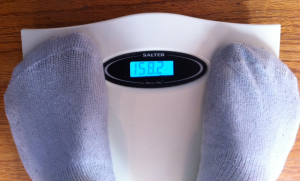 At the beginning of the year, I discovered that I was not in ideal weight and it pissed me off. At 167-169 pounds, I thought I was doing pretty good for a middle-aged guy standing 5′ 10″ until spending a couple hours of research online for the post. It turns out that based on the majority of reports, I was actually about ~10 pounds overweight, which is a lot since I don't weight that much to begin with.
With tennis season just three months away at the time, I didn't want to be out of shape. My teammates were counting on me. In competitive sports there's the triumvirate mind, body, and skills for winning. The body is the EASIEST thing to optimize, which means during competition against high caliber opponents, they are all in great shape. Having an ideal body weight is standard (ever see an overweight professional tennis player?), and therefore one is able to focus their energy on mental strength and specific skills.
For well over a decade, I had an enormous mental block that I had to overcome. I told myself it was IMPOSSIBLE to get under 160 pounds, even though I was a lean 155 pounds in college. I kept saying there was no way I could break 160 because of work and a slower metabolism. I accepted weight creep and the ideology that people automatically gain 10 pounds every decade.
PLEASE TELL ME ANOTHER EXCUSE