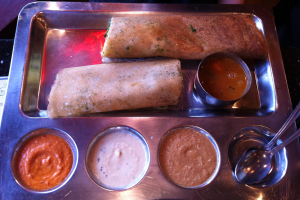 I don't care how rich you are. If you don't have your health, you might as well have nothing. This is why I have a whole Health & Fitness section. Think back to the times when you were sick. Every time, I'm sure you were willing to give up everything just to feel better again.
I've got to admit something that's bumming me out. I'm disappointed so many readers proved my derivative theory correct when I wrote, "Proof Your Weight Is Not Your Fault." The post is about a convicted killer on death row who is asking to get his sentence commuted due to his weight. If you are 475 lbs and have spent the last 27 years in prison where there are no buffet lines, don't tell me that genetics doesn't have anything to do with this person's weight.
My derivative theory hypothesized many readers would be vehemently against the statement that one's weight is largely determined by genetics because it takes away people's illusion of control. In financial speak, "How dare you say my wealth was not of my own doing?" or the now famous Obama mis-quote, "If you've got a business, you didn't build that. Somebody else made that happen." Readers of personal finance sites are generally fiscally conservative. Spend less than you make right?
I also hypothesized most dissenters would be fit and under 35, the median age of Americans. Have you ever seen those gossip magazines with some beautiful spokeswoman showing the efficacy of their latest anti-aging product? Well shit, of course it works if your model is 22 years old! In other words, there's an annoying belief that if you're fit, everybody else should also be fit. Otherwise, you're just lazy. It's like the 18 year old kid who eats all he wants and never gains weight, making fun of a 45 year old mother of three for not looking like Jessica Biel. Nice job punk.
The genetics post is meant to motivate folks who are struggling with their weight to stop beating themselves up so much. Don't hate yourself for not looking like folks we see in magazines or on TV because they are anomalies magnified by the power of media to make it seem like they are ubiquitous. If we can love ourselves more, we can snap out of our funk and climb back up those stairs.
Another goal of the post is to break down stereotypes against those who are obese. I don't know anybody who is out of shape who is happy to be out of shape, just like I don't know anybody who is struggling financially who doesn't want to be wealthier. The post was not directed at fit people. Yet for some curious reason, so many fit folks lashed out. Dear fit people, why does my post concern you so much? Compassion is a part of our humanity.
Now that you know the furtive reasons for my genetics post, it's time to answer the most logical next question: Is there a positive correlation between physical fitness and financial health? To answer the question, I need your support.
DON'T DO AS I DO, DO AS I SAY, OR ELSE WHATEVER