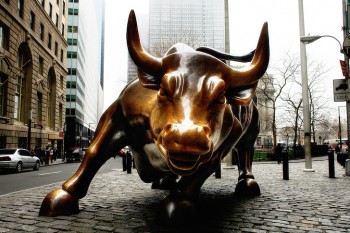 This post is relevant for the following people:
* Who distrust the stock market.
* Who know they should take more risk but don't because they've been burned before.
* Who don't know much about the markets.
* Who are falling behind financially every day the bull market rages on.
* Who have the majority of their assets in cash, CDs, money market and checking accounts. (See CD Investment Alternatives)
* Who have grown a sizable financial nut and absolutely hate losing money.
* Who want a potentially higher rate of growth on their net worth.
I've been investing in the stock markets since 1995 when Charles Schwab had a nascent online brokerage company. My father showed me his account one trading day and I was immediately hooked by all the green and red from various stock movements.
19 years isn't a particularly long investment resume, but I did spend 13 years in the equities department of two major investment banks. Instead of buying and holding, I was neck deep into the sales and analysis of public companies. I'd meet with senior management, travel overseas to conferences, and visit company factories to kick the tires and make recommendations.
I remember traveling 26 hours to Anhui Province, China one year. My client and I landed at 2am, got to the hotel at 3am, visited the production facilities of Anhui Conch Cement (914 HK) at 9am for two hours and then caught a 2pm flight to Hong Kong to meet five more companies. The whole process of trying to fully understand companies before making an investment was exhausting, but necessary when other people's money is at stake. Now compare how much research the average stock investor does before buying. Kind of scary.
The stock market can be absolutely brutal to your net worth if you are not properly diversified. If you planned to retire in 2008-2010 you were absolutely crushed if most of your investments were in stocks. Everything has rebounded years later, but that means you lost five years of financial freedom with a whole bunch of worrying while you worked through the recovery.