The housing market is in a tricky situation given massive unemployment, shelter-in-place, the coronavirus, and tremendous uncertainty. However, not all is lost, especially after a massive 44% month over month rebound in U.S. Pending Home Sales for May. Here are my housing predictions for 2021.
Overall, I believe the housing market will soften in 2020 and then reach new highs in the second half of 2021.
Given my housing market prediction, we all have a chance to buy property at a discounted price between now and around July 1, 2021. After July 1, 2021, I expect nationwide housing prices to have fully recovered.
Housing Market Predictions 2021
Let's first go through the negatives that should drag the overall housing market down over the next 12 months. I believe we could see up to a 5% decline in nationwide house prices by mid-2021, followed by a rebound.
Of course, real estate is local. Some cities or states may see stronger home prices than others due to strong demographic trends and job growth trajectories.
For example, with the NASDAQ quickly rebounding to an all-time high in 2020, home prices in the San Francisco Bay Area will likely stay strong.
Reasons For Why The Housing Market Will Decline
1) Double-digit unemployment rate. Over 30 million Americans have filed for unemployment. As a result, the unemployment rate has skyrocketed to 15%+. When people are unemployed, they aren't looking to buy homes. They're looking to protect what they have. Thankfully, millions of Americans are received enhanced unemployment benefits of $600/week until July 31, 2020.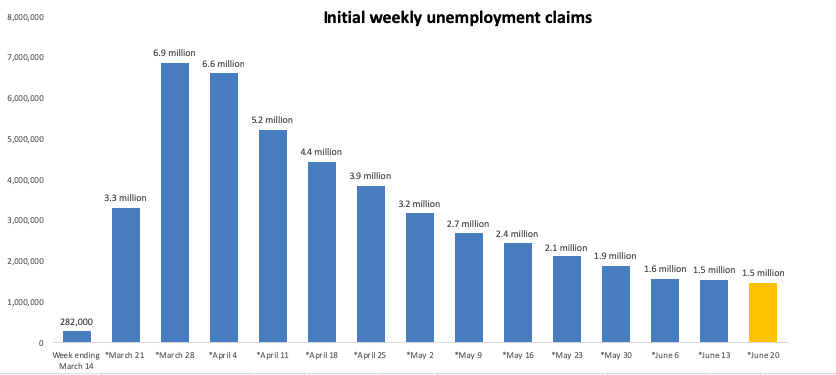 2) Delinquency rate going higher. With the unemployment rate surging, the delinquency rate on auto loans, credit card loans, and mortgages are likely to rise by 75% to ~3.5%. A higher delinquency rate makes banks more hesitant to lend as losses mount.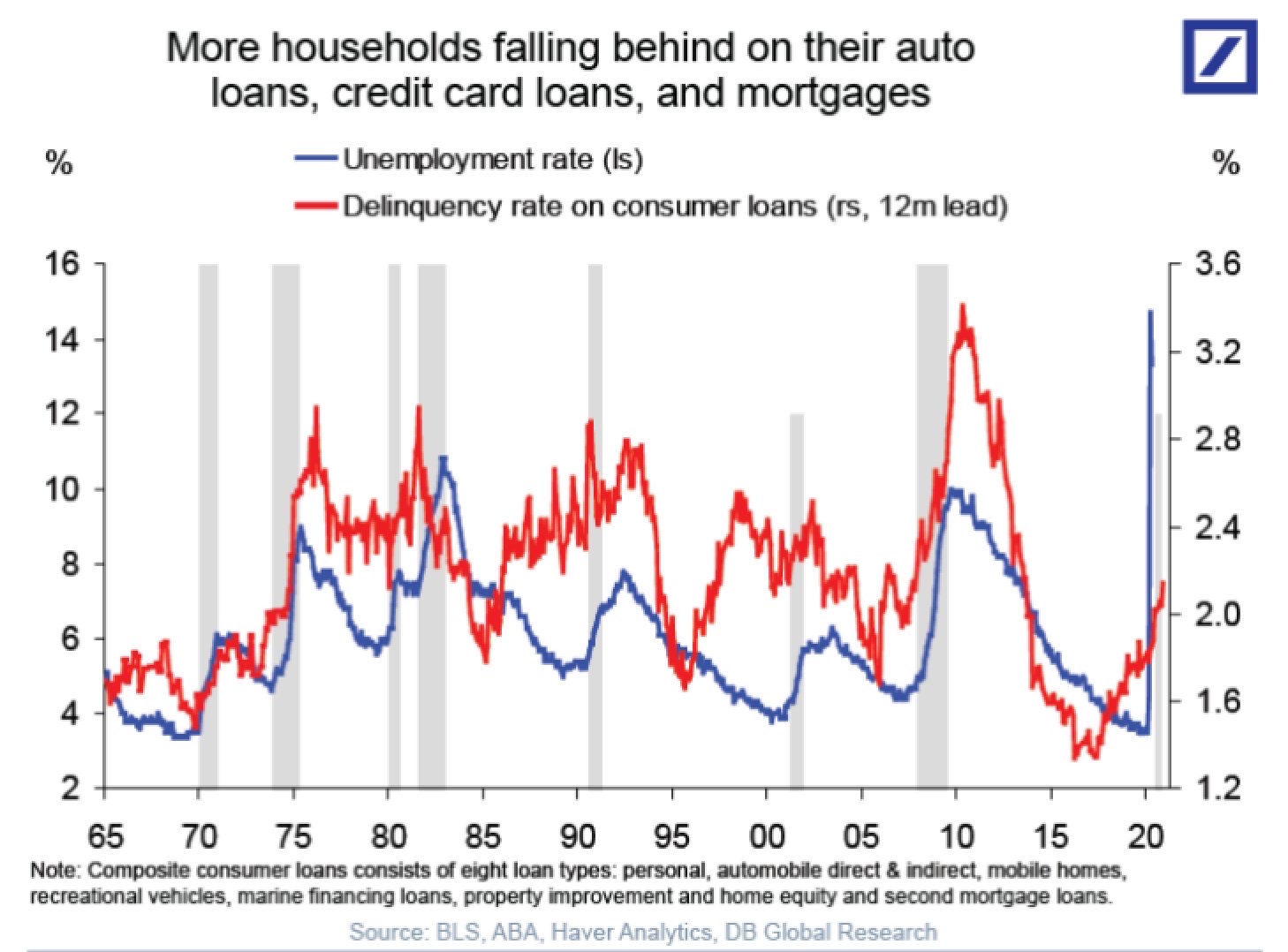 3) Tighter lending standards. Banks learned their lessons from the 2008-2009 financial crisis and have tightened lending standards since then. However, banks are further tightening lending standards because they also are unsure when the economy will recover.
If it's hard to get a mortgage, it's harder to buy a home. I've talked to several mortgage lenders in depth about the state of the mortgage industry. They all say that getting a jumbo or super jumbo loan poses more difficulty
Banks are requiring 20% or greater down payments and 720 or higher credit scores for a jumbo loan. As for getting a conforming mortgage loan, it's still OK as Fannie Mae and Freddie Mac are still buying because the government is supporting them.
4) Open houses are not really open yet. Once shelter-in-place began in mid-to-late March 2020, open houses were shut down. Even in July, open houses will really only be mostly by appointment only. When you can't get loads of people in the door, it's hard to trigger the emotional desire to buy. Without emotional buying, properties have a harder time getting into a bidding war.
Looking at homes virtually is nice. But if you are going to spend hundreds of thousands or millions of dollars on a home, you want to go inside and feel the presence of the home first.
5) People want to hoard cash. When there is uncertainty, most people tend to just hoard cash until all signs are clear. Below shows the massive spike in the U.S. personal savings rate in April 2020 to 33%.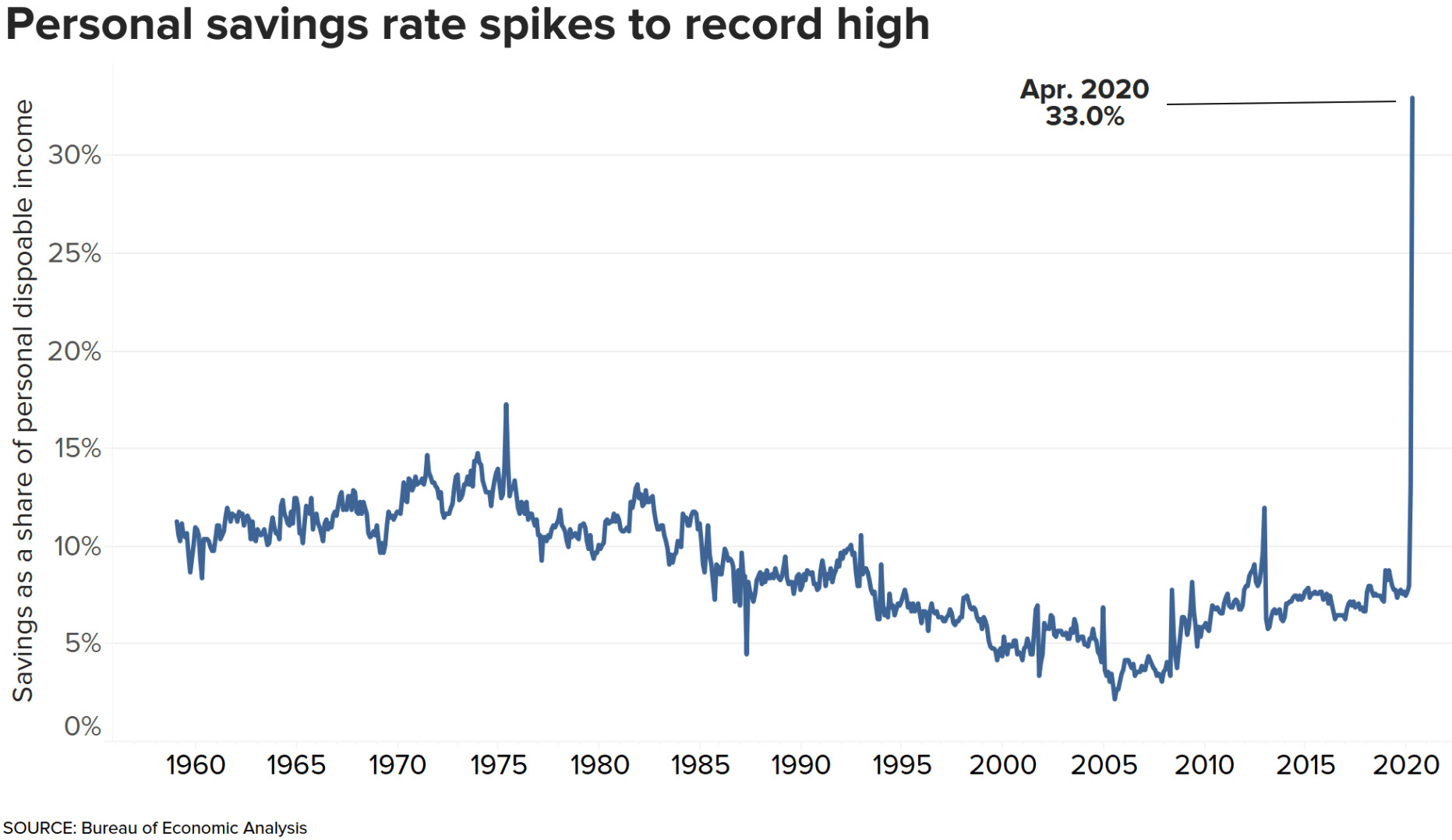 Reasons For A Housing Price Recovery In 2021
By July 1, 2021, I expect nationwide housing prices to recover from a 5% decline to reach a new all-time high due to the following reasons.
1) Mortgage rates will remain low. If housing prices decline by up to 5% over the next 12 months and mortgage rates continue to remain low, housing affordability goes up. When affordability goes up, more people will buy property. This is the Yin / Yang of finance.
Given the demand for U.S. treasury bonds is high in a uncertain environment, bond yields will remain low. There is also little-to-no inflation with so many people out of work. Everybody should at least refinance their mortgage now to save.
Check out Credible, my favorite mortgage lending marketplace where lenders compete for your business. Mortgage rates have fallen to all-time lows. I was able to refinance my primary mortgage in 2019 to a 7/1 ARM jumbo 2.625% at no cost. In June 2020, I was able to get preapproved for another 7/1 ARM jumbo at only 2.125%!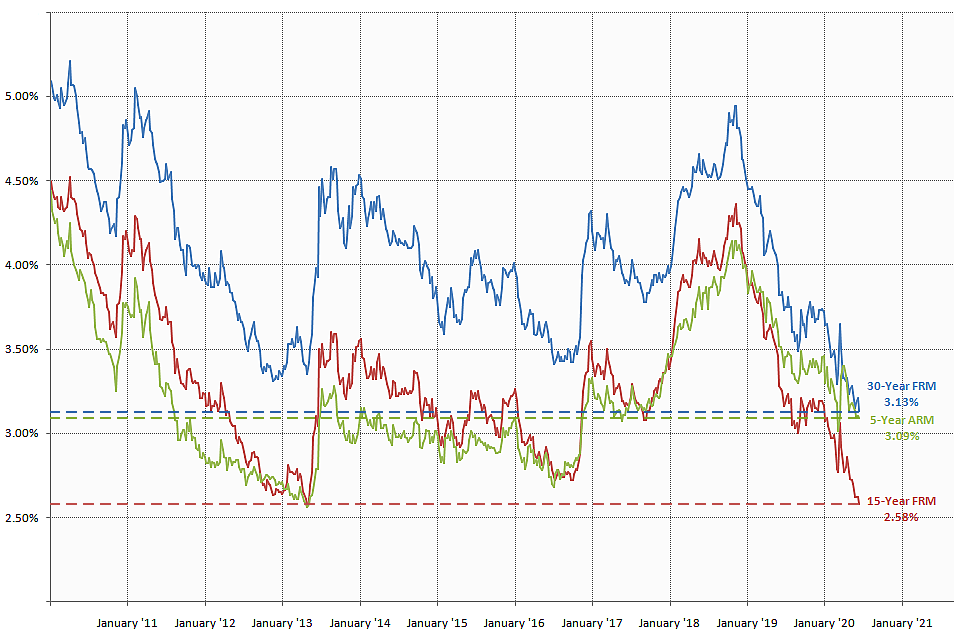 2) Tremendous government support. The government has committed to doing everything it can to help the American public stay afloat during a global pandemic.
As a result, we should expect more stimulus checks, extended enhanced unemployment benefits beyond July 31, easing of PPP forgiveness rules, and large government works initiatives to put Americans back to work.
Below is a map highlighting where the enhanced $600/week unemployment benefits go farthest. Notice how $600 is worth between $645 – $700 in states such as ND, SD, NE, KS, OK, MI, AK, MO, IN, AL, OH, KT, and WV.
This map shows why investing in the heartland of America is likely a strategically sound move. Even though it would be easy to do, there's never going to be a federal tax or federal stimulus package that takes into account the various cost of living levels by state. Therefore, you might as well play along instead of fight the government.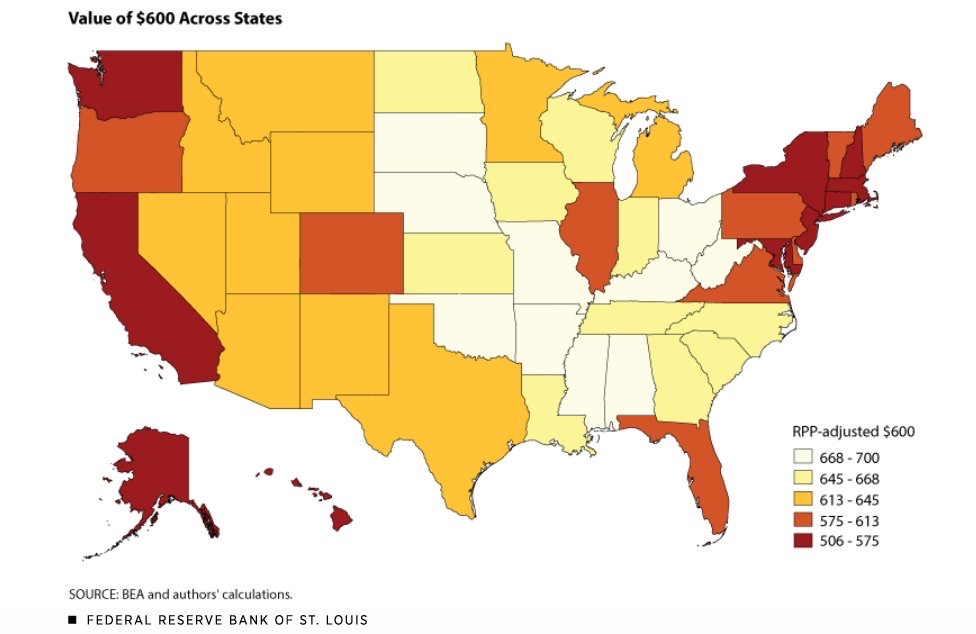 3) The increased desire to invest in a stable asset class. Unlike stocks, real estate values don't just go *POOF* overnight. When the stock market is weak, there is a tendency for capital to flow towards the safety of real estate. The sweat spot for real estate is when stocks are down ~10%, as is currently the case. Mortgage rates are low and stock money shifts to real estate.
Real estate provides shelter, is a tangible asset, is a defensive asset, and can generate income. With the desire to relocate to less densely populated areas of your own city or country, the desire for real estate should continue to be quite strong.
4) A surge in the work from home trend. Now that tens of millions of people have experienced working from home for months, the trend is likely to continue forever. Working from home is much more efficient. As a result, productivity also increase.
With more people staying at home, the value of a home goes up. Any time you use something for a longer period of time, you care more about that thing. People want to buy homes with views, more land for their children, and homes with home offices. People want to buy homes that are in less densely populated areas of their city or in a different state.
Therefore, expect to see more capital invested in real estate. Below is a picture of my home office, located on the western side of San Francisco. I've always wanted to write while looking out into the ocean.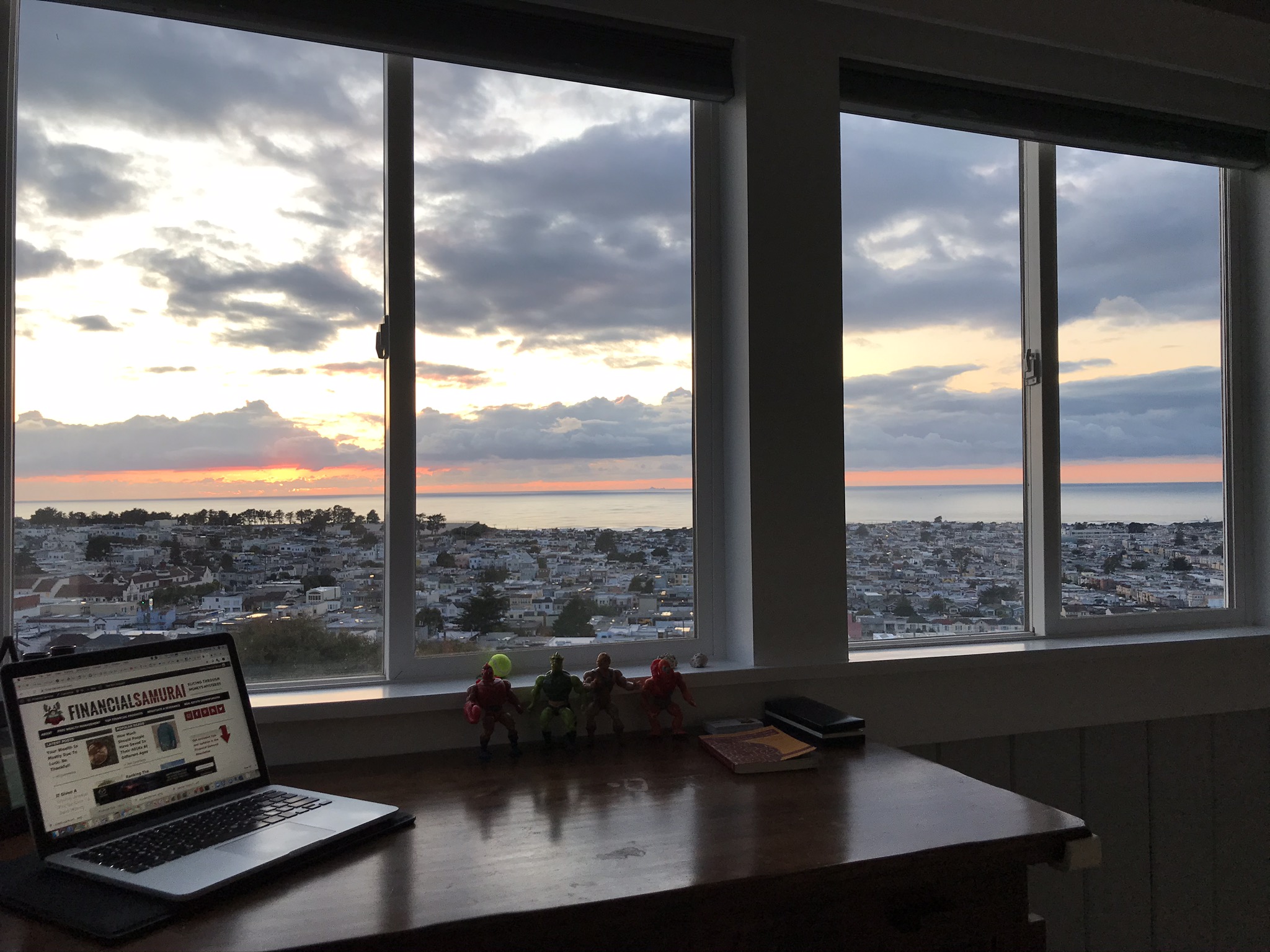 5) The desire to get busy living now. If the global pandemic has taught us anything, it's that tomorrow is not guaranteed. Therefore, there will be a large demand curve shift with renters looking to finally buy a nicer place to live. You will see frugal homeowners wanting to upgrade their living standards as well.
Millions more people are deciding whether it's best to keep hoarding cash or actually spend their cash on a better lifestyle. Do you really want to live like a pauper for the next several years, waiting for a vaccine that may never come? After locking down expenses and saving so much during shelter-in-place, I'm personally looking to spend my money.
6) Pent-up savings. Just like how a massive increase in the personal saving rate may be throttling housing demand, eventually, the savings will be unleashed onto the world.
Take a look at the latest U.S. personal savings rate for May 2020. It's still extremely high at 23.2%, however, it has come down from 33% in April as the U.S. consumer gets more comfortable spending again.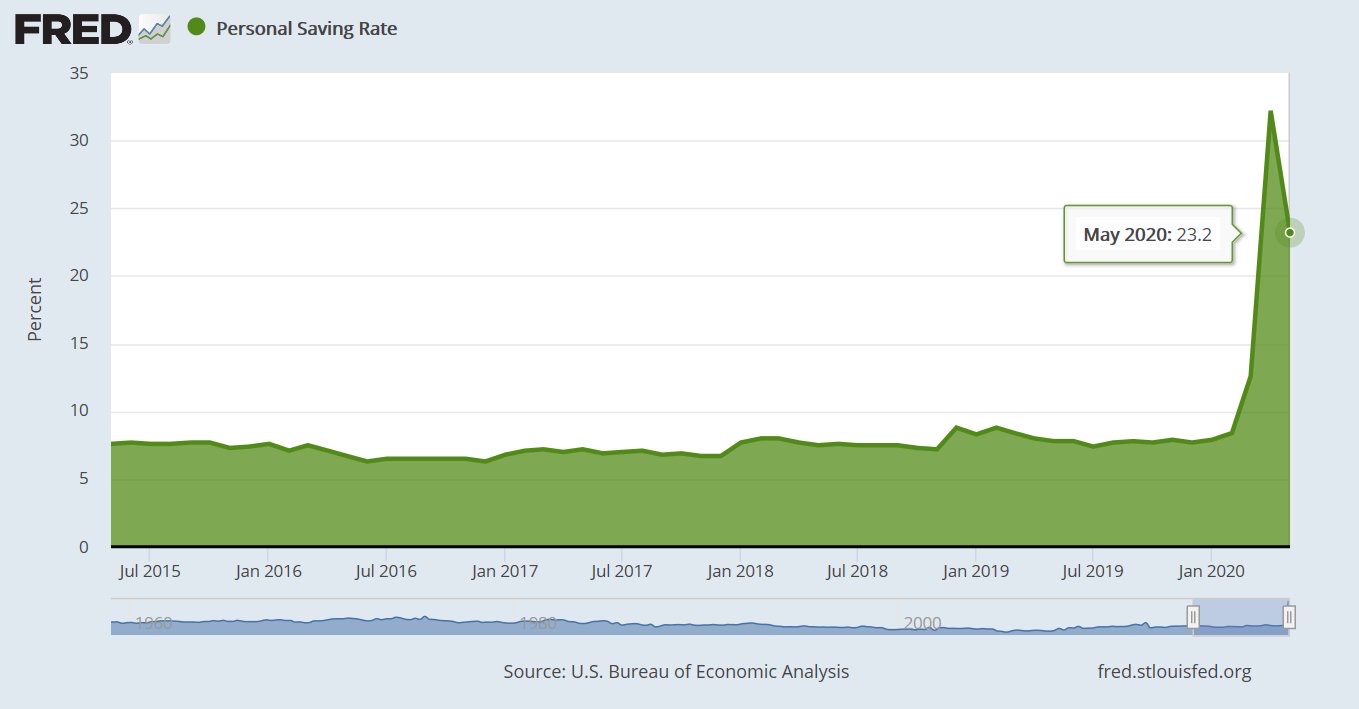 This latest financial crisis is more of a suppression, instead of a depression. Consumer demand is being artificially depressed due to shelter-in-place orders and forced closures of businesses. As time goes on, I have no doubt the U.S. personal savings rate will go back to the historical range of ~6% – 7% pre-pandemic.
If there is a vaccine for COVID-19 by the end of 2020 or 1H2021, we could see an extremely strong recovery in consumer spending. The vaccine will allow the government to open up more businesses and get millions of Americans working again.
If you look at many other demand charts for May, June, and July 2020, you are seeing a V-shaped recovery. In such a scenario, my housing price prediction for 2021 will prove to be conservative.
Zillow's Housing Market Predictions 2021
Now that I've shared my 2021 housing market prediction as a 20-year real estate veteran, let me share Zillow's. Zillow is one of the largest online real estate companies with a wealth of data. Below is their housing market predictions for 2021.
Zillow's base case scenario is that home prices will fall by 2%-3% and get back to all-time highs sometime in mid-2021.
If we are to believe Zillow's housing market predictions for 2021, which seem reasonable, then we've actually got only until about January 2021 to hunt for real estate deals. This is their base case scenario.
There were deals to be had in April and early May 2020, but deals are now getting harder to find. To find deals, you may need to look at homes priced more than 50% higher than your city's median home price.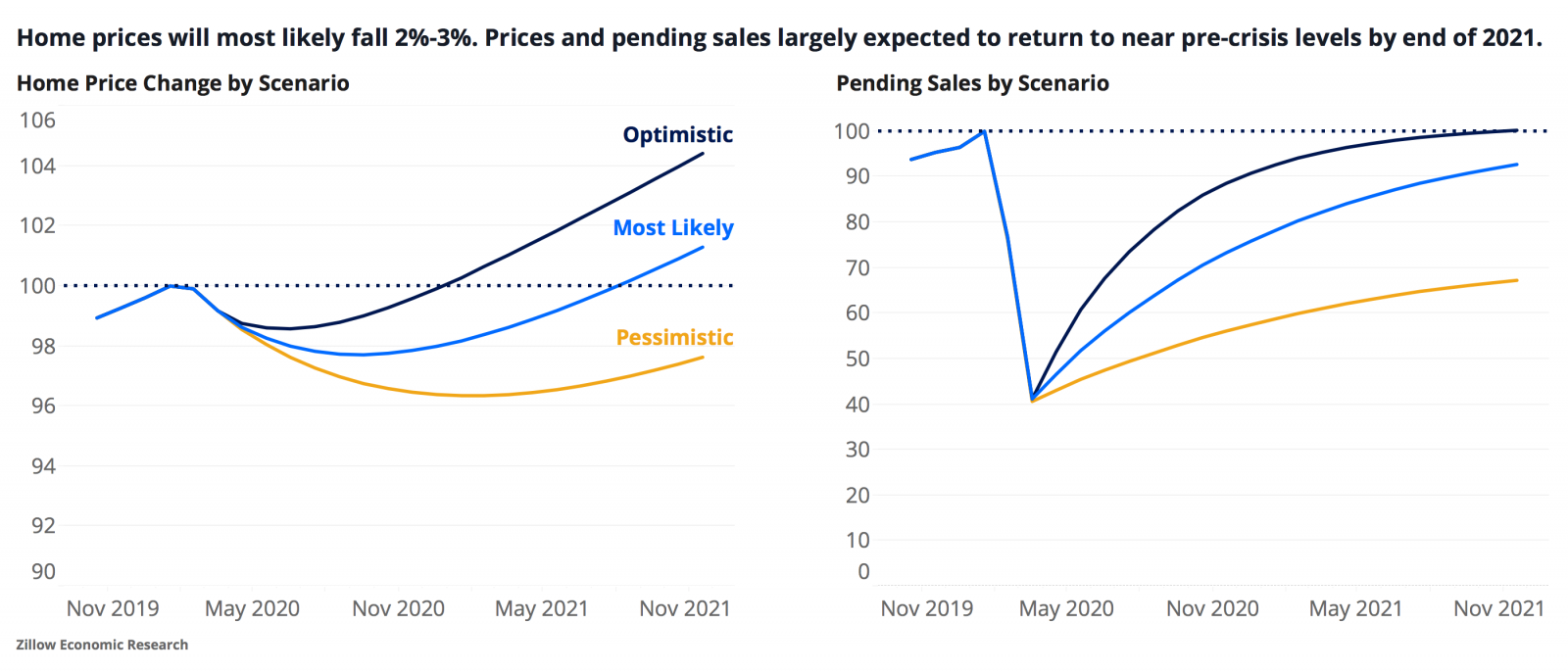 The Best Ways To Invest In A Housing Recovery
Given we have around 12 months before housing prices go back to all-time highs nationwide, it's good to be strategic about investing in real estate today.
Real Estate Buying Strategy #1
The easiest strategy to invest in a housing recovery is to invest in real estate within your own city. Buy real estate in less centrally located areas that is less dense, has lower prices, and still great attributes like an ocean view.
The work from home trend means commuting long distances is no longer as big of an issue. Further, by living in your same city, you won't have to take a salary cut. Some companies have explicitly said that if you want to relocate to save on living costs, you will also have to accept a salary cut.
I'm personally buying as much ocean-view property on the western side of San Francisco as possible because I think it is undervalued. Given the west side is mostly zoned for single family homes, the area is less dense as well.
Drive around your city to find new areas that were once overlooked because you desired a shorter commute.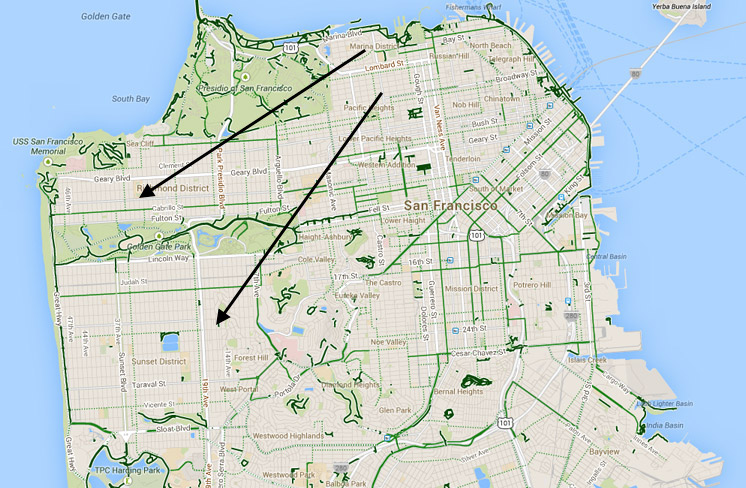 Real Estate Buying Strategy #2
The second way to invest in a housing recovery is actually even easier and potentially more lucrative.
Take advantage of real estate platforms such as CrowdStreet to diversify your investments across America. CrowdStreet is an easy way to invest in real estate without the need to get a mortgage and leverage up.
What's great about CrowdStreet is that they are focused on 18-hour cities, secondary markets that have lower valuations and potentially higher growth rates.
You could buy publicly-traded REITs, however, like the S&P 500, REITs have rebounded tremendously since their March 2020 lows. Further, publicly-traded REITs have shown to be even more volatile than stocks.
Since 2016, I've personally invested $810,000 in real estate crowdfunding to invest in lower-cost areas of the country with higher rental yields. The income earned is also 100% passive. Unlike buying physical property, I don't have to take on a mortgage or maintain the property.
There is clearly going to be a demographic shift towards cheaper cities, especially now that work from home is more widely accepted.
For example, you are seeing New Yorkers buy property in Connecticut and Florida. I expect this trend to continue for decades.
In addition to investing in commercial real estate where demographic trends will be strong, investors should also consider investing in data-centers and self-storage commercial real estate. Interest in commercial real estate where fewer humans are involved seems to be quite high for obvious reasons.
Below is an example of a CrowdStreet offering in the self-storage space.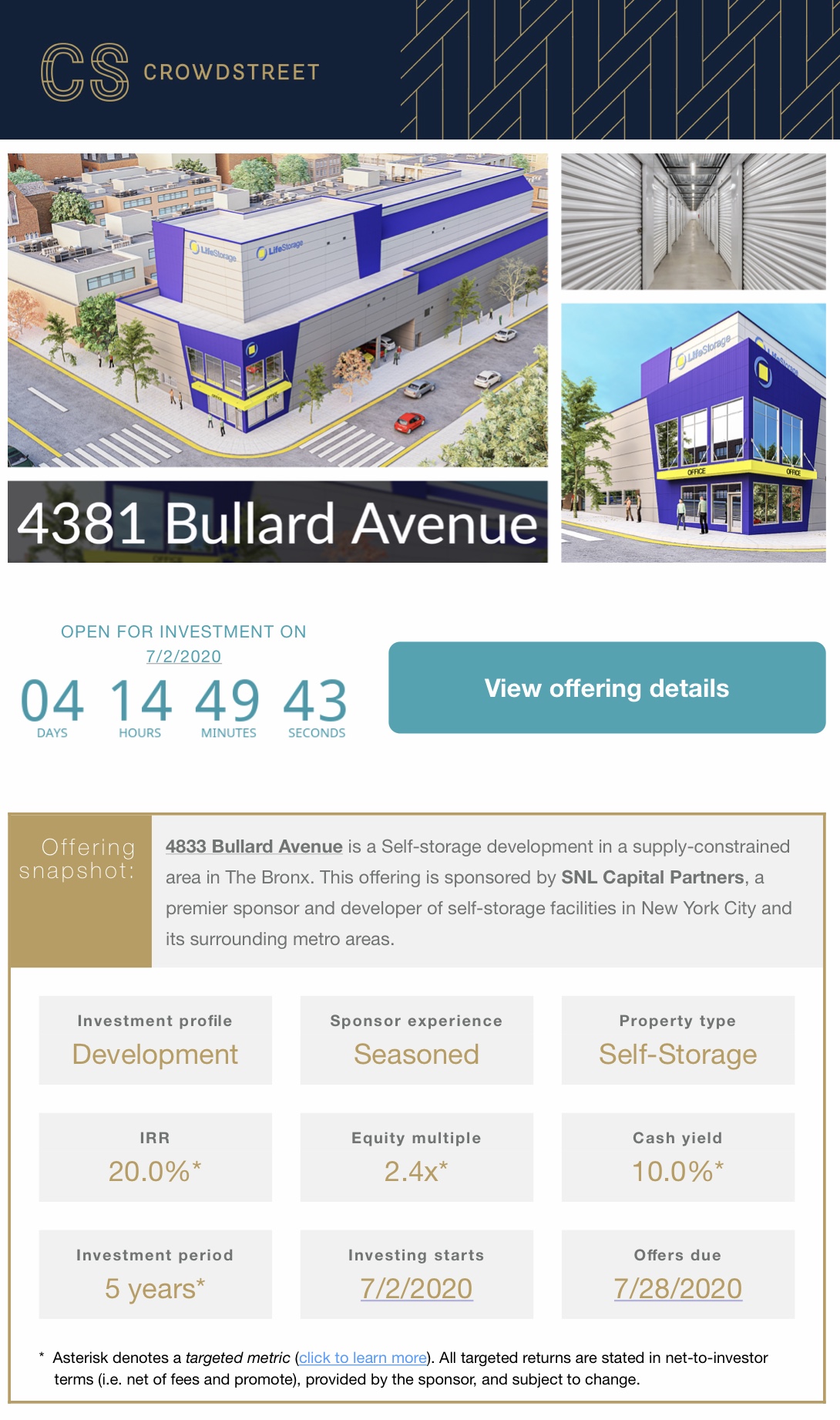 Real Estate Is A Great Asset Class
Real estate is my favorite asset class to build long-term wealth for most Americans. It's easy to understand, less volatile, provides shelter, and produces income.
Although we are living in difficult times now, we should also look to take advantage of any weaknesses in the housing market. Over the long run, real estate tends to do well over time, regardless of whether these housing market predictions for 2021 come true.
As always, please run the numbers and only buy what you can afford. Leverage is great on the way up, but dangerous on the way down. Not having to leverage up is one of the reasons why I like investing in real estate crowdfunding. However, as always, there are no guarantees with any investment.
Best of luck with your real estate investing. If you have any housing predictions for 2021, I'd love to hear them.