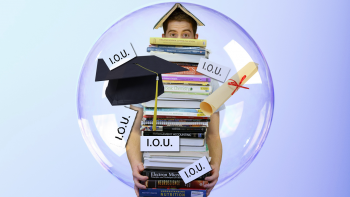 After publishing my post on actions to take in a rising LIBOR environment, it dawned on me that besides refinancing your adjustable rate mortgage, you should also consider refinancing your student loans as well, if you have any. It feels like a lifetime ago, but I used to have ~$40,000 in business school loans that were paid off in 2008.
During my time, there was no such thing as student loan forgiveness. Come hell or high water, you had to pay back what you owed with interest. You also couldn't go straight to the corner office without paying your dues either. As our country has grown wealthier, softer, and more focused on instant gratification, student loan borrowers have pressured the government into giving them more options and it's worked! 
Here's a sponsored post from Student Loan Hero about the various options borrowers have to repay their loans and how student loan forgiveness can actually end up costing a borrower more. I had no idea there were this many choices. I'm hoping by the time my kids go to college in 20 years, tuition will be free or highly subsidized, just like it is in Europe, Asia, Canada, and the rest of the world. It's fun to have someone else pay!