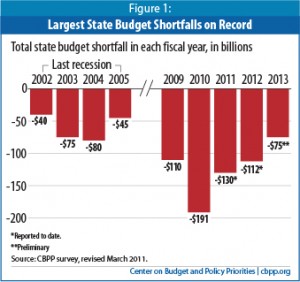 * In order to pay for President Obama's $450 billion Jobs Act Bill, he has proposed removing the muni bond tax exemption benefit for those above the 28% marginal tax rate (~$200,000 for singles).  Given those in the 33% and 35% tax brackets invest the most in muni bonds, there will be a huge sell-off, and a resultant rise in borrowing costs for State governments.  This will lead to more budget shortfalls due to higher expenses, and less local construction.  As a result, MORE jobs will be lost or never to be re-created!
Taking advantage of State level governments to pay for a Federal Jobs Bill is very astute.  The more States get crushed, the more dependents and voters will be created for the Crusher. 
If you haven't heard, the United States of America is having some serious state budget problems!  It's estimated that 44 out of 50 states will have a budget shortfall for fiscal year 2012, which starts on July 1, 2011.  The largest absolute dollar offender is my home state of California, with a $25.4 BILLION shortfall that accounts for a whopping 29.3% of the state's 2011 budget!
Everything is relative though, and there are three states more screwed than California based on a deficit as a percentage of 2011 budget: Nevada at 42%, New Jersey at 37.4%, and surprisingly Texas at 31.5%.  The overall US shortfall is $112 billion dollars, accounting for 17.6% of 2012's overall budget.
THERE'S NO PLEASANT SOLUTION