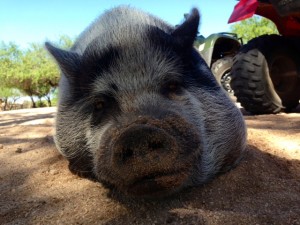 I graduated from business school in 2006 with roughly $55,000 in student loans. Although $55,000 is a lot to pay off, I was already a "debt veteran" by then. What's another $55,000 in student loans when I was already leveraged over $1 million dollars to buy my first properties in 2003 and early 2005?
I didn't need to take out student loans, but I decided to conduct some financial arbitrage. The maximum amount one could borrow through a Stafford Loan at the time was $18,500 a school year at an interest rate of 2.75%-4%. I took out the maximum amount at the beginning of each school year to pay for tuition while I received 100% tuition and books reimbursement at the end of each year from my company to reinvest in the markets. 2003-2006 was a time of recovery in the financial markets and I figured I could beat a 2.75%-4% annual return.
Even though the financial services industry was going through retrenchment during the time I attended business school, the S&P 500 was doing quite well (2003 +28%, 2004 +11%, 2005 +5%, 2006 +16%). Even long term CDs were yielding roughly 4% risk-free. The extra $18,500 invested in the stock markets each year did end up growing faster than the cost of debt until a year after I graduated.
I was feeling proud of myself for the financial arbitrage until the 2008-2009 massacre hit. Originally, I was planning to continue holding on to my 2.75% consolidated loans to reinvest in the market. But when the markets got rocked, the loans started feeling like a burden instead of a gift so I wrote a check and paid everything off instead. I was overly focused on making an extra $3,000-$10,000 a year on my arbitrage rather than focus on the big picture of my overall net worth. It feels better to have less debt during times of crisis, however in retrospect, it would been better to lever up even more to buy more stocks!
Debt is the opposite of generating passive income for financial independence. Debtors are helping make someone else's financial goals a reality while digging themselves further down a dark hole. The only type of debt I like is primary mortgage debt given there's a good chance the underlying property will appreciate in value over a long enough period and you've got to live somewhere. There's never a financial return for renting. Furthermore, the tax benefits of mortgage debt under $1.1 million dollars is also a nice bonus to have.
In this article I'd like to provide a debt framework that will help you get motivated to get out of debt. But first let's understand the why.
WHY WE GET INTO DEBT