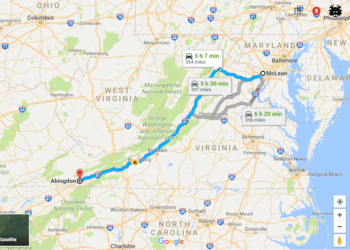 In the summer of 1996, I got in my rusty Toyota Corolla hatchback and took off on a five and a half hour drive south from the suburbs of Washington DC to a sleepy town called Abingdon, Virginia. I wasn't sure if I'd make it because I had never driven my car more than 2.5 hours before.
After my transmission blew out six months after I bought it for $2,000, the mechanic got the gear ratio wrong so my car was always revving 2,000 RPM higher than it should. Constantly wondering whether the engine would explode was concerning.
I was back from a month-long internship at a Canon electronics distributor in Taipei and missed my girlfriend dearly. Sophomore year at The College of William & Mary in Williamsburg was only a month a way, but I couldn't wait to see her.
Abingdon is a beautiful town nestled in the Blue Ridge Mountain range. When I arrived, the first thing I did was give my girlfriend a big hug and go to a local greasy spoon restaurant right off the main strip. She knew that I loved grilled cheese sandwiches with freshly sliced tomatoes wedged between the goodness. It was the perfect way to catch up after almost two months of being away.
Although there wasn't a minority in sight, I never felt out of place in quiet Abingdon. Southerners tend to have a great way of making you feel welcome. After lunch, she brought me up a windy road to see her dad and his girlfriend. They lived on a little hill with not a neighbor in sight for miles. I was nervous to meet dad as any boyfriend should be.
I gave Mr. Brosnan a firm handshake and greeted him with the warmest "nice to meet you" I could muster. Mr. Brosnan was a psychiatrist at the local hospital. He stood about six feet tall with a full beard filled with black and white bristles. He was white and drove a green Jeep Grand Cherokee Laredo. He politely scoffed at my dinky car that pulled up into his driveway.
My girlfriend, Erika, was not white. She stood about 5′ 8″ tall and had straight black hair. She was incredibly fit because she was a vegetarian and a runner. Erika was mixed. Her Chinese mother had died from cancer when she was only three.